Orbotech Ltd. (NASDAQ: ORBK) is an Israeli company that services the electronics industry's supply chain, providing equipment that is used for enhancing the yield of various manufacturing processes. Additionally, the company develops and markets a range of character recognition products used primarily by financial institutions.
In the last week, three different people suggested I take a look at the company, which is highly unusual. The rough overview of the company that was provided certainly sounded interesting, so I thought I'd give it a closer look. Let's jump in.
First, we start with the company's historical returns.
We see here that returns have not traditionally been very strong, covering around 10%, with a cyclicality that matches the economy. Given this, when valuing the company it is especially important that a long-term earnings power be considered, rather than any focusing on any single year. The more consistent a company's returns, profits and free cash flows, the easier it is to value, so when valuing companies that are cyclical, it is important to try to smooth out the company's performance through a full business cycle.
Let's turn to revenues and margins.
Here is another great reason why we should never focus on a single year's performance. As you can see, the company had historically high sales in the last year as well as margins as large as they have ever been. Investors focusing only on the last year (by considering only trailing P/E or P/S multiples) will see the company as exceptionally cheap. But perhaps this recent year's performance is an anomaly, in which case the apparent value opportunity might be a mirage.
For those interested, it appears that ORBK is benefiting from the success of Apple (NASDAQ: AAPL) as ORBK's systems are used to inspect some of the iPad's internal circuitry and LCDs. Though AAPL may be the top player for the foreseeable future, it is important to recognize that the increased sales to AAPL which are leading many to see the company as cheap right now are actually adding risk to the company. By increasing its sales to AAPL, the company becomes more reliant on AAPL, such that a loss of this customer would be more damaging to ORBK's future than if the increased sales were spread over many customers.
It is nice to see the company's gross margin staying relatively stable for the last decade. Given the nature of its industry and the fact that many of the end products have experienced dramatic price deflation, one would expect suppliers to be squeezed as well, though this does not appear to be the case.
Let's turn to cash flows.
Here we see that the company has relatively stable capital demands (the difference between free cash flows and cash flows from operations). We also see that, save for 2007 and 2008, the company has had fairly strong free cash flows equal to an average of approximately $38 million per year. This works out to a price/free cash flow (ex cash) of 6.3, for a free cash flow yield of just under 16%. Not too shabby.
Here we see that the company operates on a pretty long cash conversion cycle. There isn't a major trend here that would cause me to worry. Obviously shorter cash conversion cycles are better, so this could be an opportunity for the company in the future to free up cash by reducing working capital. However, with its increasing reliance on a small number of customers, it may have little wiggle room here.
Speaking of freeing up cash, let's turn to the company's capital structure.
Here we see perhaps the most attractive element of ORBK. The company has had an exceptionally high cash balance throughout its history, and only recently added debt (for an acquisition in 2008). Though the net cash here appears to be small, this is no longer the case. The most recent quarterly results show the company to have net cash (total cash and securities less total debt) of $184 million, which represents a whopping 43% of its current $425 million market cap.
Readers of Financial Shenanigans (read my in-depth review here) know that investors can avoid many headaches by looking for trends in a company's use of accruals. The following chart shows the company's use of accruals over the last decade.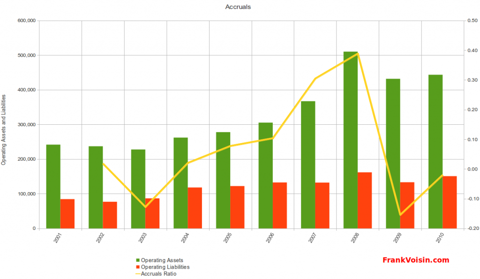 Orbotech Ltd - Accruals, 2001 - 2010
The period 2003 to 2008 showed a dramatic increase in the use of accruals. Perhaps unsurprising for readers of Financial Shenanigans, 2008 included large ($118m) impairments and the largest losses in the period reviewed. It is almost invariably the case that the increasing and persistent use of accruals ends in large impairments.
We've now covered the bases, but is ORBK a good buy? Here's the problem: if you focus on the company's low enterprise value (market value of equity + market value of debt less excess cash and equivalents) in relation to its recent performance, you will be absolutely convinced that this is one of the best deals of the year. Unfortunately, as discussed above, the company's historical performance has been far different from the last six quarters, and so it is important to look at normalized performance over a full business cycle. Additionally, it might be a mistake to assume that the company's high net cash balance will ever be returned to shareholders (remember, this high net cash balance is the reason the company has such a low enterprise value, and thus looks cheap on a number of metrics). The company has never paid a dividend and does not actively repurchase its shares, as the following chart shows:
Rather than returning capital to shareholders, the company hoards it for years. Moreover, when the company does put its cash balance to use, it purchases other companies in large "transformative" acquisitions, which almost always entail a large takeover premium (and thus low likelihood of even moderate ORBK shareholder returns).
When you take into account the full business cycle and the likelihood that the company's cash balance will never be paid paid out to shareholders, I believe you will reach the conclusion that the company is not an attractive value opportunity, regardless of the growth some argue it will experience in the future as the electronic gadget market (smartphones and tablets) continues to grow.
What do you think or ORBK?
Disclosure: No position.