In my
previous article
, I created a small-cap portfolio from the Dividend Champions and Contenders universe by applying size and yield filters based on a U.K. research study. The resulting portfolio had a higher yield (4.1% as of July 31, 4.48% as of Sept 14) than my
original model portfolio
based on the Dividend Aristocrats (3.8%, 4.1% respectively), however the beta was higher as were the standard deviations of the dividend growth rates. The small cap universe was also heavily biased toward financials and industrials, which increased risk. Furthermore, I felt less comfortable with this portfolio as I had never heard of over half of the companies on the list. The model also did not factor in dividend growth rate, which is important to income investors. To resolve these concerns, I set out to develop a high-yielding portfolio using the DCC universe, with more familiar names, lower market sensitivity, and a consistent record of moderate dividend growth.
Again, a big THANK YOU to David Fish for his publication of the Dividend Champions and Contenders (DCC)
lists in Excel format
. Based on feedback from my last effort, I combined the Champions and Contenders lists into one group and this time I
kept
the REITs and MLPs. I added sector tags for each stock, with REITs classified as Financials and MLPs labeled as Energy or Financials, depending on the business. To allow readers to follow along, my Excel workbook may be downloaded
here
. I used the July 2011 DCC data, as I wanted to start my model portfolio on August 16th to match the start date of my DA+ and DCC-SmallCap-HiYield portfolios.
Size
To solve the problem of unknown stocks in the final model, as well as some concerns about investing in smaller cap stocks, I decided to modify the UK research's findings favoring smaller cap stocks. Instead, I removed all firms with a market cap under $500M, as I wanted more established firms particularly in the Financials, and many of the smaller firms were banks. As for the large caps, I figured if they were growing slowly, this would be reflected in the dividend growth rate and they would be removed by another filter. Having larger firms would help provide stability to the portfolio and comfort for the investor. This step removed ~30 firms from the universe.
Yield
Yield is important to income investors, so in keeping with the research, I sorted the remaining stocks by yield and deleted any stock with a yield of less than 2.50%. This removed a large number of stocks from the universe (about half). For the remaining firms, I gave 1 point to those with a yield between 2.50% and 3%, and 2 points to those with a yield of 3% or higher. The point system would help me to prioritize selections at the end of the filtering process. If a higher threshold is desired, the point system cutoffs can be modified.
Dividend Growth Rate (DGR)
The U.K. study recommended avoiding firms in the highest quartile based on dividend growth rate. Likewise, it makes sense to avoid firms with very low dividend growth rates. (Note: This universe has survivor bias, as any firm with a negative growth rate would fall off the list.) Since income investors want to grow their dividends and outpace inflation, I started by removing all stocks with a 5-year DGR of less than 4%. On the other end, I was reluctant to remove firms simply because they had a high average DGR. While I understand that the rate may not be sustainable, firms with low yields have already been removed, so I didn't want to throw out potentially good income generators. I arrived at the following point system: (1 pt) for 5-year DGR between 4% and 6%, and (2 pts) for 5-year DGR between 6% and 12% ("the sweet spot" as someone commented in my previous article). For stocks with DGR over 12%, I looked at the 1-year DGR. If it was under 4% (i.e. growth rate had dropped dramatically and is now below the target), it was removed. If the rate was between 4% and 6%, I awarded 1 point, and if over 6%, 2 pts. Obviously these rates will change over time, but that is what rebalancing is for!
Payout
Some of the stocks in this universe have high payout ratios, which could signal future problems (i.e. a dividend cut). I added a point column for payout ratio with 2 points for under 50%, 1 point under 80% but above 50%, and 0 points if above 80%. I did not eliminate any firms at this stage, however, for any finalist that had a payout over 80%, I examined the last four quarters of cash flow to verify that operating cash flow covered dividend payments in at least 3 of 4 quarters. This is not a very in-depth check, but for now, it was quick and at least provided some evidence that the firm was covering its dividend sufficiently. It would be nice to incorporate debt level into this too, as some firms borrow quite a bit, though it is difficult to know the purpose without deeper research. I view this as an "avoid potential harm" filter. Those willing to take more risk are welcome to ignore this stage of the process, as it eliminated some higher yielding stocks.
DCC-Income Growth Universe
(Click charts to expand)
After applying the above filters, I ended up with an 82 stock universe whose characteristics are summarized in the table above. The universe is biased toward consumer staples, energy, financials, and health care. The financial sector representation is challenging, as there are many stocks, but with very little market cap. In terms of weighting the final portfolio, I used the same method described in my
previous article
. I calculated the sector weightings of the filtered universe based on both market cap and stock count, and then averaged the two percentages. I used this data and the point system to create a model portfolio with similar weightings. One weighting adjustment was required because AT&T (NYSE:
T
) was the only Telecom stock in the universe.
Using the right most column in the previous table, I returned to the filtered universe, sorted by sector and then yield, to select the designated number of stocks from each sector. However, I did not just select the highest yielders. I used my point system to choose stocks from the highest yield group (2 pt) with high dividend growth rates (2), and then verified that their payout ratio was acceptable (1, 2, or verified OCF). I included 1-yr DGR and EPS estimates to use as tiebreakers. In my file, stocks highlighted in pink were rejected, usually due to payout concerns, and green highlighted stocks were selected. Once the 2-2 combinations were exhausted, I searched for 2-1 (highest yield group, lower DGR) as the next preferred choice, then 1-2, 1-1, etc. This process resulted in the 30-stock portfolio below with a yield (July 31) of 4.2%; purchased on Sept 14, the yield would be 4.5% and the beta is 0.75.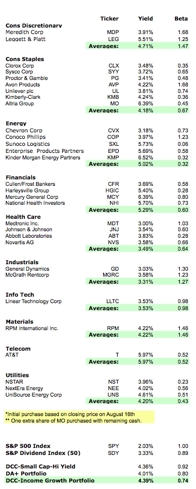 Note: For the DGR and EPS numbers in the above table, I removed any value that was over 50% or under -50%, as I considered them outliers that skewed the percentages and standard deviations. I wanted to get a better reading on most of the portfolios' holdings, so I chose to remove these values when building this table, but I restored the original values in the Excel file data tables. Also, there is some survivor bias in that any firm with a negative DGR would get dropped from the DCC universe.
Based on historical results, the DCC-IncomeGrowth portfolio had the highest yield and lowest beta of all the groups. Furthermore, looking at the DGRs, this portfolio's DGR tended to exceed the other groups AND had a lower standard deviation indicating less variation in the DGRs of the group members. Excluding a few outliers, the DGR standard deviations are approximately half that of the Small Cap portfolio and lower than the DA+ portfolio (large cap Aristocrats). While the Top 25% group has higher DGRs, it also has a yield that is 36% lower than the Income Growth portfolio. It would take ~10 years for it to catch up, and it would have to maintain its DGR premium over the Income Growth portfolio for that period. The Income Growth portfolio has already selected the best firms from this group with yields > 3% and DGR > 4%.
I created a virtual portfolio (effective Aug 16) to begin tracking the performance of the DCC-IncomeGrowth stocks, and will provide quarterly updates along with the DA+ and DCC-SmallCap-HiYield portfolios. In all of these model portfolios, I invested $10,000 in each of 30 holdings, following the research findings in favor of equally weighted portfolios, and plan to rebalance just once per year (after Dec 31), at which point any dividends will be reinvested. I'm also tracking the S&P 500 (NYSEARCA:
SPY
) and SPDR Dividend ETF (NYSEARCA:
SDY
) as benchmarks.
Overall, I feel much more comfortable with the list generated by this process. I am familiar with about 2/3 of the stocks, the portfolio yield is ~4.5%, the beta is low, and the DGR is moderate and has low standard deviation. Maybe I should call this the Comfort portfolio? I already own several of these holdings and plan to add a few more. I will likely substitute my own choices for the financials, as I still don't like the smaller cap financials and already own Realty Income (NYSE:
O
), Chubb (NYSE:
CB
), and AFLAC (NYSE:
AFL
). I also prefer Intel (NASDAQ:
INTC
) for Info Tech, and I am not too keen on General Dynamics (NYSE:
GD
), but already own some other Industrials.
I believe that this process, as well as the previous two model portfolios, provides investors with interesting approaches for narrowing down the dividend growth stock universe and a starting point for developing their own DG portfolio. I would like to investigate ways to incorporate payout ratio, cash flow dividend coverage, and debt level into the filtering process in a systematic way. With a portfolio of 30 stocks, investors can certainly make some substitutions without drastically changing the overall characteristics. I look forward to tracking these portfolios and to continued feedback from the SA community!

Owain ap Gwilym, Andrew D Clare, James Seaton, Stephen H Thomas. (Winter 2009).
Consistent Dividend Growth Investment Strategies.
The Journal of Wealth Management, Vol. 12, No. 3: pp. 113-124. Working Paper version (pdf)
Disclosure: I am long MO, KMB, COP, KMP, T, CB, AFL, INTC, O. I may initiate positions in stocks mentioned in this article within the next 72 hours.