The Boeing Company (NYSE:BA) is a leading designer, developer, and seller of commercial airplanes and defense. It has been at the forefront of innovation and is currently rated a "buy" by most analysts. I am enthusiastic about Boeing going forward, because I believe that it is well-diversified, a reliable supplier, and trading a good margin below its intrinsic value.
The company specializes in a few key areas: commercial airplanes; defense, space & security, which entails network systems, global services, and military; engineering, operations & technology; and financing solutions for commercial aircraft. The last two of these segments combined make up less than 1.2% of Boeing's revenue, but are valuable in keeping open new markets. Below is a breakdown of the multinational's revenue: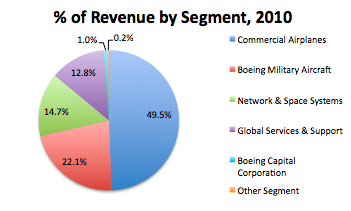 Boeing Defense, Space & Security, I believe is not being properly valued in light of budget cut talks. The market has been unduly concerned about the effects of reductions in the defense budget. I expect entitlement programs to be addressed first, receiving the lion's share of cuts, while the integrity of defense is either maintained or enhanced. In any event, should decreased government spending impact Boeing, the company still has the bulk of its services marketed elsewhere. The business is not inherently unstable, albeit often demanding, and research conducted in one segment could be fruitful to another segment. And 41% of revenue comes from non-US sales.
Under current development are the 747-8 and 787 wide-body models. R&D for 2010 was $4.1B, down from $6.5B the year before. Boeing recently launched model B737MAX, which offers ~11% fuel efficiency due mainly to its improved engine. The aerospace and defense corporation has 496 commitments with 5 airlines and I expect more contracts coming from Southwest (NYSE:LUV) and Delta (NYSE:DAL).
The one area that makes me concerned about Boeing is the intense competition. Bomardier, Airbus, Embraer (NYSE:ERJ), Lockheed Martin (NYSE:LMT), and Northrop Grumman (NYSE:NOC) are the ones to keep an eye on. The problem with investing in aircrafts is that if a competitor has specialized in a certain manufacturing or engineering technique that becomes highly demanded, it could be a largely downhill road from there. However, I believe that this intense competition has been exaggerated by the market. Should, say, Lockheed Martin find the latest technology before Boeing does, it does not preclude Boeing from finding the next new technology. There are high barriers to entry in the industry and Boeing is well-diversified both in its business mix and its global scale.
The consensus for EPS is that it will decline by 4.9% in 2011 to $4.23, and then increase by 23.6% and 18.7% for the following years. The stock currently trades at 13.6x past earnings and 12.3x future earnings.
My model predicts a 7% growth in revenue to $68.8B in 2011 and then 20% and 4.1% the next year. I expect profit margins to decline by about 1 percentage point over this same time period. Boeing has a strong brand and excellent management. In an industry where reputation and capital means everything, Boeing may be your flight to strong wealth growth.
Disclosure: I have no positions in any stocks mentioned, and no plans to initiate any positions within the next 72 hours.