Improving asset quality and growing earnings continues to strengthen the bull case of Parke Bancorp (NASDAQ:PKBK). This full service commercial bank posted record earnings where net income grew by 38.3%, from $7.6 million for 2013 to $10.5 million for 2014. Its loan book grew by a healthy rate of almost 10% in 2014 rebounding from the slow growth it experienced in 2012 and 2013 due to the weak economy. Total deposits also grew by 3.4% in 2014.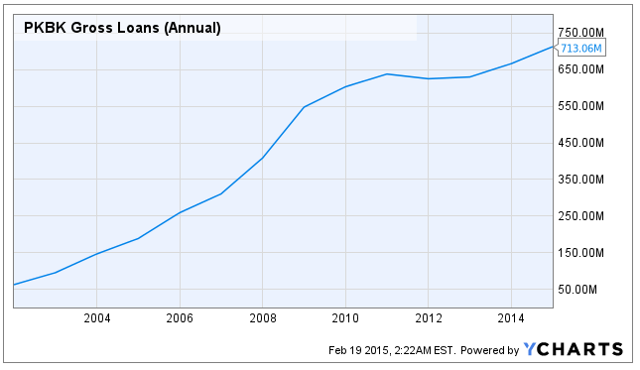 As explained in my previous article, competition for high quality loans remains fierce in Parke Bancorp's market; a small bank like PKBK has to work hard to generate high quality loans. Its asset quality improved significantly in 2014, with nonperforming loans as a percentage of total loans improved from 5.49% at the end of 2013 to 3.8% at the end of 2014. Its exiting allowance for loan losses of $18 million only covers 67% of nonperforming loans; however, this improved from 51.6% at the end of 2013. Although there has been significant improvement in asset quality and allowances, there is still a lot to be done by management to reach normal asset quality conditions (e.g., nonperforming loans < 1%).
"We are very proud to report record earnings for the second straight year. Equally important is the substantial reduction in our Non-Performing Assets and OREO. It is important to again report that the reduction in these critical categories has been accomplished by working out troubled assets and not selling them for 20 or 30 cents on the dollar. We are averaging over an 80% recovery rate on troubled assets which helps preserve shareholder value. The expansion of our lending team helped support a 9% increase in our loan portfolio. We are proud that the strong performance of our Company supported the payment of quarterly cash dividends in 2014 further enhancing the investment of our shareholders."
Most investors do not like buying PKBK shares due to the unusual and huge percentage of nonperforming loans (highly risky) presently held. However, management is not interested in selling the troubled assets for huge losses, which would be far higher than the charge-downs the bank will bear by missing the economic recovery opportunity. This may be an opportunity for long-term investors because the New Jersey economy has been recovering slowly but steadily.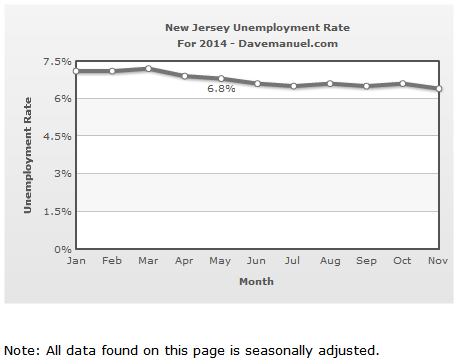 Source: Davemanuel
The unemployment rate in New Jersey declined from 6.4% to 6.2% in December (6.6% in October). A prolonged low interest rate environment provides good support for the slowly recovering state economy to reach the current national unemployment level in the near future. Cheap lending also increases consumer spending and results in business growth. The current situation does not reflect any change in the growth trajectory that the New Jersey economy embarked on long ago. It is reasonable to expect the continuation of this growth trajectory in 2015, considering there are no significant changes in the macro environment of New Jersey economy in the next year.

Source: SNL
The current growth-friendly environment (low interest rates) and low charge-downs by PKBK does not imply that there will be an abnormal increase in the charge-downs (approx. 20% average charge-downs at present) in the near future. A slow but steady recovery of the state economy gives PKBK the opportunity to recover a higher percentage of bad loans and the opportunity to grow its total assets. If that is the case, PKBK is bound to report a further significant improvement in asset quality. This progress should close the gap between PKBK and its peers in valuation. LONG.
Disclosure: The author has no positions in any stocks mentioned, and no plans to initiate any positions within the next 72 hours. The author wrote this article themselves, and it expresses their own opinions. The author is not receiving compensation for it (other than from Seeking Alpha). The author has no business relationship with any company whose stock is mentioned in this article.
Editor's Note: This article covers one or more microcap stocks. Please be aware of the risks associated with these stocks.