Modelling the Price Reaction Resulting from Crowd-Sourced Research
A Statistical Exploration of Seeking Alpha Articles Published from 2012-2014
by Mark P. Weisenborn
Advisor: Philip Maymin Ph.D.
Submitted in Partial Fulfillment of the Requirements for the Degree of Master of Science (Financial Engineering)
January 2015
Abstract
This study models intraday price reactions in securities mentioned in Seeking Alpha between the dates 26 November 2012 to 20 September 2014 and finds statistically significant price responses following publication of recommendations. The study tests to determine whether an investor could earn an absolute profit by merely making a cursory decision based on the existence of an article and knowledge of the recommendation's direction and the market capitalization of the security mentioned, without actually reading the body of the article. I find that model portfolios constructed on a simple dynamic strategy of buying or shorting the mentioned securities, within pre-designated trading time-frames, produced significant absolute returns prior to adjusting for low liquidity. This study constructs dynamic portfolios that represent the maximum non-liquidity adjusted potential gain or loss over time that an investor could earn after fully capturing the opening and closing market prices. I find the market capitalization of the stock was the largest influence in the resulting price movement following publication. I find recommendations of Seeking Alpha contributors provided significant value for investors.
Foreword
Seeking Alpha is an online social media service providing extensive coverage of Micro and Small capitalization securities. Seeking Alpha subscribers are able to view content produced by a large pool of contributors. Contributors publish recommendations after their ideas are vetted through an editorial board at Seeking Alpha. The work of Seeking Alpha contributors is characterized as "non-conflicted" research because the authors are not involved with courting the companies covered in their research. Contributors express an opinion regarding a security in terms of whether it is fully-valued, over-valued, or appropriately-valued. Seeking Alpha contributors cover Micro and Small capitalization securities with much greater frequency than Mid and Large capitalization securities.
This study was produced for academic purposes.
This is not investment advice.
Introduction
This study surveys over six-thousand articles published at Seeking Alpha between 26 November 2012 and 20 September 2014. 5,955 articles were selected for inclusion in the study based on systematic parameters. From the set of 5,955 articles, 5,309 "Long" recommendations and 646 "Short" recommendations were present. These articles were then analyzed for metadata content and matched to price performance over several time- frames. Generalized summary data was developed for each category and several subcategories.
The study finds that securities in the Micro Capitalization category achieved an average absolute return of +1.75% between the opening price and closing price on the recommendation day for Long recommendations and -3.05% for Short recommendations. Both numbers were significant at the 1% level. During an earlier time-period professional analysts covering U.S. stocks achieved abnormal returns of 1.76% for upgrades and -3.19% for downgrades (Jegadeesh).
The study conducts analysis of how securities traded during a six-day window beginning one day before and continuing for five days after recommendation. This study additionally tracks the performance of each security through the 30th, 60th, and 90th trading day. This study confirms the finding that views expressed in Seeking Alpha articles predict future stock prices (Chen) and extends this finding by identifying the short-term intraday time-frames that contained statistically significant price adjustment. This study models price movements according to pre-defined factors and determines the characteristics of articles that predicted the greatest price change. This study also utilizes tick data to present a model of intraday price and volume formation for statistically significant intraday periods in order to explore the potential for mitigating the implementation shortfall generally associated with strategies employed within lower volume securities.
Price data 30, 60, and 90 days from the publication date was collected in order to validate the findings of the foundation study in this area conducted by Chen, De, Hu, and Hwang "The Wisdom of Crowds" (Chen). The authors examined whether the frequency of positive keywords contained in articles and comments about the articles could predict price movement and earnings and found that the frequency of positive versus negative words in articles and comments provides a strong predictor of future price and earnings levels. This study posits that Long recommendations naturally carry a high density of positive words and a relatively lower density of negative words, and the opposite situation for Short recommendations.
The dataset was categorized by (1) market capitalization (four options) and (2) recommendation direction (two options) then further divided according to (3) whether the article earned mention as a "Top" article by the social media service provider (two options). The resulting statistical table contained sixteen total sectors. Significant differences in average returns were found by conducting these levels of data subdivision.
Further exploration was conducted within each of the sixteen sectors by dividing each sector in to four quadrants according to two additional Boolean characteristics: (A) whether the author disclosed a position, (B) whether there was a quantitative number in the article title. By dividing the set of articles as Micro/Small/Mid/Large Capitalization, then by Long/Short, then by Top/Regular, and finally then by four potential combinations of two Boolean conditions, the total exploration set contained sixty-four parcels. This study enabled exploration to a deep level in order to determine, for example, whether buying a Micro Cap stock on the first day of publication (t=0) led to a statistically significant return when the recommendation was a Long recommendation, was pre-designated as a "Top" recommendation, where the author Disclosed she is also Long the stock and there is a Quantitative number in the article title.
The magnitude of price reaction was greater within specific data subsets. The subset of Micro Capitalization securities that were pre-designated by editors as "Top" recommendations achieved an average first-day gain of 4.46% (and significant at the 1% level). This study dove deep in to the structure of article publication policy and found that Seeking Alpha at some points in time published articles during market hours and in other regimes published outside of market hours. This study determined much greater positive returns for the group of articles published during market hours. The group of "Top" Micro capitalization securities recommended for purchase (buy Long), published during market hours achieved a statistically significant average gain of 5.22% in contrast to 2.72% for the set of articles published outside of market hours. Care must be taken when interpreting this finding because the during market average is a measurement from the open to the close on a day when the event took place at some point during the middle of the day. Additional study is needed to know how much of the intraday change resulted after publication of the recommendation and what portion of the move happened between market open and publication time.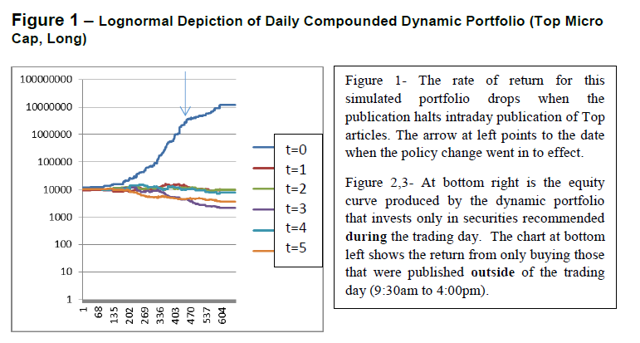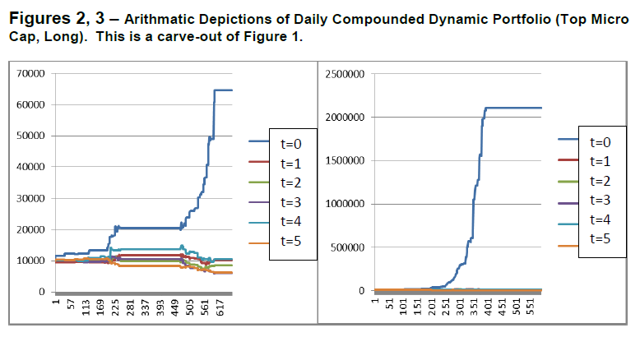 There is an important distinction to know when exploring the summary data. During the middle part of the study the published released "Top" articles during the trading day but returned to publishing the articles prior to market open. This change resulted in dramatically different statistical performance that had to be taken in to account. This study did therefore develop separate summary tables for each regime. The differences are striking.
As can be imagined, when a recommendation is published inside of regular trading hours the magnitude of price change differs from recommendations published outside of market hours. What was surprising was this boost in price discovery persisted through time; price patterns differ not only in the first trading day but also 30, 60, and 90 days out. For Micro cap stocks, price movement in the direction of the recommendation is greatest when the article is published inside of regular trading hours. This effect also holds for Small cap stocks over the shorter time-periods (day t and t+30).
Table 1: Price change 30, 60, and 90 days from publication organized according to publication time

One possible explanation is that Micro cap stocks are so sparsely covered that the added "buzz" created by news disseminating when maximum personnel are immediately available to receive and act on the information wakes up the market and initiates a persistent price discovery process.
Large cap stocks behave entirely differently, however, and announcements made outside of market hours propel these securities to greater movement over the t+30 and t+60 day time periods (day t+90 was also greater but not significant). One explanation for this could be the presence of second and third-hand analysts requiring time to digest the Seeking Alpha story, "make it their own," and then communicate with a number of clients sufficient to begin price discovery. This would explain the lack of additional significant movement on the t date, because second and third-hand analysts require time to communicate with clients. In sum, the policy shift resulted in a benefit to price discovery for those more interested in Large cap stocks, and came at the expense of price discovery in Micro and Small cap areas.
Methodology
Seeking Alpha articles may be listed as Commentary, Long Recommendation, or Short Recommendation. This study analyzed Long and Short Recommendations. This study included Long and Short recommendations published between 26 November 2012 and 20 September 2014. The end date of 21 September 2014 was the collection date for the study's data. 26 November is the first date for which Long and Short recommendations were immediately indexed by market cap and directional category at the Seeking Alpha site. Seeking Alpha publishes articles and immediately bins these into their appropriate category by market capitalization and direction.
Within Long and Short recommendations four capitalization categories exist. These are Micro cap, Small cap, Mid cap, and Large cap. These levels are defined by the Seeking Alpha staff to begin and end at the following levels: Micro (< $250MM), Small ($250MM - $3 billion), Mid ($3 - $10 billion), Large (> $10 billion)* (* information courtesy of Seeking Alpha staff, to the author on December 2, 2014). This produces 8 main categories to study. Within each category an article may be designated as either a 'Top pick' (or not). This doubled the number of categories to 16. This set of 16 was studied in greater detail with respect to author's financial disclosure, presence of a quantitative number in the headline. Because these two aspects always occur in conjunction with the other, four possibilities are possible for each of the 16 buy/sell & market cap categories.
For each article in the study, the time of publication is considered: articles published prior to the market open include those published from 12:00am until 9:29am; articles published from 4:00pm to 11:59pm were shifted to align with the set of articles published between 12:00am and 9:29am. This permitted accurate identification of the first trading day following the article. Articles published on a weekend or market holiday were aligned to the first trading day as well.
I exclude from statistical summary the following: (1) any security that has a five-character symbol that did not change price the day prior to article publication; (2) for Long article recommendations I exclude the Short leg of any Pairs Trade article, and the same in for Shorts and their Long legs; (3) clearly erroneously categorized articles, of which there were very few. After completion of evaluation by these criteria a total of 5,955 articles remained and these were then fully analyzed to produce this study's summary data outputs.
Data was tested across several designated time intervals. The announcement day was held as t, the day prior as t-1, day after as t+1. The open and close prices for the t-1, t, t+1, t+2, t+3, t+4, t to t+4, t+30, t+60, and t+90 days were captured and recorded. The data source for open and closing prices was Yahoo Finance, a publically available data source available free of charge. For the t+30, t+60, and t+90 time frames the open price for day t was used to arrive at the total change. For comparison purposes the price 5 trading days after announcement was compared with the open on the t date, which was used to show the percentage of price discovery that occurred on day t as a percentage of the first 5 days after the announcement.
In order to conduct more rigorous tests regarding whether the author's own interest in the security and whether the existence of a quantitative number in the headline had influence, the set of securities that were recommended prior to the open of trading were isolated in separate sets. An investor who might want to decide whether an article is credible based on the willingness of an author to commit personal funds to her recommended position would need additional time to consume the article in order to identify whether a disclosure had been made. In contrast, the presence of a quantitative (non-ordinal, non-date) number in the headline could lead to a rapid decision by the investor.
The data set for Long recommendations was broken in to four subsets: (1) author disclosed a personal position in same direction as her recommendation and a quantitative number was used in the title (e.g. Yes / Yes); (2) author disclosed position in the same direction as recommendation and there is no quantitative number in the title (e.g. Yes / No); (3) author disclosed no position and a quantitative number was used in the title (e.g. No / Yes ); (4) author disclosed no position in the same direction as recommendation and no quantitative number is in the title (e.g. No / No) ).
Empirical Findings
Long Recommendations
For Long recommendations that occurred during the trading day, the mean observed values were significant (significant at the 1% level) in a remarkable 28 of 72 post-announcement periods (Table 2).
Noteworthy findings include the sheer magnitude of movement on the first day following publication for Micro capitalization stocks. For the set of recommendations made outside of trading hours, Long recommendations designated as "Top" Long recommendations gained an average of 2.72% from open to close on the first day of trading; articles that recommended a Short position of a Micro cap stock were associated with a -3.92% average drop from the open to close of trading. For Micro cap Short recommendations, some 79% of the price change from the first day to the close of the fifth day was captured in the first day alone (-3.92% / -4.91%). (Table 4)
For "Top" Micro cap Long recommendations the move on the first trading day entirely exceeded the 5-day move, and after the first day of positive movement the pattern was toward lower prices for a few days. Although on the first day of trading the securities gained an average of 2.72%, the net gain by the close of the fifth trading day was only .33%. This short-term trading pattern ("sell the news") is common. Investors that held their stocks for 90 trading days enjoyed average gains of 6%.
Micro cap Short recommendations occurred with far lower frequency than Micro cap Long recommendations. This finding provides an interesting similarity with studies conducted regarding the predictive value of sell-side analyst recommendations. Michaely and Womack and also Barber, Lehavy, and Trueman found that sell-side analysts of covered firms have incentive to provide positive opinions of firms they cover in order to avoid alienating the firm as a client and that sell recommendations natural reflect the truest feelings on the stock given the pressures to avoid issuing sell recommendations (Michaely, Barber). In the case of Seeking Alpha, authors are members of the subscription base and not involved in courting investment banking relationships with the firms they issues opinions about. Seeking Alpha authors are in this sense "non-conflicted analysts."
Table 2 - Average Returns for Long Recommendations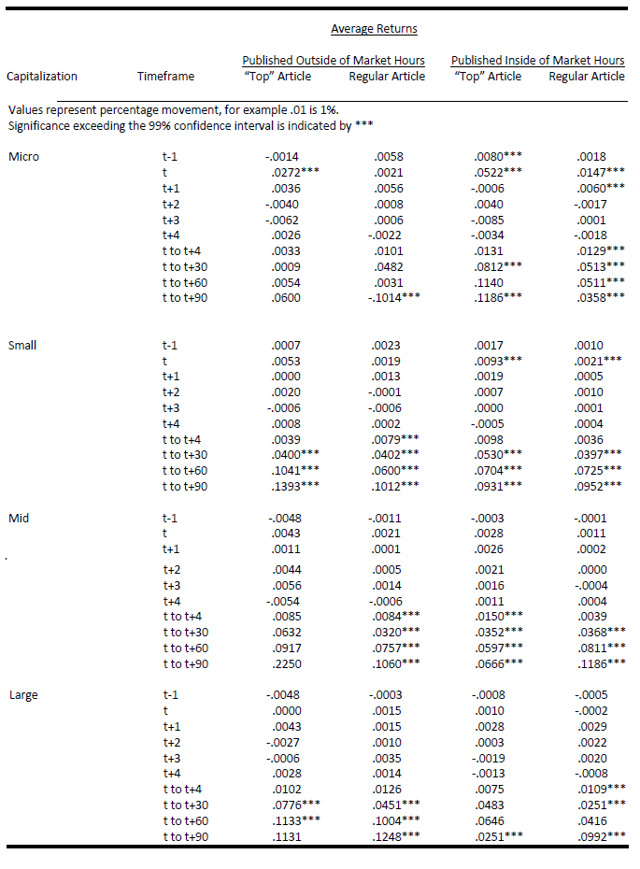 Table 3 - Counts for Long Recommendations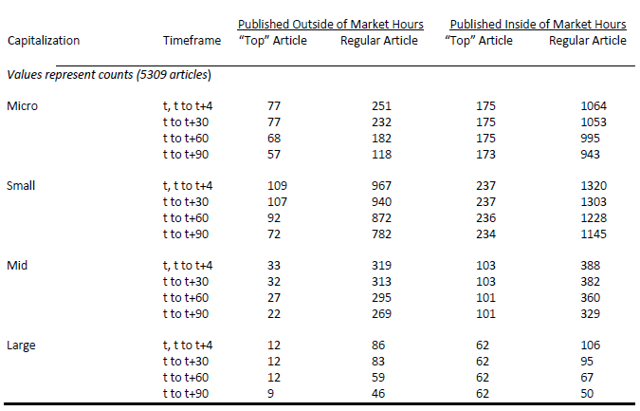 Micro Cap
This study finds "Top" Long recommendations in scenario two (author is Long and there is no quantitative number) are positive, significant at the 1% level, and outperform the other three scenarios. An average return of 2.72% was returned between the open and close prices on the day the article was published and occurred 44 times in the data set. (Table 7)
Small Cap
This study finds that regular recommendations in scenario four (author has no position and there is no quantitative number in the headline) outperformed and provided a positive return significant at the 1% level between the announcement and the 30th, 60th, and 90th trading days. Returns averaged 4.6% through the 30th trading day, 7.00% through the 60th, and 10.14% through the 90th. The intraday movement between the open and close on the fifth trading day was also superior and significant, .35%. Between the open the day of the announcement and the close on t+4 the return was significant, .72%. (Table 9)
Mid Cap
This study finds scenario three (no author position but article has a quantitative number in the title) returned a statistically significant average return of 18.61% at 90 days. The aggregate levels were positive and significant from t open to t+4 close, and at 30, 60, and 90 days from announcement (.84%, 3.20%, 7.57% and 10.60%, respectively). (Table 8)
Large Cap
Scenario four (no author position and no quantitative number) provided a better significant return, 11.61%, however this amount is very close to the aggregated average and not significantly better. This study finds consistent performance within the aggregated set of scenarios with statistically significant absolute average returns at the 30, 60, and 90-day intervals. At 30 days the average return was 4.51%, at 60 days the average return was 10.04%, and at 90 days the average return was 12.48%. (Table 9)
Short Recommendations
Aggregate results showed Micro Cap recommendations provided impressive and statistically significant returns on the first trading day (-3.92%), between t open and t+4 close (-4.91%), at t+30 (-12.28%), at t+60 (-16.57%), and at t+90 (-17.53%).
The greater magnitude of price discovery during the set published outside of market hours is not explainable as a phenomenon related to an immediate "buzz" effect (as may be the situation with Longs). The greater move down for securities associated with articles published outside of market hours may be more related to the process of anxiety growth needed to cause an investor to want to exit a current position or to bet against the security by way of short-selling.
The data subsets for Short recommendations were too small to permit confident generalized conclusions about the superiority of any scenario regarding the author's disclosure of a position or the existence of a quantitative article title. Aggregated performance statistics are shown below in the table.
Table 4 - Average Returns for Short Recommendations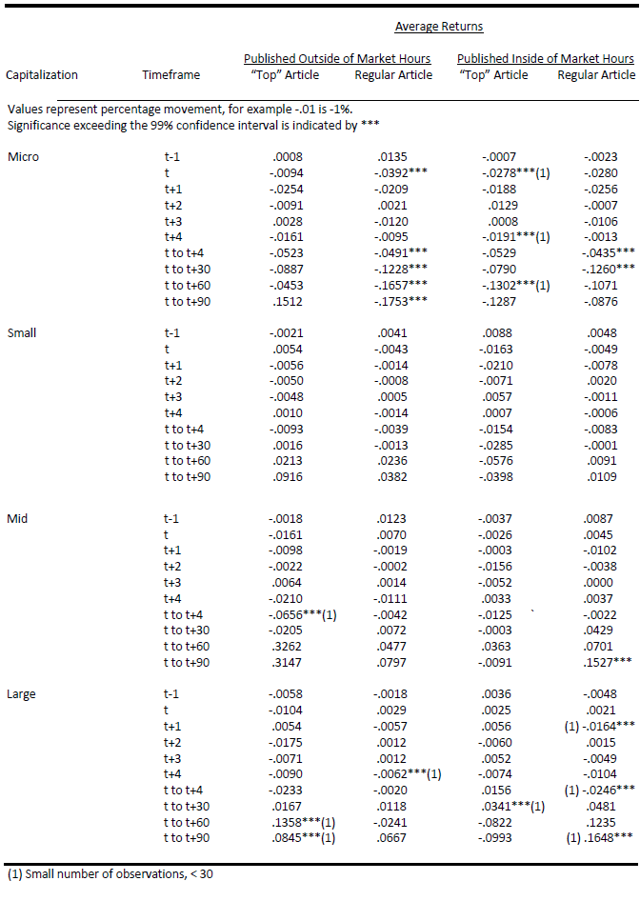 Table 5 - Counts for Short Recommendations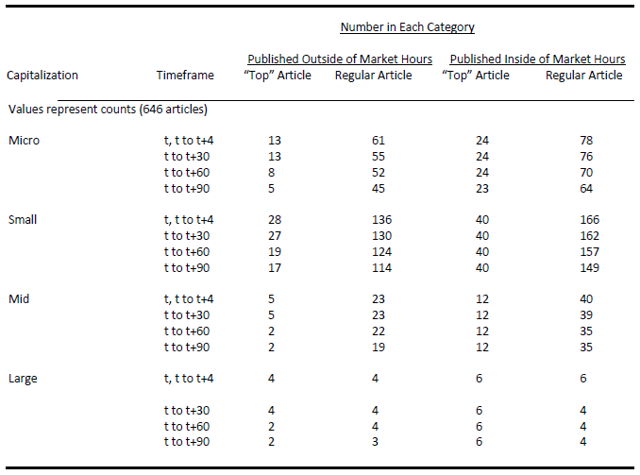 Conclusion
Seeking Alpha fills a critical gap in analyst coverage of Microcap securities. Researchers studying the patterns of buy-side versus sell-side recommendations over the period Mid-1997 to 2004 found buy-side firm analysts recommended stocks with market capitalizations almost seven times larger than sell-side analysts (Groysberg). Seeking Alpha recommendations occur in greatest frequency in the Micro and Small cap categories versus Mid to Large cap categories at a ratio of nearly 4 to 1 for Long recommendations and more than 5 to 1 for Short recommendations. Overall, Long recommendations outnumber Short recommendations by more than 7 to 1.
This study determined a system trading solely with the knowledge that there exists an article, and actually not reading the article content at all, can earn an absolute profit so long as the system focuses on Micro capitalization stocks when trading over the Shortest time periods (and so long as extended time periods are utilized for more largely capitalized securities).
Consistent with earlier studies that demonstrated that "non-conflicted analysts" are able to accurately forecast stock prices (Ertimur), Seeking Alpha authors achieve profitable recommendations in both Long and Short recommendations. Longer term analysis of the price path following article publication provides confirmation that Seeking Alpha authors are successful predicting the future direction of stocks they cover (Chen).
One possible explanation for the success of Seeking Alpha authors predicting the direction of future stock price is that they were simply following the existing momentum of the stock. To examine whether this was happening in the short term, intraday price data for the day prior to publication was collected and inspected for presence of price trends. If the authors or the publishers were interested in piggybacking on an existing trend we would expect to see statistically significant t-1 price trends in the direction of the article recommendation. This study finds no evidence of trend timing in publication of articles; intraday movement the day prior was not significant for any of the 16 categories studied, and, even non-statistically significant average moves were frequently opposite the direction of the subsequent article's recommendation.
This study conducts brief textual analysis of each recommendation to identify for each article whether the author disclosed a position consistent with the direction of the recommendation and to determine whether a quantitative (non-ordinal and non-date) number was present in the headline. The condition of having a disclosure and the condition of having a number are not exclusive, rather, four combinations are formed that include articles written by an author with a position and having a quantitative headline number (scenario 1), articles where the author disclosed position in the same direction as recommendation there is no quantitative number in the title (scenario 2), articles where the author disclosed no position and a quantitative number was used in the title (scenario 3), and articles where the author disclosed no position and no quantitative number is present in the title (scenario 4).
Therefore, this study began by constructing the theoretical equity curves that were possible for investing at exactly the opening price and closing the position at exactly the official closing price. In practice the implementation shortfall would decrease returns available and may even turn positive expected returns from a theoretical strategy in to negative returns for the investor.
This study focused very tightly on the most optimal times to invest in a security following publication of an article. Equity curves were constructed to provide an empirical way to see the gains possible for each strategy across time. The "four scenarios" were depicted as equity curves to show the relative value of each combination. These graphs are provided in the following pages.
The curves are theoretical because the open and closing price is generally not available in sufficient quantities to satisfy the sizes required by a sophisticated investor. Gains would be lower than depicted according the investor's ability to capture the opening and closing price and her ability to transact in the market without moving the price against her position.
Discussion: Implementation Shortfall
Average gains and the construction of equity curves in this study are based on the full capture at the opening and closing prices found in historical data sets. A trader executing any strategy built on this study's research will earn far less profit than theoretically depicted due to losses incurred while crossing the bid/offer spread and because there may be insufficient stock available at desired prices. Such a trader may also be detected in the market, causing prices to move against the strategy. These factors would be especially prevalent in Micro and Small cap areas.
The difference between the final average execution price when the trader actually enters a position and the price in the market when the trader decided she wanted to enter the position is the "implementation shortfall." The final execution price is made with regard to the security and the final execution price or value after taking into consideration all commissions, fees and taxes. As such, implementation shortfall is the sum of execution costs and the opportunity cost incurred in case of adverse market movement between the time of the trading decision and order execution. In reality, lack of liquidity sufficient to complete the investor's order at the open and close times leads to the requirement to fill the entry and exit orders over a period of time.
Illustration: Theoretical Equity Curves
The daily return is computed at the equal weight of investing in each security of the same category where I b,t is the return of stocks in the Long portfolio and N b,t is the quantity of stocks in the portfolio on that day. Note that the return is computed as the change from open to close on the same day an article is published, and when +1, +2, +n is indicated the value is for the event day plus n trading days. For the set of stocks that had articles published at 4:00pm or after (but before 12:00am), the t date was adjusted so that the next day's open serves as the first opening price (t day opening price).
Daily Return Equation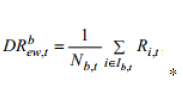 * (Jegadeesh)
All curves were built using $10,000 as the initial investment. When more than one security was recommended on the same day the $10,000 (or cumulative proceeds) was allocated in even dollar amounts between n securities on that day, representing the average return for investing funds in equal amounts in those securities on that day.
The curves on the following pages represent the greatest gains possible from capturing the open and closing prices each day then reinvesting the full proceeds, from the date 26 November 2012 to 20 September 2014. The total data set is depicted first then the set representing all announcements made outside of trading hours. Exploratory analysis was conducted to compare the four main situations (regarding whether the author disclosed a position and whether a number was present in the headline). The results of these studies are included in smaller thumbnail charts on each page.
Chart Pack 1 - Top Micro Long (ALL)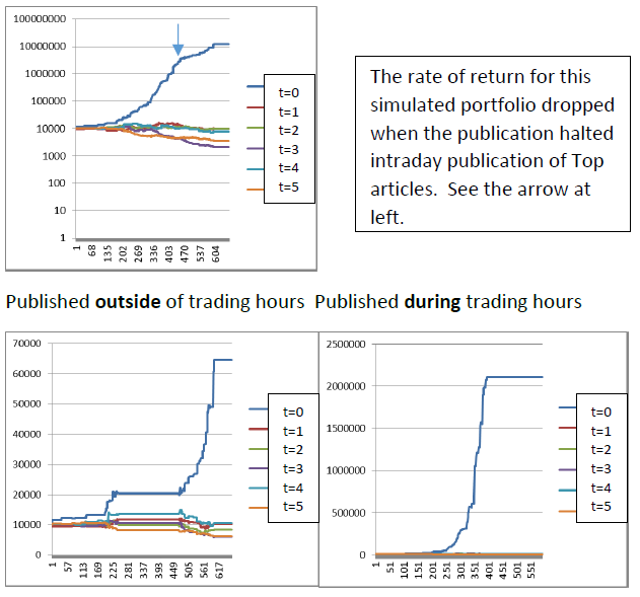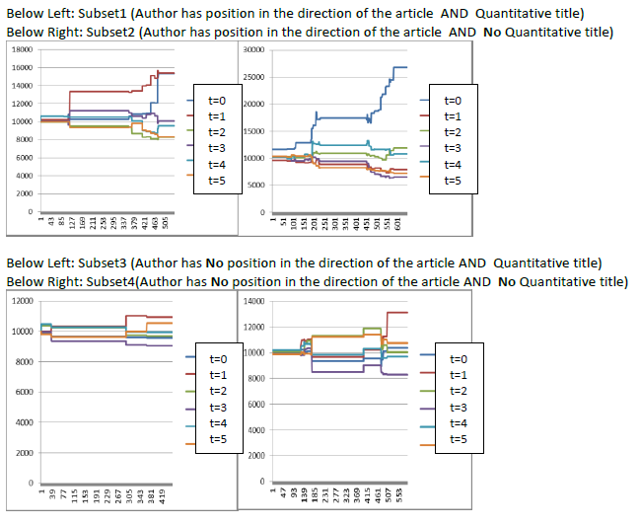 Chart Pack 2 - Micro Long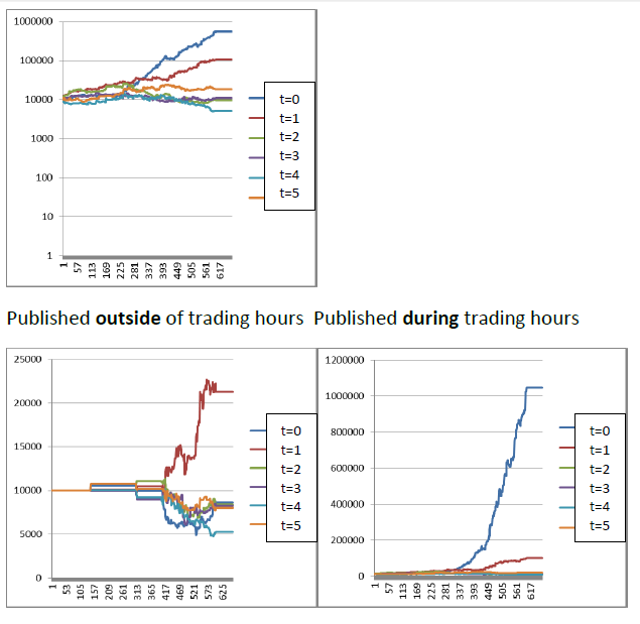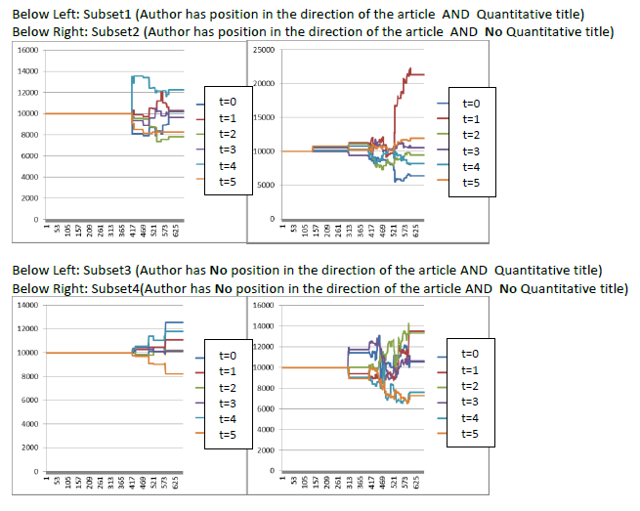 Chart Pack 3 - Top Small Long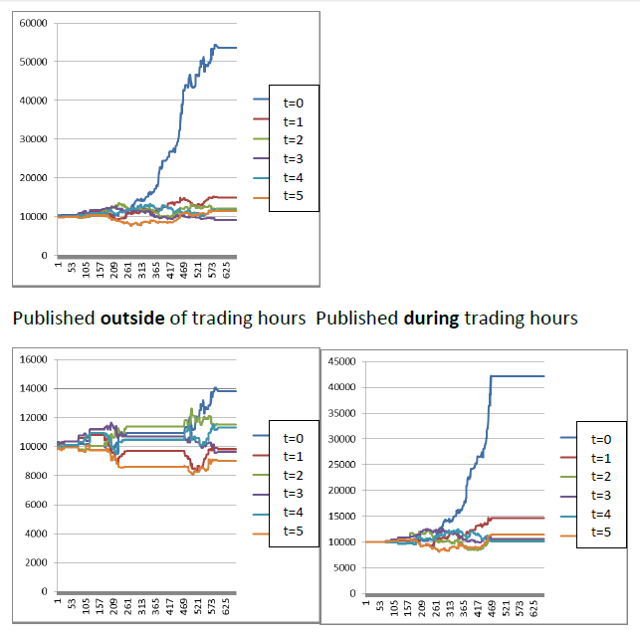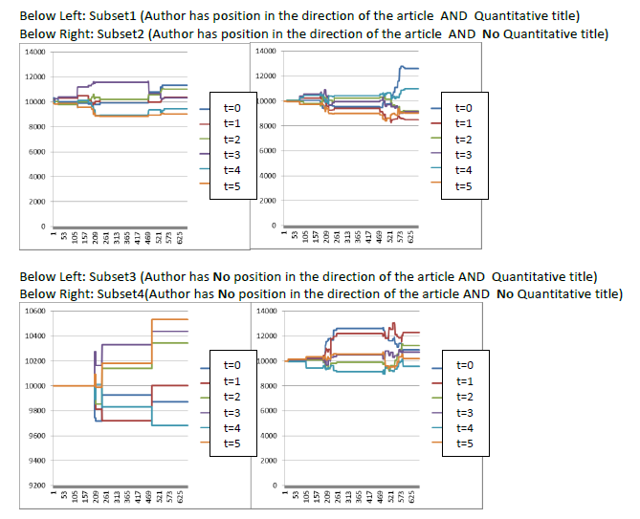 Chart Pack 4 - Small Long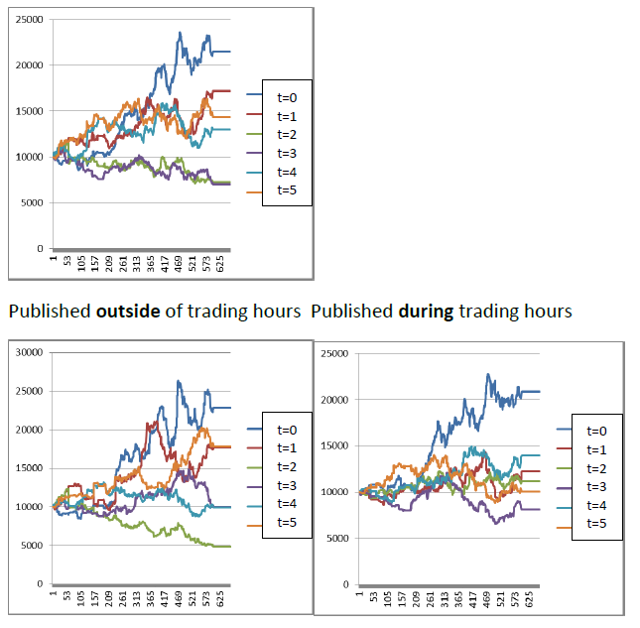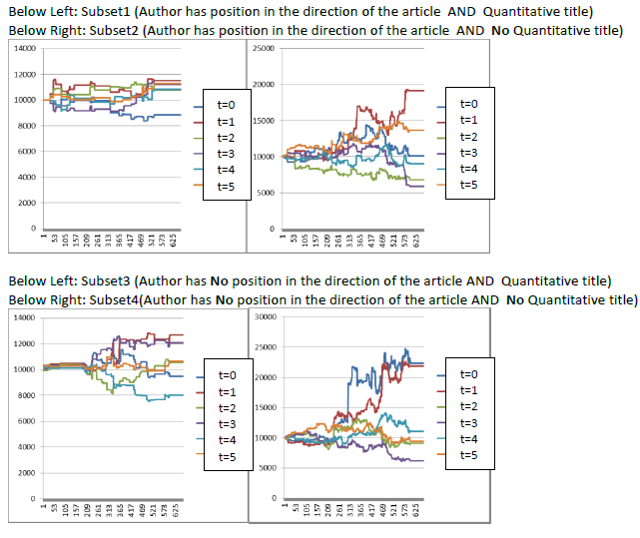 Chart Pack 5 - Top Mid Long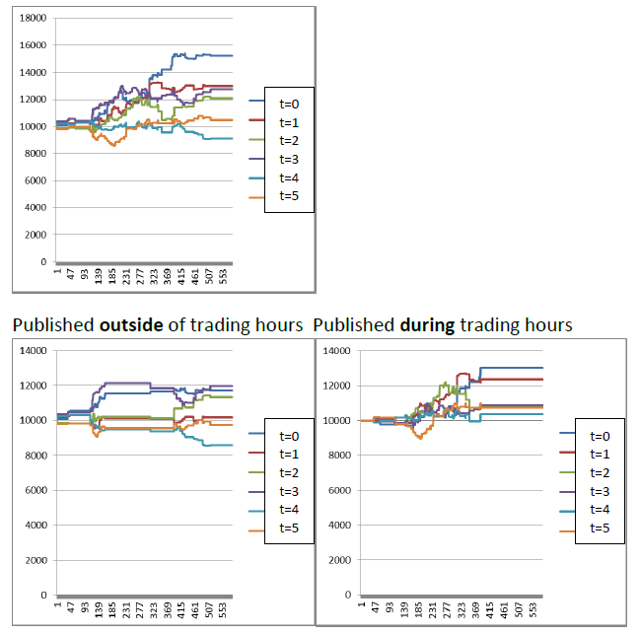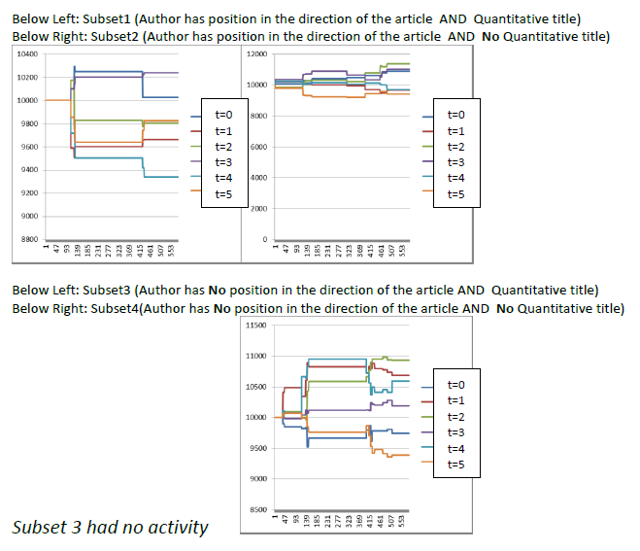 Chart Pack 6 - Mid Long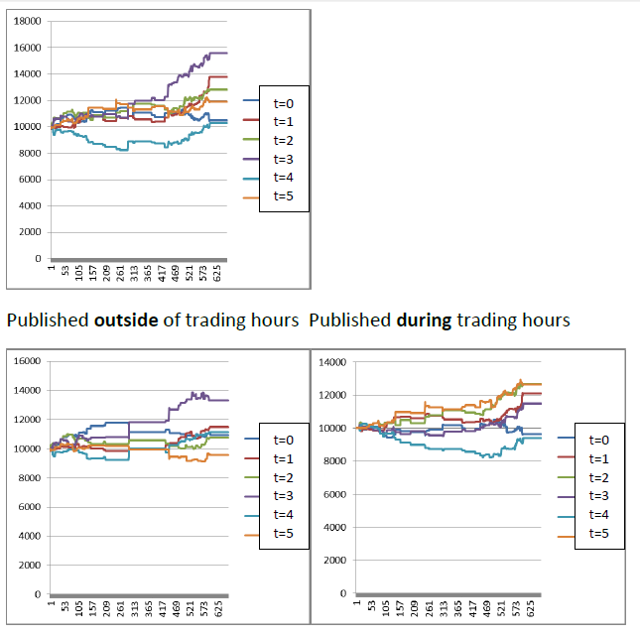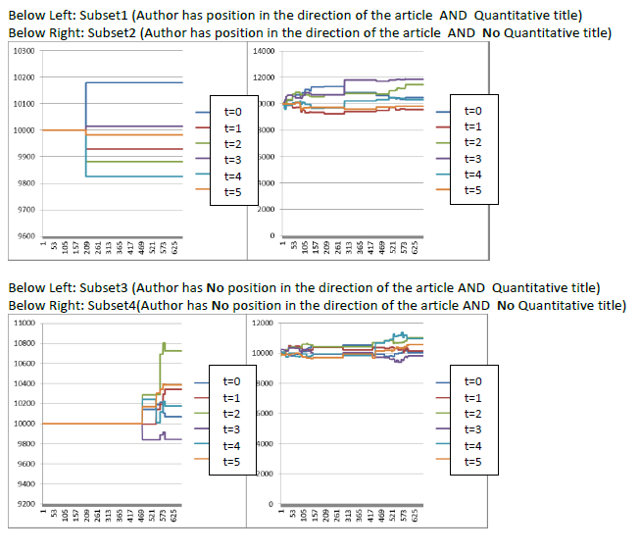 Chart Pack 7 - Top Large Long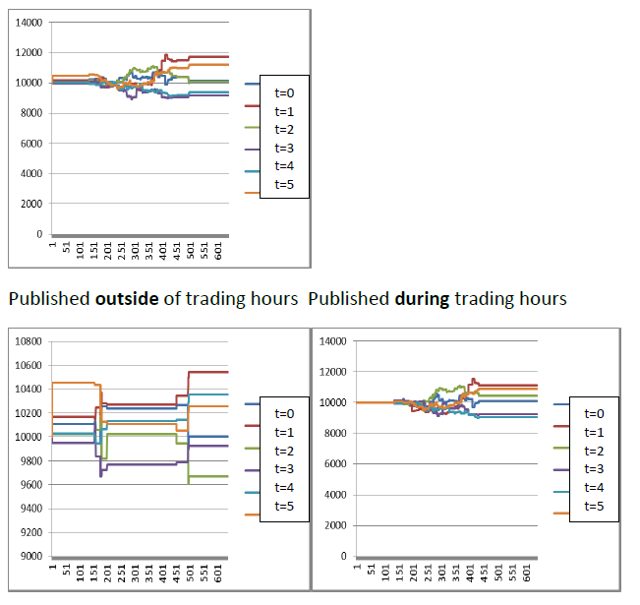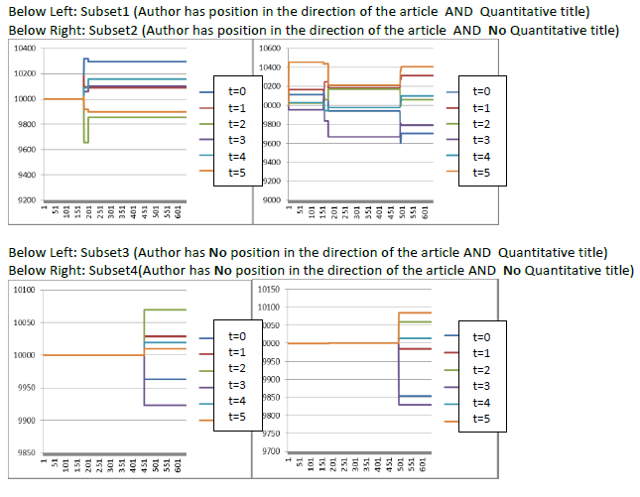 Chart Pack 8 -Large Long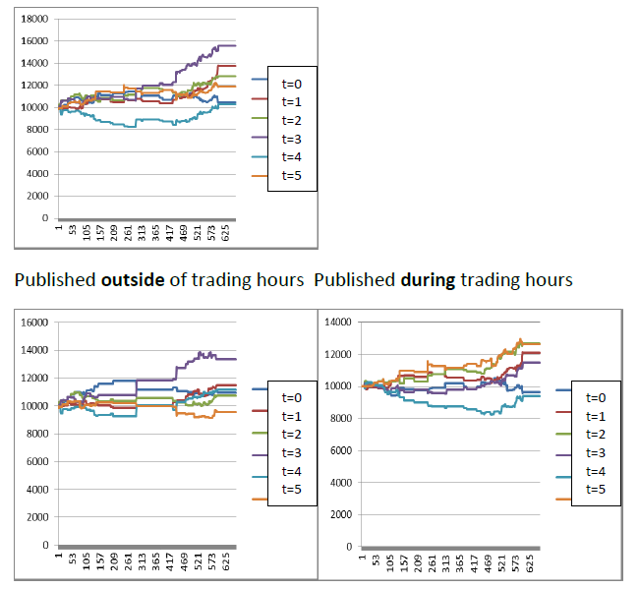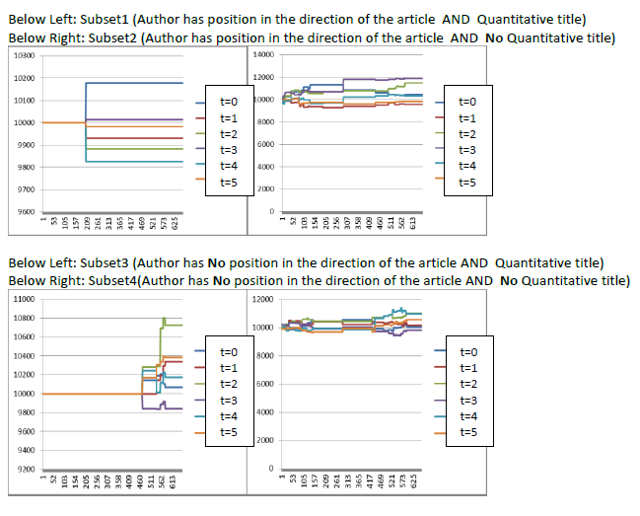 Chart Pack 9 - Top Micro Short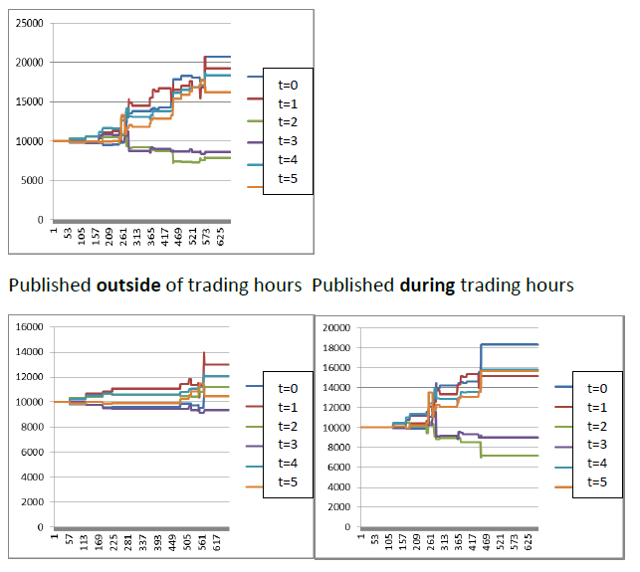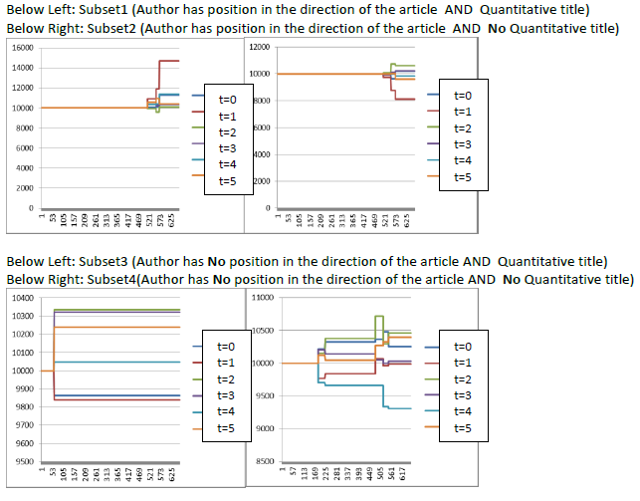 Chart Pack 10 - Micro Short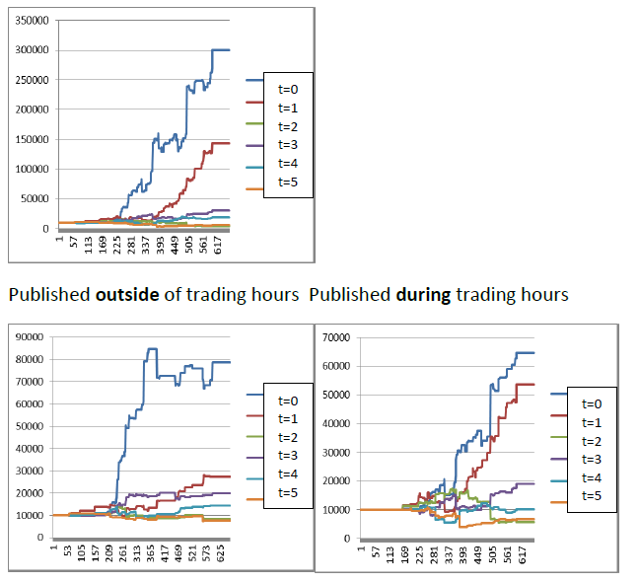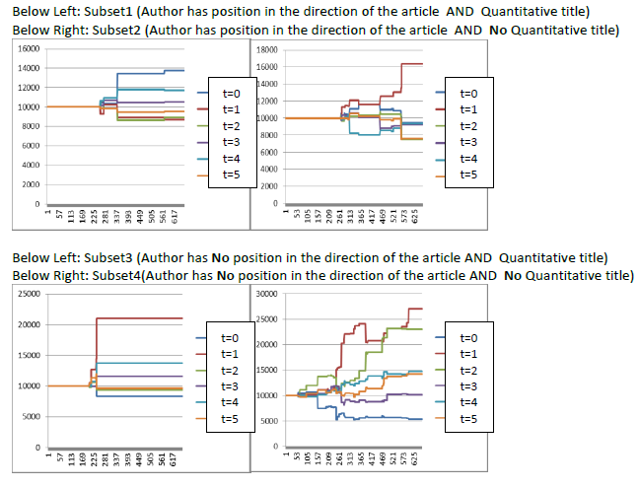 Chart Pack 11 - Top Small Short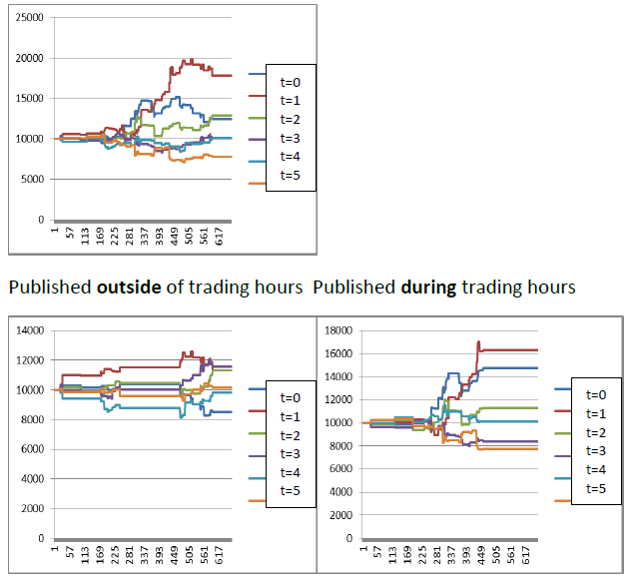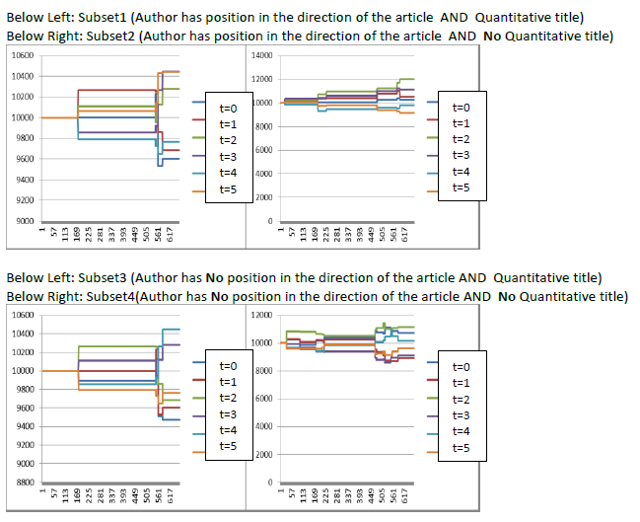 Chart Pack 12 - Small Short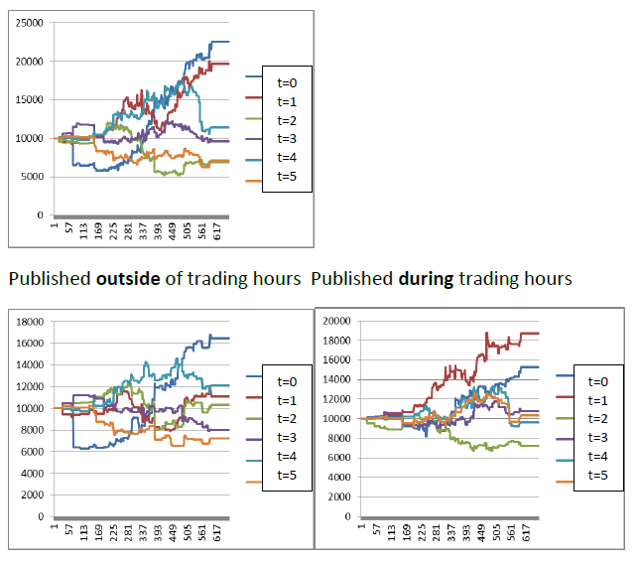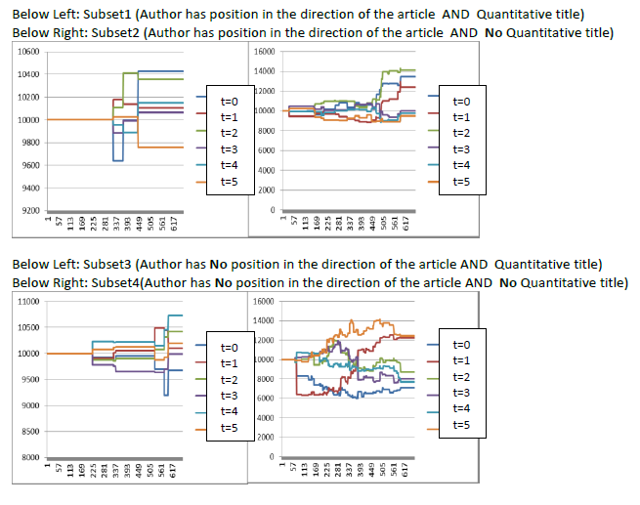 Chart Pack 13 - Top Mid Short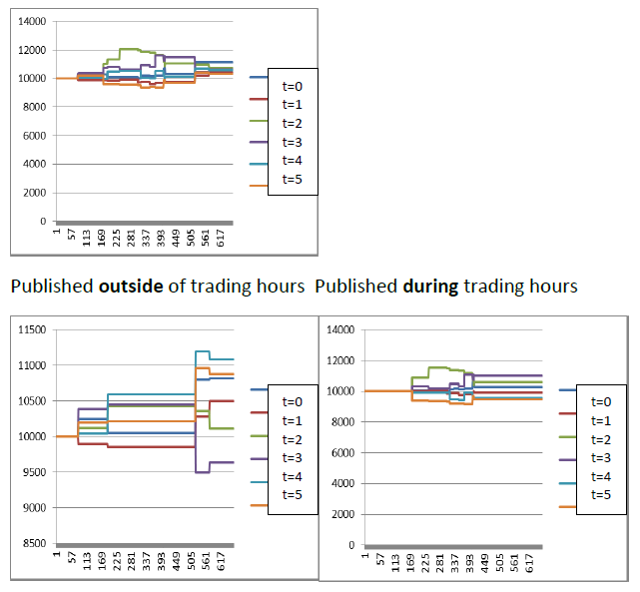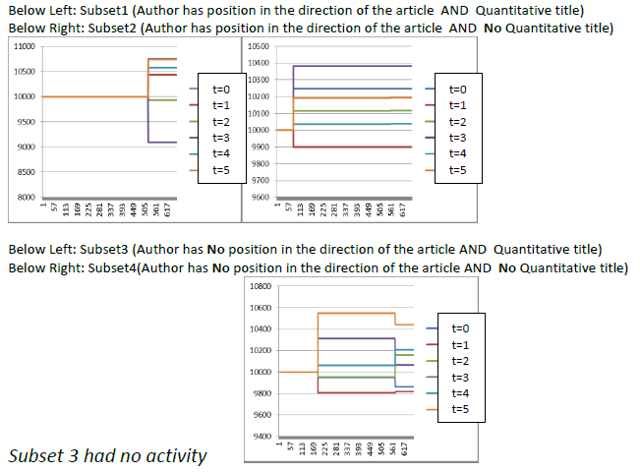 Chart Pack 14 - Mid Short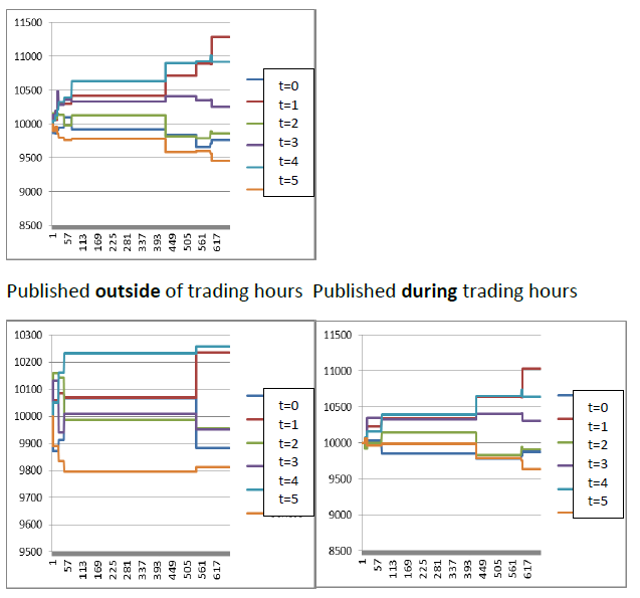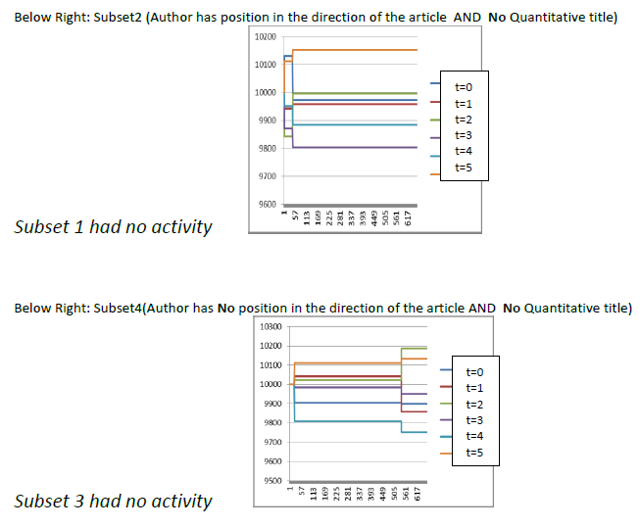 Chart Pack 15 - Top Large Short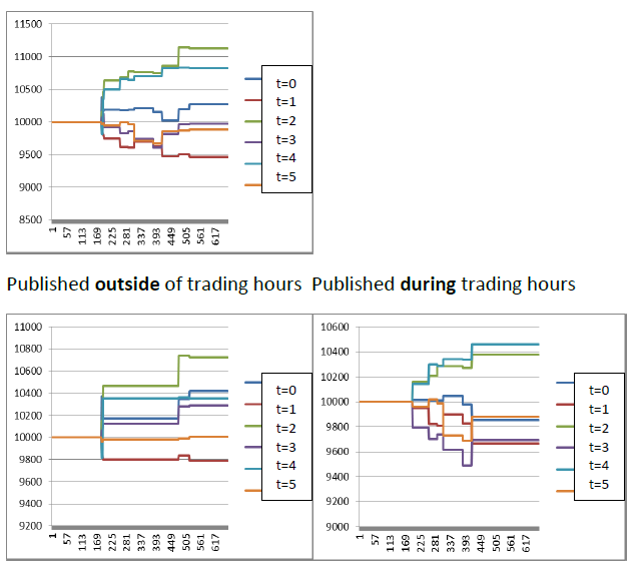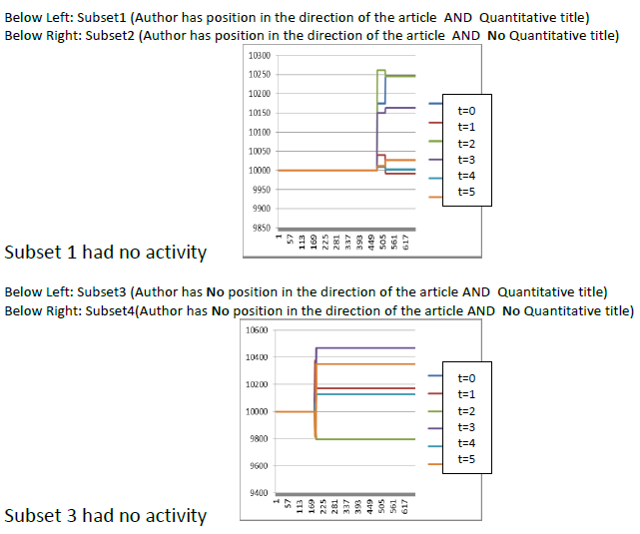 Panel 1. Average Price Path and Average Cumulative Average Volume
These figures present average trading price paths for the days of trading that were statistically significant. For each revision, price begins at time 9:30am and completes at 4:00pm on the x-axis and magnitude of change is presented in percentage format on the y-axis.
The left chart is price, the right chart is cumulative volume.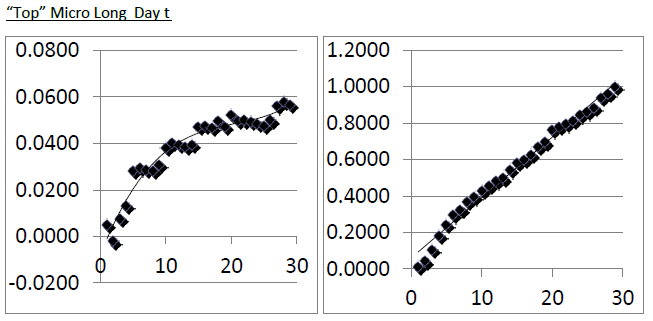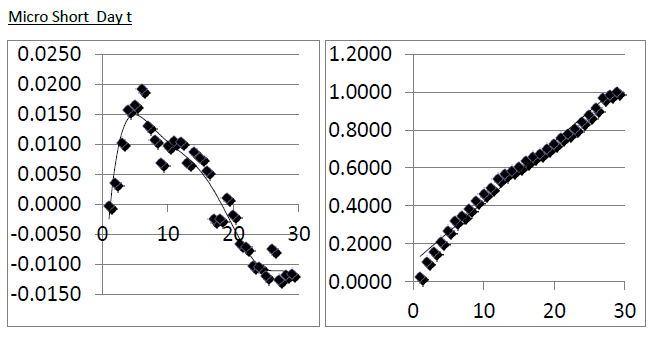 Price and volume charts were constructed using tick data provided by Wharton Research Data Services. The trading day is constructed as a series of 15-minute bins beginning at 9:30am. Each point represents an average of prices or volumes closest to but not after each bin-time. For each category a small (<20) sample of securities that had tick data available from September to December 2013 was used to develop average values. These sorts of charts may be helpful for a trader trying to minimize implementation shortfall and to help understand the different price and volume behaviors of longs versus shorts. Because this data set is from the group that was announced outside of market hours the initial rise in price on the short chart may be due to closing a downward gap in the initial opening price print. In order to fully understand the price formation process every security should be included in the values used for depiction, a task beyond the scope of this academic study but worthy of future research.
Table 6 - Published outside of the trading day, Scenario 1 Subset (Position & Number)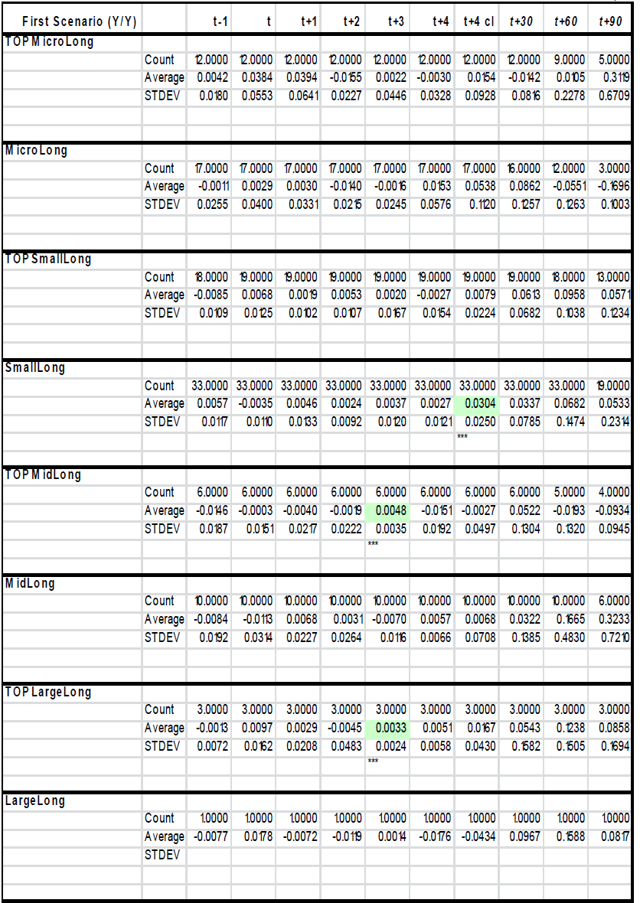 Table 7 - Published outside of the trading day, Scenario 2 (Position & No Number)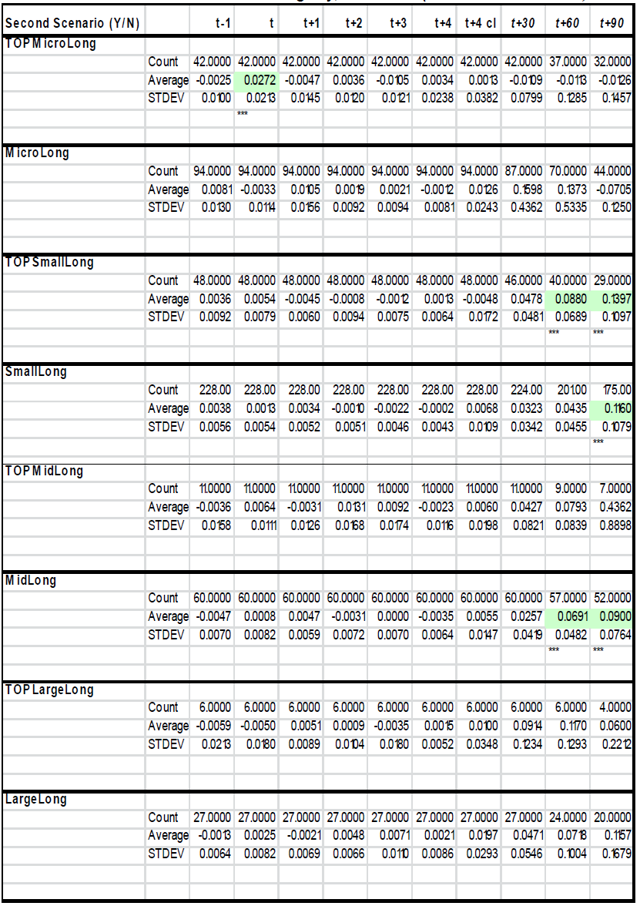 Table 8 - Published outside of the trading day, Scenario 3 (No Position & Number)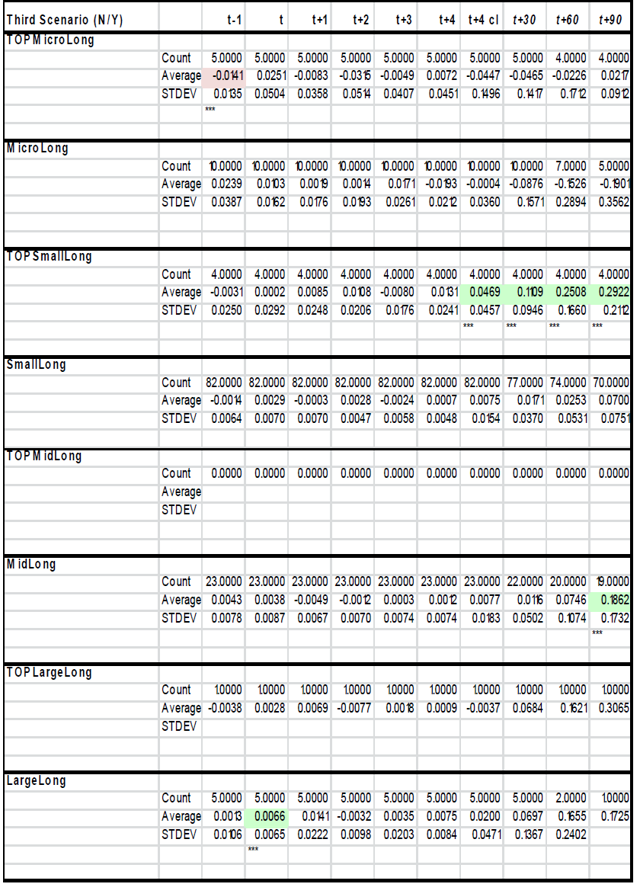 Table 9 - Published outside of the trading day, Scenario 4 (No Position & No Number)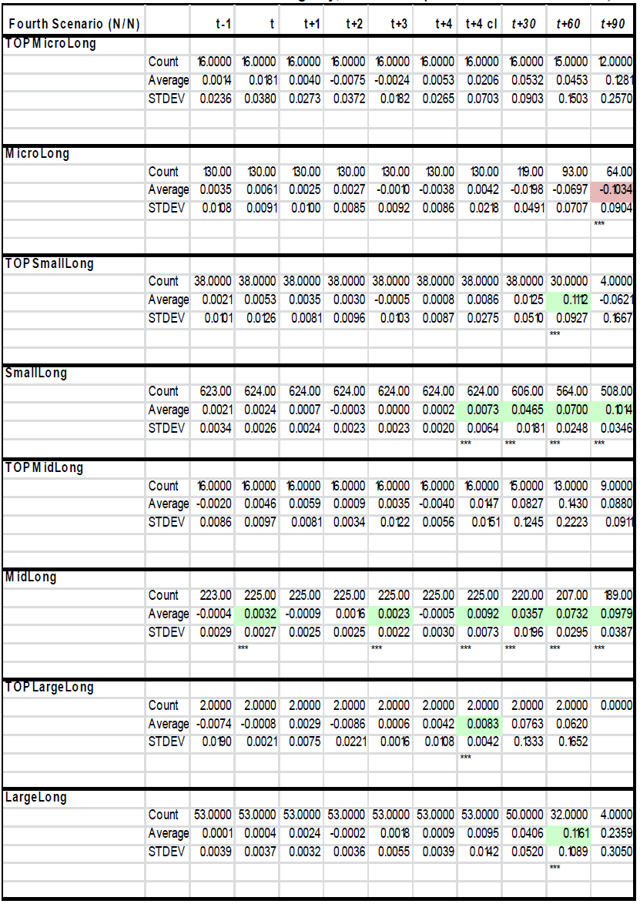 References
Barber, B., R. Lehavy, and B. Trueman. "Comparing the Stock Recommendation Performance of Investment Banks and Independent Research Firms." Journal of Financial Economics, 2007. pp. 490-517.
Chen, Hailiiang; De, Prabuddha; Hu, Jeffrey Yu Hwang, Hwang, Byoung-Hyoun;. "Wisdom of Crowds: The Value of Stock Opinions Transmitted Through Social Media." December 2013.
Ertimur, Yonca; Jayanthi, Sunder. "Measure for Measure: The Relation between Forecast Accuracy and Recommendation Profitability of Analysts." Journal of Accounting Research, June 2007. p. 570.
Groysberg, Boris; Healy, Paul; Serafeim, George; Shanthikumar, Devin; Yang, Gui. "The Stock Selection and Performance of Buy-Side Analysts." Working Paper. February 2012.
Jegadeesh, Narasimhan and Kim, Woojin. "Value of Analyst Recommendations: International Evidence"; April 2005. p14.
Womack, K. "Do brokerage analysts' recommendations have investment value?"; Journal of Finance, March 1996. pp. 137-167.