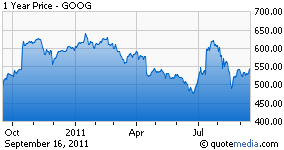 Search engine giant Google (NASDAQ:GOOG) has been transforming itself over the years as it seeks to become a giant in other related industries. I do not believe that the market has come anywhere close to appreciating Google's ongoing entrance into different markets. While analysts rate GOOG a near "strong buy," its stock price still remains 33.9% below the consensus intrinsic price. From my view, the real discount in Google's stock price comes from the market's failure to fairly value the synergies inherent in the company's growth strategy.
Google, Inc. has a search engine business, a smart phone business, a video business, and now a social networking business. All of these brand-name segments can be smoothly integrated with one another in a transformative way. While Google operates in competitive industries, I believe that they have consolidated companies together in what might become the greatest business empire of modern time. Impressively, Google has become a sustainable leader in markets where I would not originally think possible. Google's Android has already exceeded Apple's (NASDAQ:AAPL) iOS by a good margin in market share (about 42% versus 27%, respectively). Furthermore, the company's search engine business has captured approximately 65% of the market.
Revealingly, many users would have little idea how to use a computer were it not for Google. Although I have tried other search engines, I am constantly drawn back very quickly to Google for its integrative power. Furthermore, I find that the company's venture into social networking will turn it from a conglomerate of fantastic businesses to an empire of synergistic value.
Put differently, watch out Facebook, Microsoft (NASDAQ:MSFT), Apple, et al. Facebook, in particular, will struggle when it goes public as it has to justify its expensive valuation. With an approximate net income of $500M in 2010, the leading social network will IPO at a high PE of 80 or more. Google, meanwhile is trading at 19.6x past earnings and 13x future earnings. It is also brimming with cash -- approximately 22.3% of its stock price is represented by this asset--and has a current ratio of 6. Its acquisition of Motorola Mobility (NYSE:MMI) for $12.5B may reduce that number, but I believe the purchase was beneficial for the reasons that CEO Page had mentioned:
"The acquisition of Motorola Mobility, a dedicated Android partner, will enable Google to supercharge the Android ecosystem and will enhance competition in mobile computing …

Larry Page, CEO of Google, said, 'Motorola Mobility's total commitment to Android has created a natural fit for our two companies. Together, we will create amazing user experiences that supercharge the entire Android ecosystem for the benefit of consumers, partners and developers".
In June 2011, Google announced that 550K new Android phones were being activated every day. That is a staggering amount and highly intimidating for competitors. The company is just so far ahead of the curve that, in my opinion, it has miraculously solidified barriers to entry in the technology sector. MMI has approximately 17K patents and 7.5K pending patents, a tremendous amount of hidden value for such a transformative company.
Adding to its portfolio of related businesses, Google acquired Zagat for a small sum estimated to be below $500M in September 2011. Zagat is a review and ratings site for everything from restaurants to hotels to golf clubs. Google can integrate the acquisition's capabilities smoothly into its social networking platform, Google+, and search engine taking, thereby taking business away from Yelp and others in the process. It is a value-creating acquisition.
Although Google+ currently is open just to invited guests, demand is very high. I believe that the company is employing a strategy similar to how Facebook created demand by originally limiting supply. Eventually, Google+ will end its "beta" mode and open to the general public. When that occurs, you can expect a variety of its businesses to come into play--everything from YouTube videos to mobile features to search engine bonuses.
There is nothing stable about social networking, but I see a quick takeover of the industry by Google, like it has done for mobile. I further see the company establishing a foothold in the field in a way that just is not possible for Facebook and others to mimic. Although some may argue that Facebook fans are loyal, the reality of the situation is that there are no costs to switching over to Google+, new social trends are ephemeral (remember instant messenger?), and the process to switching over has already been made simple through Gmail integration. New visitors will find a plethora of helpful resources on the new network. I have an account with Google+ and see the site not as a new "social trend", but as a complementary resource for, well, the other resources that I use from the company. It is a powerful combination, to say the last.
Consensus EPS estimates for Google is that it will grow by a bullish 19.8% to $35.47 and then by 18.6% and 16.9% for the following years. My model forecasts Google's revenues to grow to $44.7B with MMI added and then to $50.6B in the following year. This far understates what I expect from the company in 2012, since it does not account for the revenue synergies arising from social networking.
In conclusion, my opinion of Google is that it will emerge as a sustainable empire of modern times. Its entrance into social networking will likely make that more clear than ever.
Disclosure: I have no positions in any stocks mentioned, but may initiate a long position in GOOG over the next 72 hours.