In recent weeks I have written on the merits of leading defense industrial stocks, starting with Boeing (NYSE:BA) (click here), General Dynamics (NYSE:GD) (click here), Lockheed Martin (NYSE:LMT) (click here), and to a lesser extent KBR (NYSE:KBR) (click here). Each of these companies obviously has its own intrinsic value for investors, and they are valued differently depending on what returns investors are seeking, and what value you place on the company.
Defense industrial stocks are a unique and diverse sector of stocks, as they transgress wider boundaries of target markets when compared against more commercial industrial companies. For example, BHP (NYSE:BHP) is predominately a mining and energy company focused on natural resources, while LMT is a defense industrial stock, working on complex platforms and programs for the defense and government security sectors, stretching across four equally unique business groups - aeronautics, electronic systems, information systems and global solutions (IS&GS), and space systems. Like BA, the sheer variety of programs and projects for LMT presents its own challenges in managing them, especially in tight economic markets that exist at present. Complicating this further is the external influences from politics, both from the government itself and its government departments.
How these defense industrial companies are viewed by investors is also as equally important as to how they are viewed by government (prime vendors), as well as their own personnel (the management that drive the company's strategic direction and the technical personnel who design, develop and produce the end product). The perception and input of these three groups ultimately shapes the intrinsic value of the company, its stock price and its market capitalization. Defense Industry Daily released a report on September 13 which summarizes the results of market research conducted on the top 20 defense industrial companies. Of note, the information contained in the report is that it was based on the input of 600 defense industry executives, procurement officers, project managers and other employment roles within these firms, and from all accounts some of these inputs are pretty honest from a "Chattem House" rules perspective.
An overall general summary of these results and how each of these defense industrials perform against each other is depicted in the following bubble graph.
Click to enlarge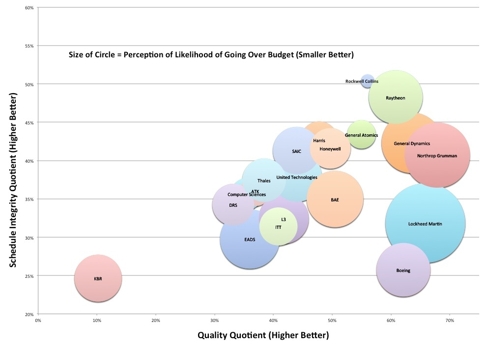 Graphic from Defense Industry Daily
In reviewing the executive summary of the report, I was interested to see the different perspectives and graphical depictions of performance measures, especially when comments are coming from internal to the company (a variant of 360 degrees reporting). Likewise, the differing perceptions of each company from military personnel versus company personnel were intriguing. One of my favorite observations which struck a personal note was that of "Projects being won by the A-team, following which the A-team moves on to the next hunt, while the B or C-teams move in to execute the project."
For investors with an interest in leading defense industrial stocks, the free executive summary is well worth reading, and can be accessed (here). Investors with a large stake of defense industrials in their investment portfolios, or fund managers carrying large holdings, may be more interested in reading the reports (and sub reports) in their entirety (which I haven't done and for which the privilege comes at a not insignificant fee). That said the quality of the market research given it is from inside the actual companies will offer more than a straight up fund manager or broking analyst assessment of the company's stock value.
I for one was very interested in where BA, LMT and GD performed having written on them recently, and after reading the executive summary, I intend on researching Northrop Grumman (NYSE:NOC) and Honeywell (NYSE:HON) in more detail soon. The report states that in terms of quality in its products, the major U.S. prime contractors have a large quality advantage over the smaller to medium size companies, and I believe this is reflective of equipment produced by BA, GD and LMT. These companies are also more likely to syndicate their efforts in future programs, to integrate multiple capabilities into complex equipment, and again their size will place them at a significant advantage over their smaller competitors, and allow them to keep their overheads low.
I still believe that BA and GD are suitable long term positions to enter, currently trading at a discount to their intrinsic value. GD is a time proven performer and has demonstrated it can sustain both capital growth and revenue growth while maintaining a dividend cash stream return for investors. Likewise, BA pays a consistent dividend, has a strong financial surplus, and consistent cash flow revenue from government contracts. Both of these companies offer future capital growth and income through dividend cash flow, are suitably diversified across their business groups, and this is reflected in where they sit performance wise within the top 20 defense industrial stocks. LMT is also a good prospect, though is more reliant on pure security/defense projects, but offers an upside for dividend growth investors with the company's dividend return recently predicted to grow to 5-6% (see my earlier article on LMT). Having read the report also I would need to revisit my original assessment on KBR given its clear non-performance (on defense programs) outlined in this report.
The executive summary outline of key strengths and weaknesses makes it worthwhile reading for anyone thinking of investing some of their portfolio in defense industrials soon. Investors will appreciate that the report is based on input from all levels of technical expertise from different personnel roles within the companies, which is a unique take on performance reporting for these firms.
Disclosure: I have no positions in any stocks mentioned, and no plans to initiate any positions within the next 72 hours.
Additional disclosure: Disclaimer: This advice is general in nature only and investors should seek independent financial advice before making any investments of their own.