While many are fearful of a double dip, I have strong confidence in the resiliency of the US economy. When it comes to picking stocks during a recovery, I am always interested in the retail sector. The positive feedback loop that comes from growing discretionary spending, and a recovering economy is what particularly attracts me.
Kohl's (NYSE:KSS) is one retailer that I find undervalued. By January 2011 the company had 1,089 stores in 49 states. This is approximately the same number of stores as J.C. Penney (NYSE:JCP) and about 25% more than Macy's (NYSE:M). Earlier this year activist investor Bill Ackman of Pershing Square invested in the former, based on his belief that shares in the brand name company were trading below intrinsic value.
While J.C. Penney is trading at 16.9x past earnings and 12.1x forward earnings, comparative numbers for Kohl's are 11.7x and 9.1x, respectively. KSS is down 13.6% for the year, while JCP is down 15.8%. I see Kohl's as the more undervalued one of the two, based on the potential that it has going forward with its high operating margins, let alone its multiples.
Although sales for Kohl's were below expectations (-1.9% versus the consensus of 1.7%), I see high operating margins driving growth in the future as the economy recovers. Kohl's has by far the highest EBIT margins in the industry at 10.4% versus 4.7% for JCPenney, 7.6% for Macy's, and 6.7% for Target (NYSE:TGT). The company may have to cut into margins a bit to boost sales, but the figure will still remain far ahead of the competition.
Analysts rate KSS close to a "strong buy." Consensus EPS estimates are that it will grow by 23.8% to $4.52 for 2012 and then by 14.4% and 18.4% for the following years. I forecast revenue growing by 5% to $19.3B in 2012 and then by 6.1% the next year. These numbers put the company at a healthy discount to fair value.
Although the company has unique brands (with new lines from Jennifer Lopez and Marc Anthony coming out this month), the business of Kohl's is very much similar to that of JCPenney and Macy's. It offers everything clothing, footwear, bedding, jewelry, etc. Below is a break-down of Kohl's business mix.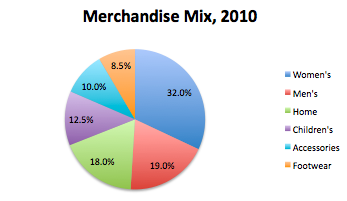 I believe that retailers in general will benefit from a recovery that happens much sooner and much stronger than what the market is anticipating. I further believe that Kohl's, in particular, will have the lion's share of the subsequent increased traffic. Since the retailers sell substitute products, Kohl's will benefit largely through its higher EBIT margins. It should cut into those margins in the next year in an effort to gain customers away from competitors.
Finally, management is committed to increasing shareholder value. In 2010, management agreed to repurchasing $1B in stock. Early 2011, the company began to pay out its first dividend at a reasonable, although not too generous, 2.4%. The retailer didn't lay off as many employees as it could have during the recession, and can still add value through further improving margins. By using the subsequent profit to open new stores, Kohl's can take market share away from the competition going forward. In sum, I see the retailer poised for strong gains over the next 3 yeas.
Disclosure: I have no positions in any stocks mentioned, and no plans to initiate any positions within the next 72 hours.