With rumors out today that Apple (NASDAQ:AAPL) may be encountering manufacturing problems with the iPhone 5, as well as the stock struggling to break above $400/share, shorting AAPL stock so long as it stays below $400 may be a very easy and low-risk trade.
Both as a company and as a stock, Apple has continued to defy expectations and dominate the sector. It officially surpassed Exxon Mobil (NYSE:XOM) to become the biggest company in the US by market cap; its stock is up hundreds of percent over the past few years; and its progress and innovation has allowed it to dominate and revolutionize the user-electronics, personal media players, and smartphone markets.
But troubles are mounting: The stock market as a whole is falling, Apple investors have very lofty expectations that may not be met, CEO Steve Jobs has had to step down due to health reasons, and the stock price is struggling at a very strong psychological resistance level of $400. Many investors seeing Apple stock approaching $400 a share will be selling part or all of their position since $400 is a round number and a very strong psychological milestone. Investors may intend to buy the stock again later on; but as the price approaches $400, many investors are looking to take some off the table.
Apple broke above $400 in late July, but failed to stay above it. Today it has approached the level again, but is failing to break above it.
(Click chart to enlarge)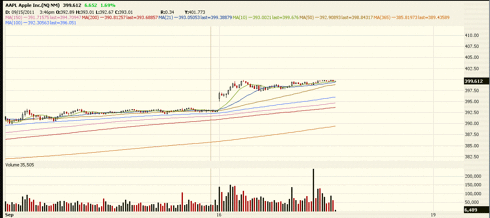 If prices can't break above, and stay above, $400 a share, we can expect the $400 level to be strong psychological resistance.
For those who would like to profit from this strong resistance level with minimal risk, investors can place a short sale on AAPL near $400 so long as it stays below $400. If the stock breaks above $400 and closes above it (not just intraday), investors should cover their short trade. But if this trade is right, and $400 serves as a very strong resistance level, a short sale here would be minimal risk (likely less than 1-3%). For those with more experience who may be willing to take some more risk in exchange for greater potential rewards, buying some put options that will last a few months may provide greater returns and a longer time period for the fall in AAPL stock price to take place. Either way, using the $400 level as our pivot point to get in or out is a great way to limit risk, provide concrete resistance levels, and profit if the market, and Apple stock in particular, fall.

Disclosure: I have no positions in any stocks mentioned, but may initiate a short position in AAPL over the next 72 hours.