Finding growth opportunities that exist in the current market environment is proving a difficult task. In simple economic terms numerous companies, while highly profitable due to tremendous productivity (a.k.a. gains from laying off everyone), assert to be suffering from a substantial lack of demand growth. While this seems like it is partly their own fault as unemployment is high and personal income is falling (no wonder there is limited demand growth), there are some sectors that do not share the same economic conundrum: commodities and more specifically agriculture as a matter of fact.
Commodities tend to be driven by fundamental supply and demand. It can be argued that financial players exhibit some sort of influence on prices but that is neither here nor there for our purposes and quite frankly is hard to know. Commodity prices can increase from increasing demand...but they can also increase from decreasing supply. Since finding increasing demand is so darn hard right now...it isn't such a bad idea to search for opportunities where supply is falling which will, we hope from a financial perspective, create some resiliency in prices.
An article in theFinancial Times by Javier Blas speaks directly to this point. The article starts out by citing Paul Conway, Cargill deputy chief, that growth was "weak and weakening". He goes on to say things like..."we are going through a long, slow, anaemic, tough recovery". He also mentions that the slowdown is spreading to Brazil, India, and China but notes that their slowdown is deliberate...[as] they are worried about high inflation...". While these comments highlight the dynamic scenario the world is facing...from a commodity price standpoint it is not necessarily as dire.
Mr. Conway was cited as saying, "we are unlikely to see prices going down." In his words, "global macro economic factors are pushing down, but agricultural micro econoimc factors are pulling up prices". In fact, in his opinion the "world need[s] at least two or three years of good crops to replenish stocks. The corn market is tight and there is not room for any supply shock before the year end...". He goes on to add that "the market had the potential for 'explosive' price swings."

As the FT article highlights, the USDA recently cut the size of the US corn crop to 12.5 bn bushels from an initial estimate of 13.5 bn bushels. "The balance of supply and demand drove corn to a record high price of nearly $8 a bushel in June."
The article goes on to argue that "high prices have put the brakes on consumption, prompting livestock and poultry farmers to switch to comparably priced wheat as a feed, or forcing them out of the business." Mr. Conway does note however that "the solution to high corn prices is to use more feed wheat." This feed switching will drive up the price of wheat until each market is in an approximate equilibrium.
So what, who cares?
Prices for agg commodities will likely remain resilient in the face of tepid global growth due in large part to supply constraints. The implication is that agriculture might be a good place to take a little risk since there should be some downside protection (in the form of weak supply) but if global growth starts to pick up will still capture some solid upside.
Investors interested in gaining a little exposure to this area can do it using the ETF MOO. Cited on yahoo finance "The investment seeks to replicate as closely as possible, before fees and expenses, the price and yield performance of the DAXglobal Agribusiness Index. The fund normally invests at least 80% of total assets in equity securities of U.S. and foreign companies primarily engaged in the business of agriculture, which derive at least 50% of their total revenues from agribusiness. Such companies may include small- and medium-capitalization companies. It is non-diversified."

The ETF's top 10 holdings are as follows:


| | | | |
| --- | --- | --- | --- |
| Potash Corp Of Saskatchewan Inc (NYSE:POT) US | 8,332,334 | 476,109,565 | 8.40% |
| Monsanto Co (NYSE:MON) US | 6,343,479 | 446,263,748 | 7.88% |
| Deere & Co (NYSE:DE) US | 5,052,236 | 397,307,839 | 7.01% |
| Wilmar International Ltd (NYSEARCA:WIL) SP | 82,542,751 | 351,238,395 | 6.20% |
| Syngenta Ag (SYNN) VX | 1,132,350 | 337,278,382 | 5.95% |
| Brf - Brasil Foods Sa (NYSE:BRFS) US | 15,035,142 | 290,328,592 | 5.12% |
| Mosaic Co/The (NYSE:MOS) US | 3,874,547 | 275,364,055 | 4.86% |
| Archer-Daniels-Midland Co (NYSE:ADM) US | 9,682,653 | 272,953,988 | 4.82% |
| Agrium Inc (NYSE:AGU) US | 2,797,851 | 244,420,263 | 4.31% |
| Yara International Asa (YAR) NO | 4,357,189 | 228,344,808 | 4.03% |
More technically speaking: MOO has been substantially stronger than SPY. Looking at a 3-year chart, MOO trajectory remains from the lower left to the upper right. Recently (with the turmoil out of Europe) MOO has tested some support between $45-$50 and has thus far managed to stay above it. That makes things semi easy, from a risk reward standpoint as investors can easily set a stop loss between, say below $48-$49. If the second half sees global growth pick up pace a bit it shouldn't be too tough for MOO to see prices between $55-$60.
(Click chart to expand)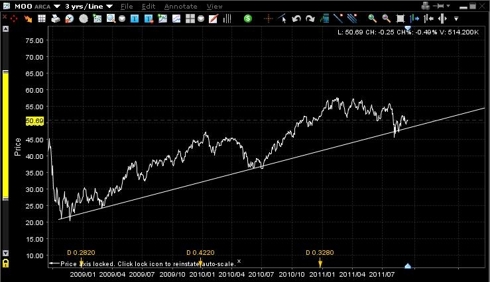 Disclosure: I am long MOO. I have long positions in MOO call options.