In my last post on the resurgent popularity of dividend investing, I talked about why the strategy of buying "dividend aristocrats" has surged in popularity over the past decade. This time I'd like to explore the challenges of picking individual stocks and the risk in shunning growth for value.
First, remember that not all dividend stocks are created equal. As the Wall Street Journal pointed out recently, investors looking to purchase dividend stocks must consider not only the size of the dividend, but also the fundamentals of the stock. While a generous dividend may look great at first glance, it's not uncommon for a company to boost its dividend to prop up a volatile stock or mask business difficulties. The Journal noted that Barnes & Noble (NYSE:BKS) had an enticing dividend yield of more than 5% - until the company, which has been losing money in recent quarters, suspended its dividend entirely on Feb. 22.
Second, do you really want to be in the stock-picking business? I work with very smart people at BlackRock who analyze stocks every day for a living. Doing this well takes a lot of time, resources and training. Even if you make a solid pick at the time of purchase, circumstances change; you can't just "set and forget" when it comes to individual stocks. Monitoring stocks and making adjustments is a big time commitment that could also be tax-inefficient when you decide to replace an existing stock in your portfolio with a new one.
What's an alternative? If you're really committed to dividend growth as an investment strategy, why not consider one of the older dividend growth ETFs or newer generation of rules-driven ETFs that focus on offering diversified exposure to dividend-paying stocks in a cost and tax efficient manner? For example, one of the newer iShares ETFs in this category is the High Dividend Yield Fund (HDV), which launched earlier this year. It seeks to track the Morningstar Dividend Yield Focus index, which includes many of the dividend growth firms I'm hearing so much buzz about. The index includes 75 stocks chosen on the basis of companies that have provided consistent dividend payments and other quality measures. As of August 31, HDV's 30-day SEC yield was 3.69%*; the yield for the Morningstar index for the same time period was 4.48%. (Past performance does not guarantee future results. For standardized performance for HDV, please click here.)
As I mentioned at the end of Part 1 of this blog, there's one other consideration to bear in mind: Are you sure you want a portfolio that has such a strong bias toward large-cap value stocks? There's a trade-off to not owning growth stocks. As the growth and value styles move in and out of favor, there are times when growth has outperformed value and vice versa. In the chart below, you can see rolling 10-year returns for large-cap growth and value (with reinvested dividends). I've circled in blue two time periods - one in 2004 and one more recently - whengrowth has outperformed, showing where the styles reverse. Also, keep in mind that some large cap growth giants evolve to become value firms and are reclassfieid to the value style.
Click to enlarge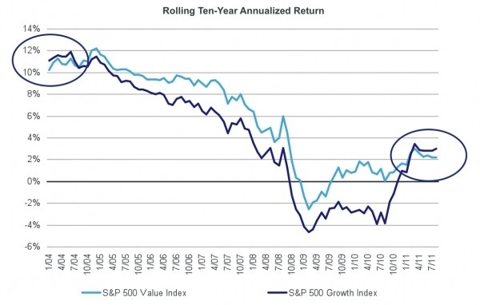 An alternative to a portfolio anchored in large cap value would be one with blended growth and value exposure. If you want to stick to the largest companies, one possible solution is a mega cap ETF like OEF, which offers exposure to the S&P 100 index. Granted, as of August 31 it has only a 2.02% 30-Day SEC yield, compared to the 3.69% yield generated by HDV. (Past performance does not guarantee future results. For standardized OEF performance, please click here. ) While it contains most of the dividend giants, it also has exposure to the largest growth companies, such as Apple (NASDAQ:AAPL) and Google (NASDAQ:GOOG) - and who wouldn't be happy to have held those stocks in their portfolio over the last decade?
Here's a comparison of the S&P 100 index (which tracks the performance of mega cap blend) with the Dow Jones U.S. Select Dividend index, the one I found with the longest history connected to dividend growth stocks:
Click to enlarge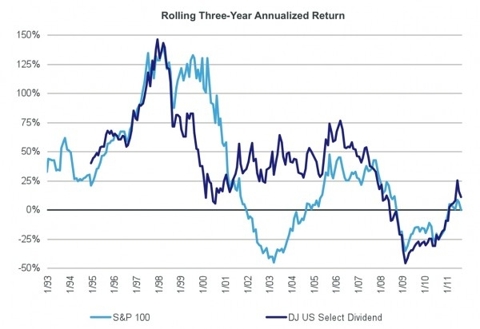 (The graph includes reinvested dividends)
As you can see, dividend growth investing comes in and out of favor. There are times when it has outperformed the S&P 100, but there are certainly other times when it has not.
I'm not trying to talk you out of dividend stocks entirely. Just make sure you don't go overboard and think that these stocks are immune from the normal risk/return characteristics and macro-market shifts that affect all investments.
Disclosure: Author is long OEF

*Due to the growth in shares outstanding of HDV and the difference in timing between the ex-dates of the underlying holdings and the ex-date of HDV, accrued dividends may be spread over a larger asset base by the time they are distributed to fund shareholders. Dividends are accrued in the NAV and reflected in any ETF's market price when the underlying holding goes "ex-". Thus, while the fund's distribution yield may be lower than the yield of the underlying companies (and lower than the index's 30-Day SEC Yield), any dilution of actual dividends paid is offset in HDV's capital return and has no impact on total return performance
There is no guarantee that dividends will be paid.
Index returns are for illustrative purposes only. Index performance returns do not reflect any management fees, transaction costs or expenses. Indexes are unmanaged and one cannot invest directly in an index. Past performance does not guarantee future results.
Diversification may not protect against market risk. ETFs are obliged to distribute portfolio gains to shareholders.
ETFs hold baskets of securities and trade on exchanges intraday at market price, which may be greater or less than net asset value. Transactions result in brokerage commissions and may generate tax consequences. Index ETFs are passively managed; they seek to track a market index, before fees and expenses, and do not attempt to outperform during rising markets or to take defensive positions in declining markets. Performance may diverge from the ETF's underlying index.
Singe stocks trade on exchanges intraday at market price. Transactions in shares result in brokerage commissions and may generate tax consequences.