There are so many sound worldwide stocks that are just waiting in the wings and waiting for the economy to take a turn. In my opinion one of the best among them is Caterpillar (NYSE:CAT). No mater where you go in the world you are bound to see the yellow equipment with the big CAT logo on the side. Sales in Europe and China are slightly down but they are still buying in the emerging markets. One look at this Barchart of the past few years of trading history will show how far the stock has fallen:
Click to enlarge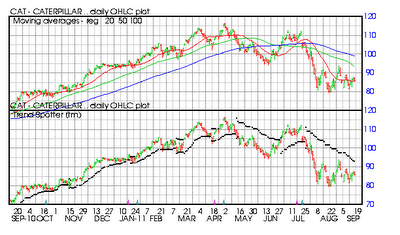 Caterpillar manufactures and sells construction and mining equipment, diesel and natural gas engines, industrial gas turbines, and diesel-electric locomotives worldwide. It operates through three lines of businesses: Machinery, Engines and Financial Products.
The Machinery business offers construction, mining and forestry machinery, including track and wheel tractors, track and wheel loaders, pipelayers, motor graders, wheel tractor-scrapers, track and wheel excavators, backhoe loaders, log skidders, log loaders, off-highway trucks, articulated trucks, paving products, skid steer loaders, underground mining equipment, tunnel boring equipment, and related parts. It also manufactures diesel-electric locomotives, and manufactures and services rail-related products and logistics services for other companies.
The Engines business provides diesel, heavy fuel and natural gas reciprocating engines for Caterpillar machinery, electric power generation systems, marine, petroleum, construction, industrial, agricultural and other applications. It offers industrial turbines and turbine-related services for oil and gas and power generation applications. This business also remanufactures Caterpillar engines, machines and engine components, and offers remanufacturing services for other companies.
The Financial Products business provides retail and wholesale financing alternatives for Caterpillar machinery and engines, solar gas turbines, and other equipment and marine vessels, as well as offers loans and various forms of insurance to customers and dealers. It also offers financing for vehicles, power generation facilities, and marine vessels. The company markets its products directly, as well as through its distribution centers, dealers and distributors. It was formerly known as Caterpillar Tractor Co. and changed its name to Caterpillar Inc. in 1986. Caterpillar Inc. was founded in 1925 and is headquartered in Peoria, Illinois. (Yahoo Financial profile)
Factors To Consider
Barchart technical indicators:
Technical sells are based on momentum and can expose great buying opportunities
56% Barchart technical sell signal
Trend Spotter sell signal
Below its 20, 50 and 100 day moving averages
25.83% off of its 1 year high
Relative Strength Index is 46.32% but getting stronger
Barchart computes a technical support level at 84.39
Recently priced at 86.05 which is below its 50 day moving average of 93.45
Wall Street brokerage analysts have estimated sales will increase by 34.60% this year followed by another 15.00% next year.
Earnings increases are projected to be an increase of 60.20% this year, 33.40% next year and 17.50% annually for the next five years.
These consensus estimates result in seven strong buy, six buy and nine hold recommendations.
The company enjoys an A financial strength.
The P/E ratio of 13.67 is almost dead on the 13.20 P/E ratio for the market in general.
New sales will come from not only new purchases of equipment but luckily for the company existing equipment in use can't last forever and must soon be replaced.
General investor interest:
On Motley Fool 5.645 readers have this stock on their watch list and vote 94% that it will beat the market.
The more experienced and savvy All Stars vote 96% for the same result.
This is one you should at least include on your watch lists too.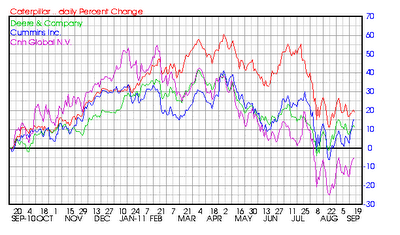 Some other companies in the construction and mining machinery sector you might want to consider are Joy Global (JOYG), up 24.04%, Astec (NASDAQ:ASTE), up 22.55%, and H&E Equipment Services (NASDAQ:HEES) up 17.30% for the year
Click to enlarge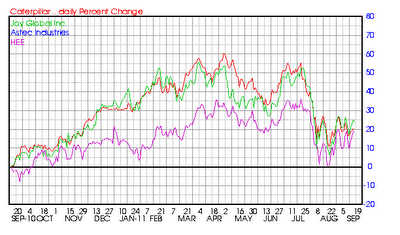 Summary: I'm not trying to be political but if some form of the Obama Jobs Bill gets passed the economic log jam just might get broken. Even though you might not be able to tell it from the stock market and the high unemployment numbers, the Conference Board's Index of Leading Economic Indicators is getting more positive. I can't think of any company that deserves to be on your watch list as much as Caterpillar. I would carefully watch this company's 50 day moving average and be prepared to jump back in.
Disclosure: I have no positions in any stocks mentioned, and no plans to initiate any positions within the next 72 hours.