By G C Mays
With the global economy slowly moving towards recession, it's time to look at a strategy for remaining invested while reducing portfolio volatility and earning a decent yield while you wait for the sun to rise again. Investing in the stocks of companies in defensive industries can protect your portfolio during recessions because defensive industries typically exhibit stable performance throughout all phases of the business cycle.
Defensive companies show strong profit growth when the economy is expanding and only a slight dip in profitability when the economy enters a recession. Companies whose stocks mirror this defensive behavior normally compete in mature industries. Once an industry matures, the revenues of the companies in that market begin to track the GDP growth of the economy. Once this happens many firms consider initiating a regular dividend payments that may offer protection of capital as well as an attractive yield.

images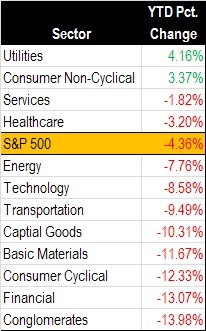 Source: The Mays Report
Typically one should buy bonds in the late upswing stage of the business cycle, but with the 10-year Treasury yields having peaked in February at 3.75 percent and currently yielding less roughly 2.1 percent, that train has already left the station. That leaves us with dividend paying stocks of companies that operate in sectors of the economy that would be considered defensive. A sector is a broader measure than an industry as it may contain one or more industries.
True to form, topping our list are two sectors traditionally considered defensive, utilities and consumer non-cyclicals, more commonly known as consumer staples. Large-cap stocks from these sectors offer an investor downside protection in the form of a stable dividend and low volatility, both of which will offer downside protection as the market moves lower, and a return on equity which exceeds the markets current risk premium, which my models now estimate at 13.2 percent, which is pretty high .
A screen of the utilities sector uncovered the following stocks.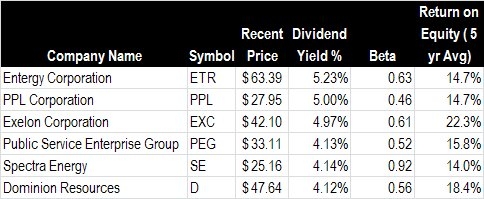 Two stocks in the utilities sector screen offer a yield greater than 5 percent. Entergy Corporation (NYSE:ETR) is an integrated energy company that runs a utilities business in the southeastern US and a wholesale commodities business which includes six nuclear power plants in the northeastern and midwestern US. The companies revenues and earnings have matured with flat earnings growth projected. The firm has paid out an average of 48 percent of its earnings over its last four fiscal years and generates enough cash flow annually to continue the dividend for the foreseeable future.
PPL Corporation (NYSE:PPL) is another integrated energy company that sells energy at both the wholesale and retail level. PPL also has international operations in the United Kingdom. Consensus estimates of the company's long-term earnings growth rate is about 3.6%. However, revenues have been negatively affected by losses from derivatives trading beginning in 2009. PPL trades commodity, interest rate, and foreign currency derivatives. The company also had its Susquehanna, PA nuclear power plant marked down by the nuclear regulatory commission on September 7th. Even with a 5 percent dividend yield and modest earnings growth prospects, the firms derivatives trading bears watching.
In the consumer non-cyclical (or staples) sector there were 3 US stocks that met my criteria:

Source: The Mays Report
There is no surprise that two of three stocks in the consumer n on-cyclical sector are tobacco companies. Smoking remains profitable if not popular in the US. Unlike the utilities sector, companies like Altria Group (NYSE:MO) and Reynolds American (NYSE:RAI) can still experience earnings growth. Consensus LT earnings growth estimates for Altria Group and Reynolds American are 6.6 and 6.0 percent, respectively. Both firms have more than adequate free cash flow to the firm (operating cash flow minus capital expenditures) to meet its dividend obligations.
Last on this list is Kimberly Clark (NYSE:KMB), a manufacturer and marketer of a range of personal and healthcare products with a current dividend yield of just over 4%. A recent inability to pass on higher input costs has pressured the company's profitability. However, this company's free cash flow to the firm is even better than the tobacco companies and the firm should have no problem maintaining its dividend payments. The stock could be discounted a little further, thus increasing the yield due to investor fears about eroding profit margins.
All of the companies listed have betas of less than 1 which makes them less volatile than the overall market. Additionally, the dividend yields these companies offer are superior to Treasury yields and should protect your capital during a recession.
Disclosure: I have no positions in any stocks mentioned, and no plans to initiate any positions within the next 72 hours.