Chimera Investment Corp (NYSE:CIM) continues to be the contrarian's option amongst Mortgage REIT equities, with characteristics that the market is not properly valuing. These characteristics include its below average leverage, long-term holding of non-agency paper and above-average likelihood of obtaining settlements and/or damages from banks that packaged residential private-label mortgage-backed securities (MBSs).
Mortgage REITs ("mREITs") buy mortgage paper as an investment, or in order to re-securitize them and sell them to another mREIT or some other entity that is investing in real estate loans. Agency mREITs, such as Annaly Capital Management, Inc (NYSE:NLY), American Capital Agency Corp (NASDAQ:AGNC) and Hatteras Financial Corp (NYSE:HTS), buy mortgage paper that is backed by federal agencies. Non-agency mREITs like Chimera, MFA Financial (NYSE:MFA) and Invesco Mortgage Capital (NYSE:IVR) also hold mortgage paper without government agency backing, though these companies also can and do buy large positions in agency paper. Non-agency mREITs are also sometimes called hybrid mREITs when they also own agency paper
Chimera was founded in late 2007 and is externally managed by the Fixed Income Discount Advisory Company (FIDAC), a wholly-owned subsidiary of Annaly. Chimera was created to buy non-agency paper that was then starting to lose value, and which Annaly was restricted from holding due to its status as an agency-only mREIT. FIDAC also now manages CreXus Investment Corp (NYSE:CXS), which is a commercial mREIT.
At the time of its creation, Chimera was highly leveraged with non-agency paper purchased prior to the collapse of the U.S. real estate and equity markets in 2008 and early 2009. During this collapse, Chimera was forced to deleverage and it was a very bad time to be invested in Chimera or almost any other non-agency MBS portfolio. In the year before the market bottom of March 6, 2009, Chimera lost about 85% of its value, or over $14 per share, while distributing 68 cents over that term. See the chart, below. Click to enlarge:

Since deleveraging, Chimera has actually accumulated an agency portfolio over the last two years. Over the past year, Chimera primarily acquired agency paper, increasing that stake from under 15% to over 25% of its portfolio. Chimera now holds about 70% of its assets in non-agency mortgage paper, while it had about 80% of its assets in non-agency paper last year.
Now, Chimera has a leverage rate of about 1.9x, which is considerably below the general leverage rates for non-agency mREITs. Hybrid and/or non-agency mREITs usually have lower leverage rates than the agency mREIT's based upon their risk characteristics. This lower leverage makes Chimera more capable of leveraging up if interest rates rise, while most other mREITs could not so easily accumulate that higher paying paper.
So far in 2011, Chimera and most other mREITs with non-agency exposure have severely underperformed agency mREITs. Chimera is now trading at about $3 a share. At this price, it is considered a penny stock by most standards, and many funds are restricted from owning it. As a result, there is also no real interest in institutional promotion of Chimera. Chimera is now trading at over a 10% discount to its book value, which is below the present average price to book for mREITs.
Since once again falling so substantially below book value, several Chimera insiders purchased shares. During the first two weeks of August, while it and most equities sold off, seven Chimera insiders purchased between 9,000 and 100,000 shares. These purchases were made at prices between $3 and $3.17. Several of these insiders have shown historical prowess at accumulating Chimera stock, often adding shares during market sell-offs or after Chimera issued secondary offerings.

Moreover, since making those insider purchases, Chimera's shares have developed a double bottom. See the chart, below. Click to enlarge: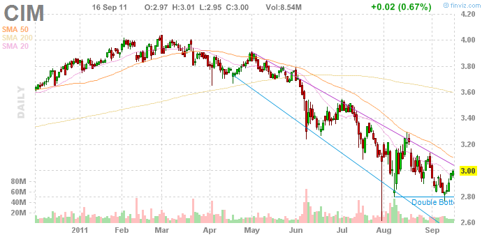 Chimera's non-agency paper is now primarily rated below B, or non-investment grade, which triggers many fund restrictions. Do keep in mind that the vast majority of U.S. mortgage securities were highly rated before the MBS market collapsed, many with AAA ratings. Chimera's non-agency paper originated between 2006 and 2008, as real estate prices and mortgages peaked, when some of the worst junk mortgages were made at this point in time.
Recently, the Federal Housing Finance Agency ("FHFA") filed suit against 17 institutions for alleged securities violations and fraud in the packaging and selling of residential private-label MBSs. Chimera may have similar claims to those that the FHFA now alleges against these MBS issuing banks.

Additionally, because Chimera does not trade its portfolio of pre-crisis non-agency MBSs, it should have a stronger than average claim regarding past, present and potential future damages when compared to other mREITs that routinely trade MBSs. Chimera's 2006-2008 non-agency portfolio, therefore, also has considerable yet presently intangible potential to obtain damages from its MBS issuers though future settlements and/or litigation awards. This may be one of the primary reasons that Chimera is taking a long-term hold strategy with these vintage MBSs.
Chimera offers significant yield and some very real risk. Exposure to it should be limited to a reasonable portion of any portfolio, with the understanding that the majority of its assets are not investment grade and carry a significant risk profile. Should you be interested in investing more broadly in this sector, iShares offers the FTSE NAREIT Mortgage REITs Index ETF (NYSEARCA:REM), and Van Eck offers the Market Vectors Mortgage REIT Income ETF (NYSEARCA:MORT).
Disclosure: I am long CIM, NLY.
Disclaimer: This article is intended to be informative and should not be construed as personalized advice, as it does not take into account your specific situation or objectives.