GLG Life Tech Corporation (Nasdaq: GLGL) engages in the research and development, growing, refining, production, and distribution of stevia extract to the food and beverage industry worldwide. Stevia extract is a natural sweetener extracted from the stevia plant. The company has a strategic alliance with Cargill, Incorporated, to supply stevia extract to Cargill for manufacturing a natural and zero-calorie sweetener brand called TRUVIA, a major brand which was originally co-developed by Coca Cola (NYSE:KO) and Cargill. GLG Life Tech Corporation was founded as a public company in 2005 and is headquartered in Vancouver, Canada.
In addition to its thriving stevia operations, GLG has aggressively entered the Chinese market and is moving rapidly to dominate within an industry which is currently valued at $21 Billion, and growing.
In December 2010, GLG entered into a joint venture agreement with China Agriculture and Healthy Foods Company Limited (CAHFC) --- which enjoys a government-mandated monopoly on the production and distribution of sugar-free beverages in The People's Republic of China. The new venture, named Dr. Zhang's All Natural and Zero Calorie Beverage and Foods Company ((AN0C)), was established for the sale and distribution of zero calorie beverage and food products in China that are sweetened with GLG's stevia extracts.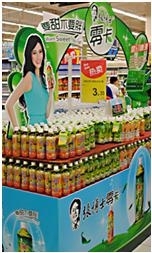 In April of 2011 GLG began producing and distributing the first stevia sweetened `ready-to-drink` (RTD) teas in China. The 6 products (jasmine, black and green teas) took the market by storm, and after only three months the company had distributed over 27 million bottles, putting the company alongside the top (sugar-sweetened) national brands competing in the RTD tea category. The company will be launching 32 products by the end of 2011 in the functional/health drink category and 6 beverage categories: RTD Teas; Vitamin Enriched Waters, Carbonated Soft Drinks, Juice Milk, Herbal Drink, Children's Drinks, Functional/Health Beverages.
The production lines are rockin' and rollin'; the distribution channels are zipping along; and the products are flying off the shelves into the shopping carts of Chinese consumers.
GLG holds an 80% controlling stake in AN0C with CAHFC holding 20%. Dr. Luke Zhang is Chairman and CEO of AN0C and is supported by an experienced team of senior executives recruited from the beverage industry in China.
The market's initial reaction to the announcement of the joint venture was joyful, to say the least: GLG's stock soared 60% over the next two months, from $7.50 to $12.00. However, a month before the product-launch, the stock fell into a tailspin, and the market has yet to factor in the phenomenal success and aggressive expansion of the product line in China. Plus, the market seems to have forgotten completely that GLG is the supplier of stevia to Cargill and markets throughout the world.
An investigation into GLG's fundamental aspects will immediately seize the interest of the potential investor. Quarterly Revenue Growth (yoy) currently stands at 45.3%. Cash-on-hand last quarter was a respectable $33 Million. Forward P/E is only at 8.2; and Tangible Book Value (per share) is over 42% higher than current share-price ($4.02 as of the time of this writing, Thursday, 9/15/11).
For many, the technical aspects will be even more exciting. From the daily chart below, it is readily seen that a textbook double-bottom has formed (at exactly $3.60 at both points); and Wednesday September 14th, the stock bounced nicely off the bullishly-rising lower Bollinger Band --- both occurrences are looked upon very favorably by professional traders.
There will most likely be some resistance at the Moving Average (the light blue line) at $4.46; but if the share-price pops through that level convincingly, GLGL could very rapidly rocket up to a more reasonable valuation --- far higher than its current level.
Not only could this occur very rapidly, it could potentially take place at lightning speed, because with a current short-ratio of 37.6, GLGL is a ripe candidate for a hefty short-squeeze --- which would probably cause the share-price to significantly overshoot a fair valuation for the stock.

Regardless, we believe that, by any measure, GLGL is grossly undervalued.

Click to enlarge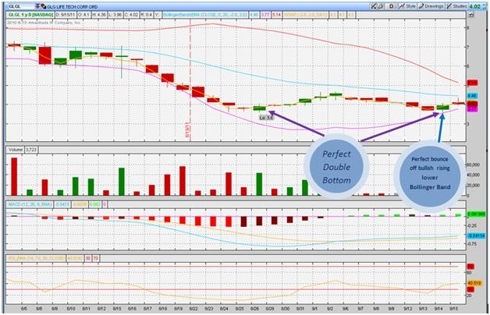 Check out below the growing list of AN0C products by category:
RTD Teas - Green Tea

, Black Tea, Jasmine Tea.
Vitamin Enriched Waters - Available in: Grapefruit, Lemon, Mixed Berry, Orange, Pomegranate/Grape, Tropical Fruit.
Carbonated Soft Drinks - Arriving September 2011 - Available in: Cola, Lemon Soda
Juice Milk - Availability: September 2011
Herbal Drinks - Availability: September 2011
Children's Drinks - Availability: September 2011
Functional/Health Beverages - Availability: October 2011

Disclosure: I have no positions in any stocks mentioned, but may initiate a long position in GLGL over the next 72 hours.