The NYSE ARCA Biotech Index (BTK) ended up 3.8% for the week. This article covers our analysis of the big news and price moves in the small-cap biotech group last week, evaluating them for buy and sell ideas.
Buy Zogenix Inc. (NASDAQ:ZGNX): ZGNX is a five-year old San Diego-based biotech company engaged in the development and commercialization of therapeutics to treat central nervous system (CNS) disorders and pain. Its only commercial product is the SUMAVEL DosePro™ system, which offers needle-free subcutaneous administration of sumatriptan for acute treatment of migraine and cluster headache.
In addition, ZGNX recently announced in mid-August positive phase 3 results for its lead product candidate Zohydro, a controlled release formulation of hydrocodone, for the treatment of severe chronic pain in patients requiring around-the-clock opioid therapy, and plans to submit a New Drug Application to the FDA by early 2012 with potential approval and product launch in 2013.
The stock was down severely by 30.6% last week after the firm announced that it was increasing its secondary offering to up to 34.5 million shares (at $2.00 per share) from the 13.8 million shares announced at the end of August, a significant dilution to the company's existing share count of 34.1 million.
We believe that ZGNX is a buy here. The 30 million shares offering is to raise funds for bringing its new drug candidate Zohydro to market, which could be a blockbuster drug as it would be the first extended-release hydrocodone treatment available without acetaminophen, which if taken in high quantities can cause liver toxicity.
In addition, Zohydro utilizes Elan Plc's (NYSE:ELN) proprietary Spheroidal Oral Drug Absorption System or SODAS® technology, which modifies the release profile of hydrocodone to provide consistent 12-hour pain relief relative to immediate-release combination formulations. Hydrocodone is currently the most prescribed drug in the U.S. with over 131.2 million prescriptions written in 2010. If approved, Zohydro with its improved long-term safety profile would fill an important niche in this large market, and we believe ZGNX at a current market cap of less than $150 million (even after the dilution from the secondary offering) is an attractive speculative buy at these levels.
Arena Pharmaceuticals (NASDAQ:ARNA), Vivus Inc. (NASDAQ:VVUS) and Orexigen Therapeutics (NASDAQ:OREX): All three biotech companies have drugs under development for the treatment of obesity, and they were up strongly last week after VVUS announced that it had reached an agreement with the FDA on a plan that allows it to seek early approval for an initial indication of its QNEXA treatment for obesity that includes only obese men and women of non-child bearing potential. On the news, VVUS was up 6.8% during the week, while OREX was up 21.1% and ARNA was up 24.8%.
While the FDA has agreed to re-consider, not approve, VVUS's QNEXA treatment for obesity, this is still significant news in the speculative world of development stage biotech companies as the odds that QNEXA will be eventually approved, albeit for a smaller target population, went up with the agreement. VVUS has projected that it would lose less than a quarter of its target population by excluding women of child-bearing age, and even if we treat that number as overly optimistic, the anti-obesity drug market is huge with 108 million adult Americans that are estimated to be overweight or obese, with at least one weight-related cardiovascular or metabolic disease health risk.
However, the greater opportunity may be in ARNA and OREX from the positive news last week due to their low relative capitalizations ($220 million and $70 million market caps for ARNA and OREX versus $700 million for VVUS) as it signals that the FDA may be more receptive to anti-obesity drugs, especially also in light of recent Congressional pressure on the FDA to approve "novel" new agents to fight obesity.
ARNA is expected to re-file its NDA for Lorcaserin prior to the end of 2011, with a possible PDUFA in mid-2012, and it is probable that the price may break-out of its current sub-$1.75 range and rally prior to the PDUFA date next year to factor in the improved probabilities for approval.
OREX put its obesity drug program on hold in June, and currently has almost $70 million in cash and short-term investments while trading at $74 million market-cap at Friday's close.
Sell Transcept Pharmaceutical (TSPT): TSPT is a development stage biotech that develops proprietary therapeutic products in the field of neuroscience. Its lead product candidate is Intermezzo, a low-dose sublingual formulation of zolpidem for use as a sleep aid in the middle of the night at the time a patient awakens and has difficulty returning to sleep. The stock rocketed up 107.7% last week after the company announced a plan to re-submit Intermezzo NDA following a previously scheduled meeting with the FDA during which both parties agreed on a path forward that allows TSPT to re-file the NDA by the end of this month without conducting any additional trials, while reducing the recommended dosage for women from 3.5 mg to 1.75 mg and keeping the dosage for men at 3.5 mg. Furthermore, the FDA indicated that they would consider the re-filing as a Class-1 response, meaning that approval could come as early as November.
TSPT had been left for dead after two previous rejections of its insomnia drug, so the news last week was positive. However, we believe that the over 100% price appreciation to just short of $7 at the peak last week captures the current potential of TSPT, and that investor focus in now likely to shift to the potential revenue that TSPT can realize once the drug is commercialized later this year. Intermezzo enters a crowded field that includes Sanofi's (NYSE:SNY) Ambien and Sunovion's (formerly Sepracor) Lunesta, both of which are first-line insomnia drugs meaning that they are administered prior to the person going to sleep. Intermezzo, on the other hand, is to be administered after a middle-of-the-night awakening, and it may face resistance from doctors that may prefer first-line insomnia drugs.
Furthermore, the new TSPT proposal also includes new instructions stating that Intermezzo should only be taken if patients have at least four hours of bedtime remaining, and that patients should refrain from driving for at least one hour after arising and until five hours after dosing with Intermezzo. Hence, we would be sellers here and on any rally to last week's high near $7 and the 200-day moving average near $8, levels that we believe represent the top under current fundamentals until revenue numbers start kicking in next year.
Sell Optimer Pharmaceuticals (NASDAQ:OPTR): OPTR focuses on discovery, development and commercialization of hospital specialty products such as products that treat gastrointestinal infections and related diseases. Its commercialized product portfolio includes only DIFICID that was launched in July for the treatment of Clostridium difficile-associated diarrhea (CDAD) in patients 18 years of age and older, and its lead product candidate includes Pruvel for the treatment of infectious diarrhea that is currently in phase 3 trials. DIFICID is the first approved drug in almost 25 years that targets CDAD, and it is the only drug that has demonstrated superiority to Vancocin the long-standing treatment for CDAD that was approved by the FDA in 1958. CDAD afflicts more than 700,000 U.S. patients annually and is sometimes fatal.
OPTR shares were up 17.7% last week after the company reported on Monday that it sold $3.9 million worth of DIFICID between the launch on July 19th and September 2nd, and then an analyst at JMP Securities raised the projection for DIFICID revenue to $14.8 million from $9.8 million for 2011 after conducting a survey of infectious disease specialists and interviews with hospital administrators. OPTR shares have been on a tear since early August, having more than doubled in the last five weeks to the $14.04 close last Friday even amidst the current market volatility.
We believe that at a $650 million market cap, the current surge captures most of the potential from the recent positive news and we would be sellers here. It is likely that the street will await more positive revenue and earnings numbers before further appreciation in the stock price, and there is more negative risk at current prices that reported numbers may not be as rosy as analysts seem to project.
Dynavax Technologies (NASDAQ:DVAX): DVAX is a developer of drugs to treat and prevent allergies, infectious diseases, and chronic inflammatory diseases using versatile, proprietary approaches that alter immune system responses in highly specific ways. DVAX's clinical development programs are based on immunostimulatory sequences, which are short DNA sequences that enhance the ability of the immune system to fight disease and control chronic inflammation. The stock was up 14.6% last week, in advance of and in anticipation of the company reporting immunogenicity data for HEPISLAV phase 3 trial on Monday at the Interscience Conference.
AVI Biopharma (AVII): AVII focuses on the discovery and development of RNA-based therapeutics for the treatment of rare and infectious diseases. The stock has been strong since Lazard initiated coverage of the company with a buy during the prior week on September 8th, and was up 14.6% last week.
Table (click to enlarge image):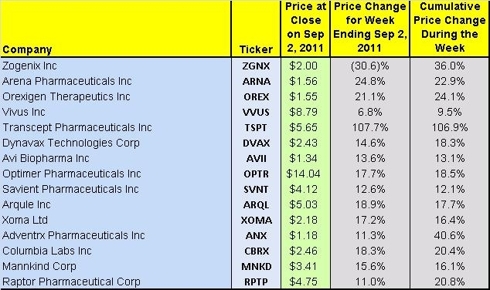 Please note that the cumulative price change referred to in the last column of the table above is used here as a measure of volatility to determine big movers in the group. It equals the sum of the absolute value of the change in daily prices. So, for example, if a security had price moves of 2%, -3%, 4%, -6% and 1% during the five days of the week, the cumulative price change during the week would be the sum of the absolute values of the daily price changes, which in this case would be 16%.
Credit: Historical fundamentals including operating metrics and stock ownership information were derived using SEC filings data, I-Metrix® by Edgar Online®, Zacks Investment Research, Thomson Reuters and Briefing.com. The information and data is believed to be accurate, but no guarantees or representations are made.
Disclosure: I have no positions in any stocks mentioned, and no plans to initiate any positions within the next 72 hours.
Disclaimer: Material presented here is for informational purposes only. Nothing in this article should be taken as a solicitation to purchase or sell securities. Before buying or selling any stock you should do your own research and reach your own conclusion. Further, these are our 'opinions' and we may be wrong. We may have positions in securities mentioned in this article. You should take this into consideration before acting on any advice given in this article. If this makes you uncomfortable, then do not listen to our thoughts and opinions. The contents of this article do not take into consideration your individual investment objectives so consult with your own financial adviser before making an investment decision. Investing includes certain risks including loss of principal.