For the past year and a half, I've viewed restaurant sector as being overheated. There are certainly many restaurant stocks that are in "bubble" territory at this point. Yet, it's also a sector with a lot of diversity and there may be a few gems.
On the surface, Jack in the Box (NASDAQ:JACK) strikes me as a "bubble candidate" given lack of growth in store count for its flagship franchise, coupled with its stocks rapid ascent. In December 2011, the stock sold around $20. Today, it sells at over $95. That's a nice 375% return on investment, but stocks like this are often very risky.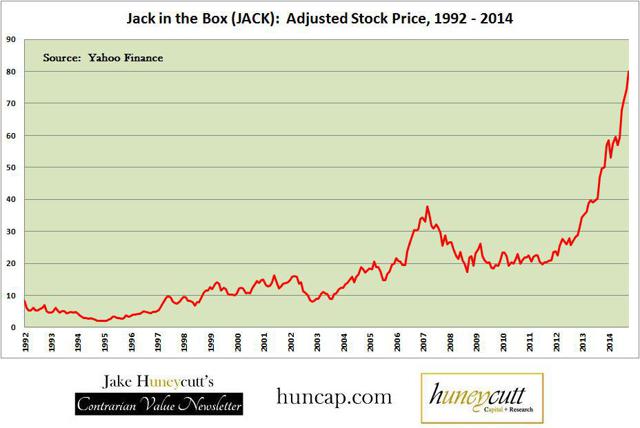 With that said, after digging into JACK, I'd say I'm immensely impressed with certain elements of management's strategy. JACK is a very complex investment in many ways, which makes it interesting. The core business, Jack in the Box, is a low-growth company with some struggles. The secondary business, Qdoba, is a high-growth restaurant concept.
There are many things to love about the company, but in spite of the many many positives, JACK is a $40 - $50 stock selling at over $95.
Jack-In-The-Box vs. Qdoba
Let's first dive into JACK's two different businesses. The first (and obvious) business is the Jack in the Box fast food franchise. Similar to Sonic (SONC), you might call it semi-national chain serving standard American fare, such as burgers, chicken, and breakfast (bacon, eggs, biscuits), as well as tacos.
Most of the stores are in the West, Great Plains, and Midwest regions, with a few stores in the South, as well. It competes with the big chains such as McDonald's (MCD), Burger King (QSR), and Wendy's (WEN), as well as the more regional chains such as Sonic, In-N-Out-Burger, Five Guys, Steak-N-Sheak (BH), Whataburger, and Fatburger.
JACK also owns a second restaurant concept with Qdoba Mexican Grill. As the name suggests, it's a fast casual Mexican / Southwest concept serving burritos, nachos, tacos, and quesadillas. Primary competitors include Chipotle (CMG), Moe's Southwest Grill, and a handful of local chains
While both businesses are in the fast-food / fast casual segment, they have radically different trajectories. Jack in the Box is a mature, low-growth restaurant, while Qdoba is a rapid-growth concept. The two chains have slightly differing geographic concentration, as well, with Qdoba focused primarily in the Southwestern and Southeastern US. Additionally, Qdoba is making a push to expand into Canada.
Jack in the Box has seen stagnant store count growth since 2009, increasingly only from 2,212 to 2,250 ; less than 1% annual growth. Qdoba has added about 128 stores since 2009, growing at about 4.6% annually. However, the growth over the past couple of years has slowed a bit.


Another major difference is that JACK has rapidly sold off Jack-in-the-Box company-owned stores over the past decade. In 2000, more than 80% of Jack in the Box restaurants were company-owned; by 2014, only 19% were. JACK could easily sell off another 200 - 250 more company-owned stores in the next half-decade, as well.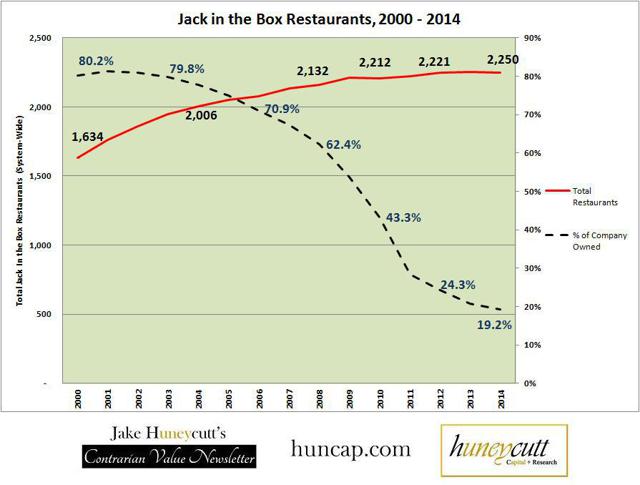 JACK has taken the opposite tact with Qdoba. In 2005, only about 22% of Qdoba restaurants were owned by JACK. By 2014, the figure had surged to 48%.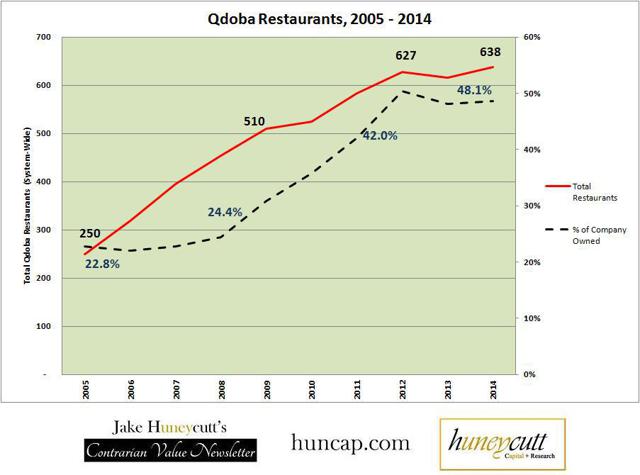 Overall, JACK's moves over the past decade have made a lot of sense. The Jack in the Box brand is mature and now in a low-growth sphere. There's very little value to be made by expanding company-owned stores or even continuing to own a large percentage of the overall store count. Therefore, JACK's management has increasingly outsourced store operations to franchisees.
Qdoba, on the other hand, has much higher-growth potential over the next decade. JACK's superior access to capital (versus franchisees) makes corporate-driven expansion a smart play for shareholders.
Rapid Free Cash Flow Growth
JACK's rapid free cash flow growth has been impressive over the past few years. Free cash flows are historically volatile and sometimes very misleading, but there's really no way to look at JACK's financials and not see significant improvement. Free cash flows have nearly doubled over the past six years.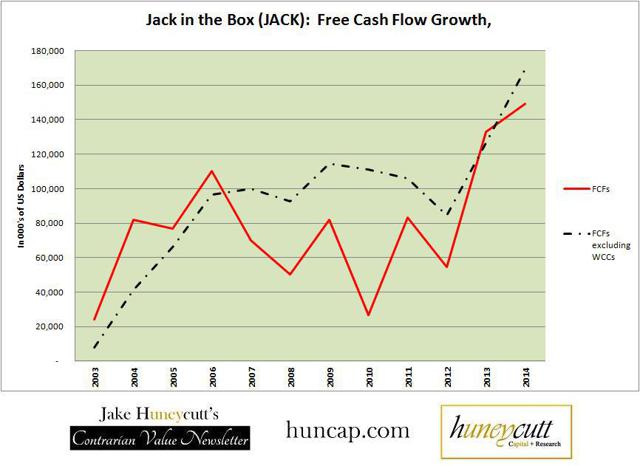 That said, pegging down JACK's annual free cash flow generation is a difficult exercise. I've often found restaurants are one of the simpler industries to analyze cash flows, but JACK is certainly the exception to the rule.
I tend to analyze free cash flows through the lens of a series of proxies. For instance, "Net Income" is an accounting proxy for free cash flows. EBITDA minus Capex is another proxy for free cash flows. I normally create several custom measures, as well. Using anywhere from 4 to 10 different cash flow proxies, I try to discern a "true profitability."
It's not simple with JACK, though. In the chart below, I've laid out several measures and they are all over the place. I've highlighted the particularly important metrics in green.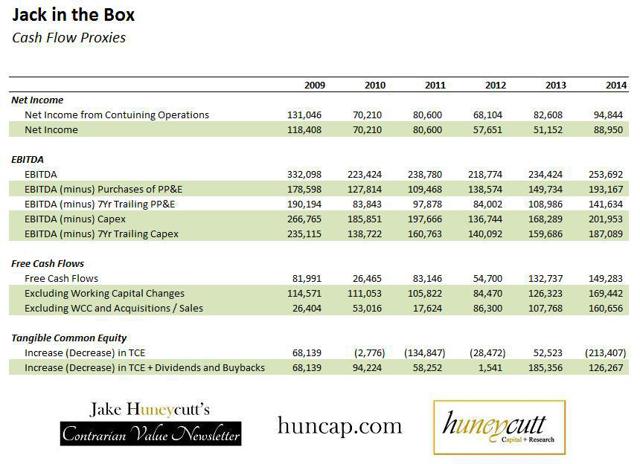 With the exception of Net Income and EBITDA, most of these measures have improved significantly over the past six years. This largely reflects JACK's shift to a more asset-light business model. This allows them to grow with less cash dedicated to capital expenditures.
Of the metrics above, I'd put the most stock in the "EBITDA (minus) Purchases of PP&E" and "Free Cash Flows excluding Working Capital Changes and Acquisitions / Sales." In FY 2014, JACK hit $193 million using the former metric and $161 million using the latter. The last measure is also interesting; it examines the increase in tangible common equity, accounting for dividends and stock repurchases. By this measure, JACK improved by $185 million in FY 2013 and $126 million in FY 2014.
Buybacks, Dividends, and CapEx
JACK has been on a buyback spree over the past few years. This is one sphere where I'd be a bit more wary of management's moves (but thus far it's worked out). Like many companies, it appears that JACK's management tends to take a "we have nothing else to do with the cash, so let's buy back shares" strategy.
Management went overboard with repurchases back in 2007, spending $463 million on buybacks. In 2014, management also spent about $324 million in buybacks. If you glance back up at the cash flows section, you might note that the amount spent on buybacks in 2014 is about 2 times JACK's free cash flow generation.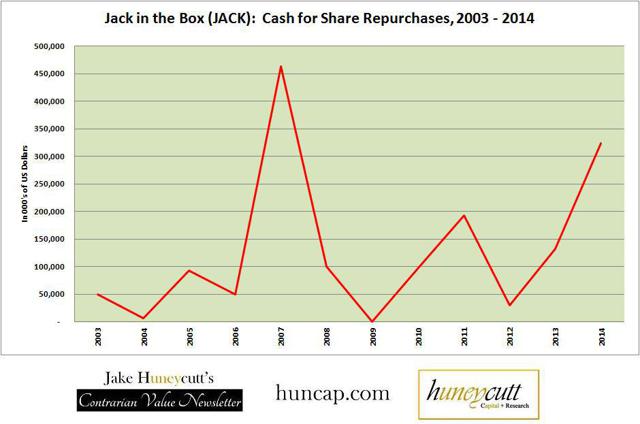 JACK's did introduce a dividend last year, but at $15.8 million, or about 1/20 the size of the repurchases. If JACK's has made smart investments with Qdoba and great moves with its asset-lite business model, the buyback spree does not seem as prudent. As I've written before, share repurchases are often poorly timed and value destroying.
With the stock now over $90, I would like to see JACK's management abandon the buyback program and instead focus on paying out dividends and using their cash flow to grow Qdoba, or perhaps even make another strategic acquisition. It makes little sense to continue repurchasing the stock at the current price.
Valuation
Let's jump into valuation. I've created five different scenarios for JACK. These scenarios differ in regards to initial cash flow assumptions, 3-year growth rates, terminal growth rates, and costs of capital. You can see the assumptions for the five different scenarios in the chart below.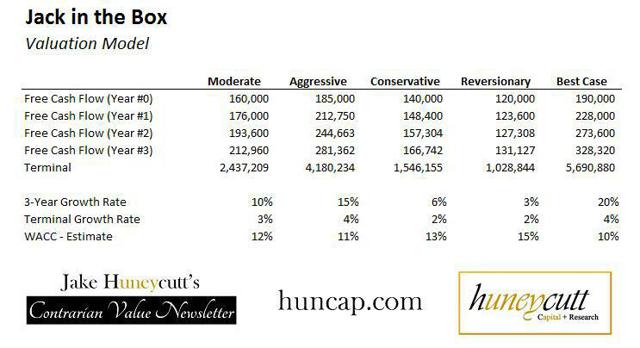 From those assumptions, you can see how the stock price would vary. In the "Moderate" scenario, I come up with a valuation of $37.47. In the aggressive scenario, my valuation hits $72.13 and in the conservative scenario, it's much lower at $19.46.

One thing to note is these valuations are highly sensitive to small changes. This suggests that minor changes in growth rates and costs of capital could dramatically impact the stock price.
Based on all of this, I'd peg the likely valuation in the $40 - $50 price range. Given Qdoba's potential, I'd probably veer towards the high-side of that range. However, it's telling to me that even with "aggressive growth" assumptions, JACK looks about 20% - 30% overvalued. Only in the more extreme "best case scenario" can I come up with a good rationale to buy into JACK; suggesting the stock has little margin of safety.
A Poor Short
I've concluded JACK is likely 60% - 140% overvalued. Yet, I still view it as a less-than-ideal short target. Qdoba is a strong franchise and one that has potential to grow rapidly in the upcoming years. Even if Jack in the Box (the restaurant, not the company) is likely at the end of its growth run, Qdoba's difficult to quantity growth prospects mean that even with a seemingly elevated stock price, JACK could be a tricky short.
Conclusions
Management has done a great job with JACK, creating value by selling off Jack in the Box company restaurants and growing Qdoba. I'm immensely impressed by the growth of Qdoba, the company's solid investing, and smart moves by management.
However, JACK is a $40 or $50 stock selling over $95. In spite of the reasonable growth prospects, there's very little "margin of safety" with this stock. If we see a recession and this stock is down 50%, that might be a time to take another look at it. Until that point, I'd recommend investors keep away from it in spite of the solid fundamentals at the company.