Last Friday, at about 3 pm, shares of Internap (NASDAQ:INAP) started experiencing an uptrend move, on good volume, that left most investors wondering "what's happening?":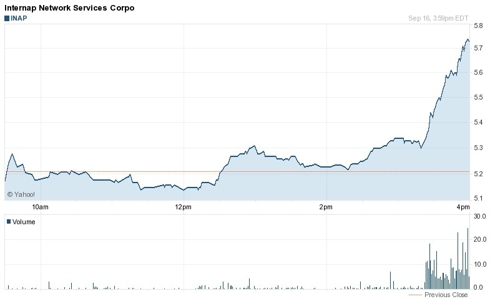 (click charts to enlarge)
The stock closed at $5.72, or almost 10% higher – while small caps may be very volatile, especially in this market environment, it may be worth looking for some fundamental reasons that could explain this sudden move, apart from the usual suspects, short covering, or "someone in the know."
On September 9, Internap's Chief Executive, Eric Cooney, told Reuters:
I am not shopping the company and we listen to any offers that come in and respond accordingly.
In the same interview, however, Mr. Cooney also added:
Increasingly we will look much more like Rackspace, Savvis or Terremark did before they got acquired, in terms of revenue and profitability growth.
Yehuda Fruchter, at Envoy Global Research, commented on the news:
A company issuing a press release letting the market know it's not for sale? Doesn't this type of talk sound quite familiar?

Interestingly, since the PR, INAP's stock price has climbed nearly 15%. The question, as always, is what's next? Is there more upside?
We totally agree with Envoy Global: a CEO releasing an interview to rule out shopping the company, while at the same time commenting that it looks more and more like previous acquisition targets, sounds a bit odd, to say the least.
Internap reached its peak valuation, of over $8, a few months ago, exactly when the cloud computing buyout binge was on. The market may now be trying to bring the stock closer to a decent buy out value, especially since the company is trading at lower multiples than most of its competitors, and the CEO was kind enough to come out with an "excusatio non petita" about the possibility.
Those of you who like conspiracy stories may also see the CEO's behavior as an indirect reply to some negative comments about Internap's attractiveness as an acquisition target, recently resumed in a Seeking Alpha article by the 451 Group:
InterNap's Time as a Takeover Target Could Be Running Out

Our colleagues at Tier1 Research have written that InterNap was a favored takeover target. However, the firm appears to have since lost its luster. Investors are becoming increasingly frustrated with its poor performance, particularly after first quarter total revenue declined 6% year over year. And shareholders once again fear the worst – in the past month, shares of InterNap have lost more than one-tenth of their value.
As InterNap is lying stagnant, other firms are posting enviable growth rates, making them much more attractive acquisition candidates. We understand that privately held SoftLayer is gearing toward the public markets, though it could certainly be scooped up before filing its paperwork. SoftLayer surpassed InterNap's revenue last year, and is projecting bottom-line growth of about 20% this year, to just shy of $350m. InterXion (NYSE:INXN) has been cited as a potential target as well.
Another explanation for the move, however, could just be related to the fact that the stock had hardly been hit by the recent market crash, whose effect spread to several stocks in the data center related sector, but hadn't really recovered like other peers.
If we look at how similar stocks behaved recently, we will notice that they all rebounded nicely from the recent bottoms: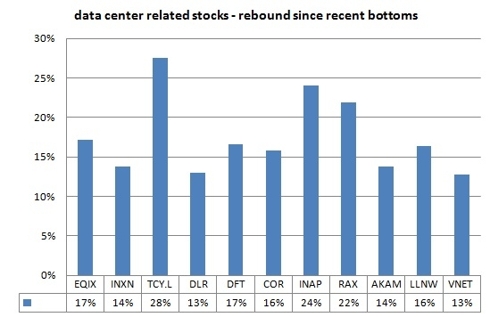 It should obviously be noted that not all stocks lost the same percentage during the August market crash, as shown in this quick summary: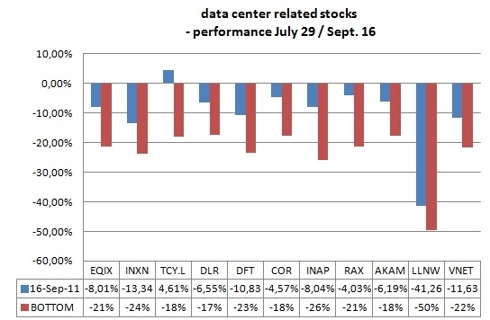 It is interesting to note that only one stock, TeleCity Group (OTC:TLCTF), has now a higher valuation than at the end of July, while Limelight Network's (NASDAQ:LLNW) weak result is mainly a result of its quarterly result and disappointing guidance for the year, rather than the surrounding market.
Even with this strong Friday move, Internap remains about 8% off its end of July value, in line with most stocks in the sector – which could also explain the recent price appreciation, without speculating about a potential acquisition, but noting that the rebound was probably started, by pure coincidence, by an interview ruling out this possibility.
Whatever Mr Cooney is trying to tell us, it seems he succeeded in landing the stock on the radar screens of more investors.