As we outlined previously in our long-term outlook on aerospace demand, the sector is the place to be and represents the largest weighting in the market-beating portfolio contained within our Best Ideas Newsletter, with Precision Castparts (NYSE:PCP), Astronics (NASDAQ:ATRO), and Edac Tech (NASDAQ:EDAC) as core holdings. We outline our forecast for large commercial aircraft demand below: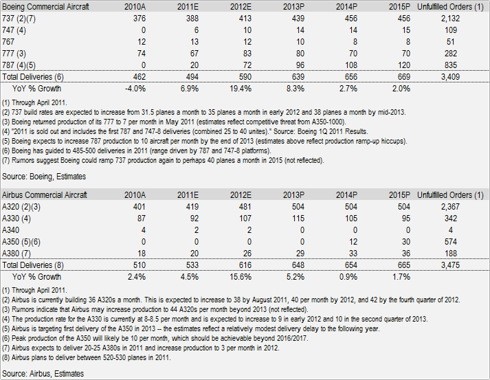 As shown above, the expected growth rate of aircraft deliveries during the next five years is truly remarkable. Both Airbus and Boeing are ramping up production of their workhorse A320 and 737 programs to thwart potential cancellations as competition heats up from global rivals -- Bombardier (BDRBF.PK), etc. -- in the narrowbody market. Boeing has resumed a target of producing seven 777s a month (from five before), while planning to roll out the first 747-8 jumbo jet and 787 Dreamliner this year. Airbus is increasing rates on its A330 platform and is targeting increased production of its A380 double-decker in the years ahead. And once growth begins to slow in 2014-2015, we'll be witnessing increased production rates of Airbus' A350, which is scheduled for first delivery in 2013 (though a 2014 target is more likely), buoying expansion in the years beyond. Needless to say, investors should be expecting a boom in aerospace deliveries during the next half-decade -- at levels we haven't witnessed in the past 20 years.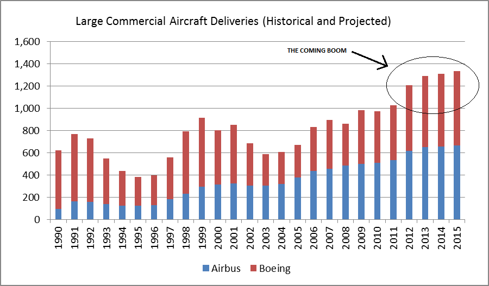 So perhaps unsurprisingly, United Technologies (NYSE:UTX) wants a larger piece of this pie, and all reports suggest that Goodrich (NYSE:GR) is the most likely candidate. We, however, believe that Precision Castparts would be a better fit for United Tech and speculate that negotiations between these two parties have taken place as well. Precision supplies the metal castings for United Tech's Pratt & Whitney engine division, and the case could be made that significant synergies would be in hand should these two entities combine, particularly given the size of Precision's lofty 20%+ operating margins. However, we would probably see a counter-bid for Precision from the likes of GE (NYSE:GE) and Rolls Royce, as Precision remains a core supplier to these companies' respective engine divisions, as well.
That an irrational bidding war would ensue for Precision is the only reason that leads us to rule the firm out as a take-out candidate. However, it does suggest a value for Precision that is much, much higher than its current price (in a merger environment), given the extreme dependence of the engine-making oligopoly on this critical parts supplier and the bidding war that would inevitably ensue if it went into play. Even on standalone basis, however, we think Precision is worth about $200 per share (about $30 upside).
As we outlined in our previous work on United Technologies, we think the firm has upside to $100 per share, and the potential acquisition price of Goodrich at $110 to $125 per share is consistent with our fair value estimate for that firm. We show the front page of our equity report on Goodrich below that reveals our estimated fair value for the company. We think United Technologies would be getting a fair deal at the rumored price and could pay as high as $138 per share (the highest price of our fair value range) before the tie-up would become value-destructive.
Assuming that the rumored deal goes through and United Tech and Goodrich tie the knot, we expect a wave of consolidation to ensue in the space, as players seek out ways to gain greater exposure to the coming boom in commercial aerospace demand that we outlined above. Topping our list of candidates that we think are incredibly cheap and that would fold nicely into another conglomerate or aerospace partner are Astronics, which makes lighting and electrical power systems to the industry, and Edac Tech, which makes low pressure turbine cases, hubs, rings and disks for engine and turbine makers. In our opinion, Edac Tech fits very well within Precision Castpart's product suite, while Rockwell (NYSE:COL) may find Astronics complementary to the electrical systems that it makes for flight deck and cockpit display. And, of course, we cannot rule out another conglomerate like Honeywell (NYSE:HON) taking a stab at increasing its aerospace exposure.
The commercial upswing will be great in both magnitude and duration, and we fully expect deals to heat up in the space in coming years. Though we've outlined a few potential courtships, we also expect the broader group to demand premium multiples as a result of this increased likelihood for a wave of mergers. And as revealed in our Best Ideas Newsletter, we maintain that Precision Castparts, EDAC Tech -- which we think has upside to $10 per share -- and Astronics -- which we believe boasts a fair value above $45 per share (see below) -- are the best way to play the coming boom in commercial deliveries, as well as the increased prospects of merger mania in the sector.
Disclosure: I have no positions in any stocks mentioned, and no plans to initiate any positions within the next 72 hours. Precision Castparts, Astronics, and Edac Tech are included in our Best Ideas portfolio.