Global stock exchange traded funds tumbled to start the week as markets remained unable to shake worries that Greece will default and escalate the debt crisis.
The Contrarian looks at the market's most unloved ETFs — this week's installment examines euro currency funds.
The viability of the European Union's currency is facing a serious challenge. Last week, the European Central Bank worked with other central banks to provide dollar liquidity for banks.

The euro currency has depreciated 3.4% so far this month as the spreading debt crisis weighed on the Eurozone currency.
Last week, French President Nicolas Sarkozy and German Chancellor Angela Merkel said they would continue to support Greece and were "convinced" Greece will stay in the union.
However, Bloomberg reported Monday that euro bulls are capitulating after comments from ECB President Jean-Claude Trichet earlier this month. ECB rate hikes are looking less likely after Trichet said threats to the euro region have worsened and inflation risks have eased, according to the report.
For investors with a contrarian bent, CurrencyShares Euro Trust (NYSEARCA:FXE) and WisdomTree Dreyfus Euro Fund (NYSEARCA:EU) both track the performance of the euro against the U.S. dollar. Leveraged products include Market Vectors Double Long Euro ETN (NYSEARCA:URR) or ProShares Ultra Euro ETF (NYSEARCA:ULE).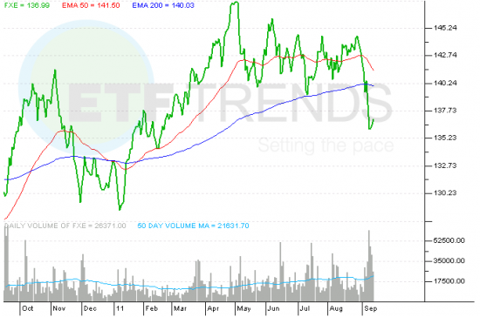 Read the disclaimer: Tom Lydon is a board member of Rydex|SGI.
Max Chen contributed to this article.
Disclosure: None