Solar stocks have been among the hardest hit in recent months. Most stocks in this sector reached their post-2009 highs during October 2010, and have lost over 60% within the last 12 months.
For example, ReneSola (NYSE:SOL) has plunged from last October's $15.34 to Friday's $2.82, an 81.16% loss; JKS was down from $41.75 to last Friday's $9.04, down 78.04%.
I first noticed this possible solar stock crash back in February, when I read a Chinese financial newspaper. One article in that newspaper indicated that the solar field will become very crowded in coming months as many new Chinese companies saw the fat profits and joined the army. Capacity had been expanded over 500% within the last 12 months.
That article remained me of the price war in the 1990s on hard disk drives, when hard disks makers all made big money. In the following years, many hard disk manufacturing companies went into bankruptcy, and eventually only two survived: Western Digital (NYSE:WDC) and Seagate Technology (NASDAQ:STX).
I changed my rating for this sector to "avoid" after reading that article, and did some additional research.
Now most of the solar stocks are severely damaged; a few even traded below their 2008-2009 lows. Suntech Power (NYSE:STP) at $3.68 is far lower than its 2008-2009 low of $5.39. First Solar (NASDAQ:FSLR) closed Friday at $85.70; its 2008-2009 low was $86.00. China Sunergy (NASDAQ:CSUN) at $1.32 is one cent below its 2008-2009 low.
The question investors face is: Is now a good time to buy solar stocks? Before answering the question, let us look at some of the recent developments.
Analysts continue cutting their one-year price tags for solar stocks -- no one is increasing their targets. Many stocks in this sector saw their target prices cut a few times within last two months. In last two weeks alone, most were cut twice. (For example, LDK Solar (NYSE:LDK) was cut from $9.56 to $7.05, and then to $6.67 in last two weeks.) See the table below for detail: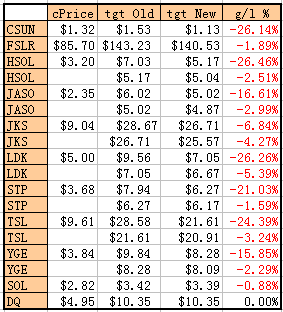 cPrice: 09/16/2011 close price
tgt Old: Analysts' one- (two-) week-old target price;
tgt New: Analysts' current or one-week-old target price
g/l%: target price percentage changes
From the table we can see that only DAQO New Energy (NYSE:DQ), SOL and FSLR target prices do not have big changes. But SOL's target price already went down from $11.64 to $3.39 in last two months.
European countries are facing debt problems which cannot be solved overnight. The governments have to cut their budgets in a big way in order to fight the debt problem. It's unclear if they have enough money to continue providing subsidies to solar projects, and without government subsidy, solars are just too expensive.
The US may provide a growth engine for solar projects in coming years, but will the US give all the solar projects to Chinese companies? Quite a few US solar companies filed for bankruptcy in last few months because they cannot compete with low-cost Chinese solar companies. Chinese solar companies have become the dominant force in the solar industry, now controlling a 60% worldwide market share. How the US will deal with the Chinese solar companies' competitive advantage is still unknown.
From the table we can also see that even with lowered target prices, many solar stocks are still providing good investment return. For example, JA Solar Holdings (NASDAQ:JASO) closed at $2.35 Friday. Even with a lowered one-year target at $4.87, we may still make a possible double within one year -- or we may see more price target cuts in the coming weeks.
Last round's star among all solar stocks was Trina Solar Limited (NYSE:TSL), which gained from a 2009 low of $2.88 to a 2010 high of $31.18 within one year. Which stock will be the future star in solar? Some stocks are quite attractive at current prices. Do your own research before buying any of them.
Disclosure: I have no positions in any stocks mentioned, and no plans to initiate any positions within the next 72 hours.