An old favorite income stock AT&T (NYSE:T) has been in the news lately for its attempted purchase and merger of Deutche Telekom's (OTCQX:DTEGY) US operations known as T-Mobile. There is a lot of opposition lining up against it but that "bad" press has made the recent weakness in price an even better bargain for income investors.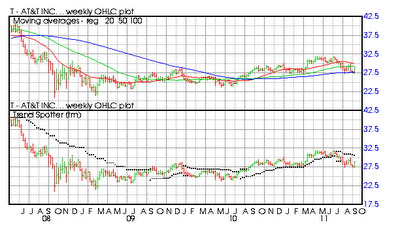 AT&T, together with its subsidiaries, provides telecommunication services to consumers, businesses, and other service providers worldwide. Its Wireless segment offers wireless voice communication services, including local wireless communications service, long-distance service, and roaming services. This segment also sells various handsets, wirelessly enabled computers, and personal computer wireless data cards; and accessories comprising carrying cases, hands-free devices, batteries, battery chargers and, other items. This segment sells its products through its own stores, or through agents or third party retail stores.
The company''s Wireline segment provides voice services, including local and long-distance services, calling card, 1-800 services, conference calling, wholesale switched access service, caller ID, call waiting, and voice mail services; and application management, security service, integration services, customer premises equipment, outsourcing, government-related services, and satellite video services. This segment also offers data services, such as switched and dedicated transport, Internet access and network integration, data equipment, and U-verse services; high-speed connections comprising private lines, packet, dedicated Internet, and enterprise networking services, as well as DSL/broadband, dial-up Internet access, and WiFi products; businesses voice applications over IP-based networks; and local, interstate, and international wholesale networking capacity to other service providers.
In addition, its Advertising solutions segment publishes yellow and white pages directories; and sells directory advertising and Internet-based advertising and local search. The company was formerly known as SBC Communications Inc. and changed its name to AT&T Inc. in November 2005 as a result of merger with AT&T Corp. AT&T Inc. was founded in 1983 and is based in Dallas, Texas. (Yahoo Finance profile)
Factors to consider:

The company is releasing its new 4G LTE network in the 5 urban markets of Atlanta, Dallas, Chicago, Houston ans San Antonio. They plan to add another 10 markets by the end of the year. This upgrade may allow the new Motorola Droid Bionic and the Samsung Galaxy X II to be added to the network.
Barchart technical indicators:
Negative technical price momentum indicators on an income stock can be a signal to acquire dividends at a bargain price
40% Barchart short term technical buy signals getting stronger showing an upward momentum
Trend Spotter technical sell signal weakening
Above its 20 day moving average but still below its 50 and 100 day moving averages
Just 8.15% off its 1 year high
Relative Strength Index 53.84% and getting stronger
Barchart computes a technical support level at 28.41
Recently priced at 28.94 which is below its 50 day moving average of 29.12
Fundamental factors:
Utilities have always been on the Wall Street brokerages model income portfolios and AT&T has always been on the list
Sales are expected to increase by 1.50% this year and another 1.20% next year
Earnings consensus is an increase of 3.50% this year, 6.70% next year and continue at 3.77% annually for the next 5 years
The consensus projections result in brokerage analysts releasing 9 strong buy, 8 buy and 15 hold recommendations
The dividend give a nice 6.03% yield when compared to the 2.4% yield of the overall market
That dividend averages around 60% of earnings so with the A+ financial strength, and 85 percent earnings predictability factor those projections and dividends should be pretty safe
For you value shoppers the recent P/E ratio of 12.57 is below the market P/E ratio of 13.2
These projections might be slightly better or worse depending on whether the T-Mobile merger comes off
General investor interest:
Interest and opinion is high with the readers of Motley Fool where 5,655 readers give a 92% vote that the stock will beat the market
The more savvy and experienced All Stars are more confident with a 95% vote for the same result
Competitors:
In the large US market Sprint Nextel (NYSE:
S
) and Verizon (NYSE:
VZ
) are their major competitors and this year's percentage price action is compared with this Barchart graph: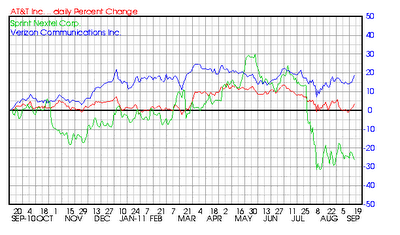 On the world scene they compare to Nippon T&T (NYSE:NTT), Deutsche Telekom, Verizon (VZ) and Vodafone (NASDAQ:VOD) and the yearly percentage price changes are :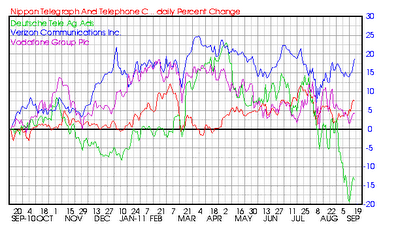 Some stocks in the Telecom Communications sector that have done extremely well this year are 8x8 (NASDAQ:EGHT), up 158%, Global Crossings (NASDAQ:GLBC) up 103%, Surewest Communictions (NASDAQ:SURW) up 100% and Primus Telecom (NYSE:PTGI) up 77%: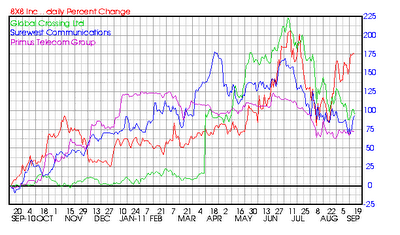 Summary: If you are looking of a long term conservative income holding you might want to consider AT&T for an addition to your portfolio. At today's price the 6%+ dividend is attractive and if earnings projections and increases in the P/E ratio happen investors at this price could see an annual total return of 13-15% annually over the next 5 years.


Disclosure: I have no positions in any stocks mentioned, and no plans to initiate any positions within the next 72 hours.