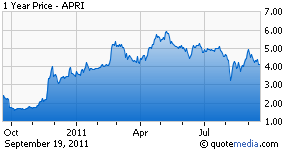 There has been much buzz lately about the side effects of Apricus Bio's (NASDAQ:APRI) topically applied erectile dysfunction treatment, Vitaros. Vitaros is an alprostadil-based cream and stands as a completely revolutionary new drug, much different than the current oral treatment options for those suffering from ED.
So what are the facts and the truth behind this drug?
Over the past several years, Apricus completed several clinical trials assessing the efficacy and safety of Vitaros. These trials, which administered Vitaros in over 3,300 patients, led to the approval of Vitaros in Canada and, according to the company, positive guidance of its filed marketing authorization application (MAA) in Europe.
"Penile Burning"
The issue of penile burning with Vitaros use surfaced (again) this week.
Evidence indicates that in the 2 double-blind Phase III trials, patients did report "penile burning" like sensations. According to the drug approval monograph for Vitaros, these were mild and transient lasting a short period of time. In fact, even 6% of patients in the placebo control group (who did not get the drug at all) reported the same penile burning sensation side effect.
It should be duly noted that medically defined "penile burning" includes a sensation of warmth. This sensation is due to the fact that Vitaros is a strong blood flow inducer (the reason why it is effective) so it is normal to feel warmth in the penis, as this is what blood flow does. Also, since Vitaros is the fastest acting drug currently approved, the blood flow to the penis takes place within minutes of applying Vitaros, as compared to a 30 minute to an hour wait for oral drugs to take effect.
In addition to the 2 double-blind Phase III trials, Apricus conducted a long term (>6 month) open label study. Using the same patients from the Phase III studies, along with new patients, users continued on the drug for over six months. The patients that continued on the study after six months reported significantly lower burning sensations (8.4% of them). Those are the same patients who, when using the drug for the first time in the double-blind Phase III trials, reported a higher burning sensation. It appears that this different result is likely due to the fact that the patients realized that it is not an actual burning that takes place but it is warmth due to the action of the drug which results in the efficacy of this drug.
Furthermore, the discontinuation rate of the Vitaros patients from the studies was only about 3%. This rate is consistent with current oral drugs such as Viagra, Cialis and Levitra. The low dropout rate confirms that the warming or burning sensation is not a serious issue.
Apricus has inked multiple Vitaros partnerships around the world. These companies have doctors and clinicians who conduct the due diligence on drugs before anything is signed. Those doctors understand and properly analyze the medical science and drug results. These companies signing on to Vitaros indicates that side effects were not a major issue with them.
A more important side effect to examine would be genital pain and any issue with the partner having adverse side effects. However, in the long term study, these were only around 5% and 2%.
On top of this, Vitaros demonstrated none of the side effects of PDE-5 inhibitors like Viagra, Cialis and Levitra, which are known to commonly cause headaches (in over 10% of patients), nasal congestions, vision changes, dizziness, flushing, etc. In fact, it appears that Vitaros is actually considerably safer than current oral treatments.
With Health Canada's blessing (Canada's FDA equivalent), Vitaros is the only drug that can be prescribed to the entire patient population. Thus, Vitaros will provide an option for those previously blocked from utilizing ED oral treatments due to the negative side effects. These include a significant number of men--those with cardiac risks, diabetic, prostatectomy, Viagra failures, and patients on nitrates and alpha blockers.
The truth is nearly every drug has side effects. Penile burning is a side effect of Vitaros. However, what is important is that this is not a serious issue or even necessarily negative. How do we know? The dropout rate was completely normal. But the real kicker: The drug monograph approved by Health Canada states zero serious Vitaros-related adverse side effects reported by patients — none.
Apricus stands by its assertion that it will announce a commercial partner for Canada before the end of 2011. Any statement that no partner has been publically announced due to Vitaros side effects appears to be unfounded.
Disclosure: I am long APRI.