Over time, the major US indices change. Companies can be bought out or go bankrupt, or they can shrink or grow. Every now and then, indices like the S&P 500 will add or subtract components, and this can have an impact on a variety of names. Next month, credit card giant Visa (V) will split its stock 4 for 1. As a result, the Dow Jones Industrial Average will change a bit. Today, I'll examine what this means for investors, using the SPDR Dow Jones Industrial Average ETF (NYSEARCA:DIA).
In late 2014, I mentioned that the rally in Visa could actually be hurting the Dow 30 index. This was because the credit card name was gaining a lot of power in the price weighted index. Remember, the Dow is based off share price, so the most expensive stock by dollar amount gets the highest weight. With Visa soaring past $250, the name had a lot more power than names trading at even $100. In the chart below, you can see how Visa's weight has continued to increase over the past 10 months or so. I've collected these numbers from the DIA ETF holdings page.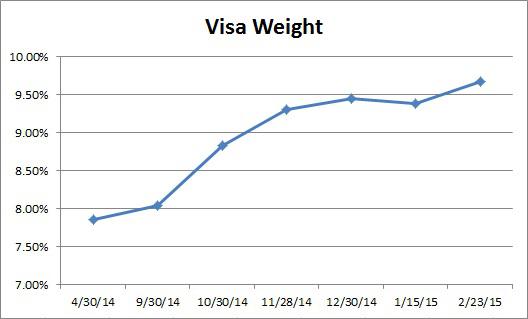 As of February 23rd, 2015, Visa's weight in the Dow 30 was 9.67%. That meant that the stock was 43.47% more powerful than the second largest weight, Goldman Sachs (GS), and more than 210% more powerful than the average weight of the other 29 components. In fact, General Electric (GE) had a weight of just 0.89%, a small fraction of the power of Visa. I was hoping that Santa would bring a change to the Dow to fix this problem a bit, and part of my wish has been answered. I hoped a name like Apple (AAPL) would be added to the index in favor of a smaller weight, but that didn't happen. Visa's split, however, will balance the index a bit more.
Visa's 4 for 1 split means that it will lose a lot of power in the Dow, going from a near 9.7% weight to probably around 2.6% if current prices hold. Since the DIA ETF holds more than 4.36 million shares of each Dow component, the fund will probably have to sell around 3 million shares or so of Visa, more than a full day's volume for the stock. I don't think that Visa investors should be worried however, because there will also be extra buyers coming in with shares trading for less than $75 after the split. This roughly $200 difference in price will also mean that after the split goes through, a one dollar move in a Dow component will equal a higher point change in the index as compared to current values. That's because the total share price of the index will be less, since Visa is losing 3/4 of its dollar price, and so the index numerator must change accordingly.
By my calculations, based on the Feb. 23rd holding data, each of the other 29 Dow components should their weights increase by almost 8%. So for instance, Goldman Sachs would go from 6.74% to 7.27%. Obviously, Goldman will see its weight increase the most, because it is currently the second largest holding in the index. This all assumes that prices don't change before Visa's split, which they will, and that there are no other changes to components or the index. In the table below, you can see how the top five current holdings would change after the split, based on my current estimates.

In a couple of weeks, credit card company Visa is splitting its shares 4 for 1. Normally, this wouldn't be major news, but it is going to impact the Dow Jones Industrial Average a bit. Thanks to a decent rally in the past year, Visa is approaching 10% of the index due to its large share price. The stock split will make the credit card giant a much smaller name in the index, boosting the weights of all other 29 components. Investors should be aware of this upcoming change to the Dow 30 since the index is mentioned so much, and the DIA ETF will also need to rebalance its holdings accordingly.