By David Russell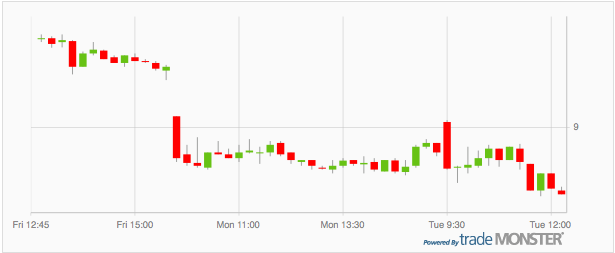 Manitowoc saw bullish activity last week, and one investor remains optimistic.
OptionMONSTER's Heat Seeker tracking program detected the purchase of about 1,200 November 11 calls for $0.45 and the sale of about 2,800 October 8 puts for $0.45. Most of the transactions priced at the same time, suggesting activity by a single large player.
The trade resulted in a net credit of $72,000 and has an unusual return profile because of the different expiration months selected. The position will earn unlimited profits if the maker of cranes and food-service equipment rallies above $11 by November expiration. It also stands to lose money on a more modest push to the downside in the next five weeks because of the October contracts.
The trade is interesting because the investor sold puts that expire in less time and are closer to the money. They used the money to pay for calls that have more time and are further from the money.
The strategy is an example of the almost-infinite number of ways that options can be combined to craft positions to match investors' expectations for a stock or index. (See our Education section.)
MTW fell 4.83 percent to $8.87 yesterday, and has lost more than 40 percent of its value in the last 2 to 12 months. Its last earnings report on July 26 was mixed, with revenue strong and management optimistic. Earnings, however, missed forecasts.
The shares are now attempting to hold support around the same price area where they double-bottomed in mid-2010. Call buyers also stepped into the name late Thursday, looking for a bounce from this level.
Overall option volume in MTW was more than triple the daily average, according to the Heat Seeker.