Volatility-based ETFs and ETNs seem to be everywhere these days. By last count, there were no fewer than 25 funds that aim to track movements in the VIX in some form or fashion.

VIX-based ETFs can be heavily influenced by the sometimes misunderstood forces of contango and backwardation. In the past, I've railed on the hidden cost of contango for products like the VXX, and will likely do so in the future. However, for the past couple of months, we've seen dramatic movement in the volatility index and a realignment of the futures curve.

The below chart shows the VIX futures curve constructed from 9/19 closing prices, with single-month "roll yield" superimposed. Futures markets are anticipating a pronounced decline in volatility through the end of the year, albeit remaining above relatively high levels.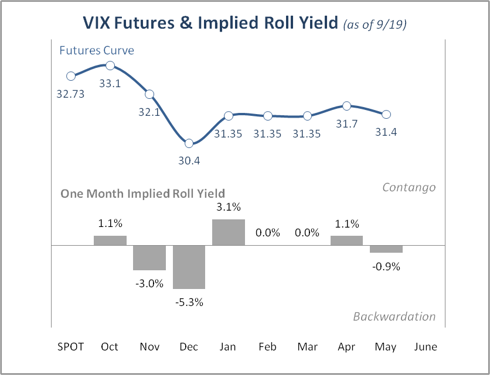 Traders with a view towards continued - or increased - in the coming months should take comfort in knowing that the market is paying you to wait. The below chart gives estimates of the expected roll yield for the coming month,
assuming no change to market volatility
, for 12 VIX-linked funds.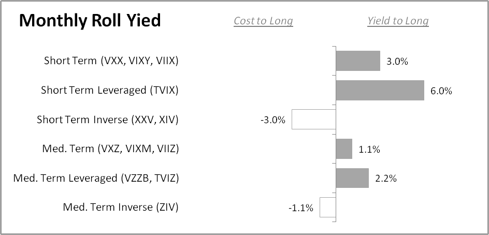 Clearly, inverse funds like the
XIV
will impose a carrying cost, all else being constant, while short term and leveraged funds provide highest roll yield opportunity.
Disclosure:
I have no positions in any stocks mentioned, and no plans to initiate any positions within the next 72 hours.