When it comes to turning savings into income, investors rely on two main pillars: Bonds, which provide a steady income stream of interest payments from loans to governments and corporations, and stock dividends from cash rich companies. Bond investments are perceived as an ultra-safe income allocation strategy where corporations virtually never default or miss payments (under 2% default rate on corporate bonds since 1981) and government bonds are more remotely likely to default.
And because of rock bottom bond yields, many income investors have gravitated to alternative fixed income strategies that are designed to provide solid current returns with a high correlation to the safety attributes of bond yields. By targeting total return (growth and yield) within a risk-adjusted investment strategy, the successful investor should benefit from a bond-replacement alternative that will help to pay the bills and also sleep well at night.
The sleep well at night test can be defined as the tradeoff between risk and return, or the balancing of the desire for the lowest possible risk and the highest possible return. Bond yields are characteristically considered low risk investments, while mortgage REITs are considered higher risk equities.
Many of the mortgage REITs are sought after as highly attractive dividend stocks; however, the risk-return model is designed to provide for high levels of leverage and government issued (and non-SEC regulated) securitization making the risk premium attributes closer aligned to sub-prime mortgages than agency-backed bonds (mortgage REITs have been exempt from the Investment Act of 1940, which regulates the fees charges to investors and also limits the amount of leverage a fund can use).
In addition, a sleep well at night investment model should also provide a sustainable dividend track-record with risk-adjusted pricing attributes closer aligned with bond investments.
The single-tenant net lease sector is considered an excellent income alternative with a high correlation to the risk-adjusted premiums of a well-balanced bond portfolio. Because of the characteristics of these bond-like structures, there has been a substantial volume of capital chasing assets defined as one of the safest commercial real estate sectors. These net lease assets are also considered "flight to quality" investments since the funding model is primarily driven by credit, lease term, and rent increases.
And because of the well-balanced investment model (credit, lease term, and rent increases), the investor benefits from owning a bond-like income stream with a risk- adjusted "margin of safety" platform consisting of credit quality, diversification, and sustainability.
According to Real Capital Analytics, there was a record amount of net lease transactional volume during the prior 12 months, the most since 2007. Among the top 20 buyers (based on volume), there was around $13.7 billion in single tenant acquisitions with many of the dominant REITs and institutional funds (click to enlarge images):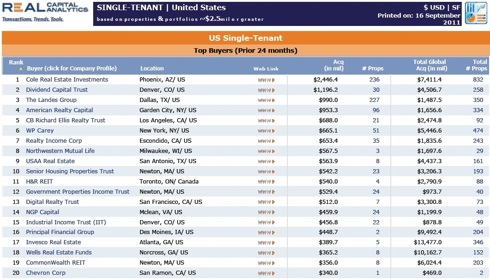 And during 2011, there has been a significant amount of net lease activity reported within the REIT sector. As explained by Dan Fasulo, Managing Director at Real Capital Analytics:
REITs have been among the most successful investor groups in recapitalizing post financial crisis and have been very active buyers in the single tenant net lease sector over the past 24 months.
Within the REIT sector, there are publicly traded REITs and non-traded REITs and the combined makeup of these platforms is significant. As explained by R.J. Milligan, Equity Research Analyst at Raymond James:
Given their proven resiliency through the last recession, long-term leases and attractive dividends, the net-lease sector offers investors both a safe and attractive yield as well as a great place to hide out in uncertain economic times.
And because of the extraordinary high portfolio occupancy levels, most of the freestanding REITs have performed extremely well of late. As R.J. Milligan adds:
Despite the dramatic fallout in retail sales during the last recession, the net-lease sector maintained the highest occupancy out of all REIT sectors – affirming the various management teams' ability to underwrite both the credit and underlying real estate of the assets in their portfolios.
And compared with other REIT asset classes, the freestanding REITs have provided a safety harbor for many income oriented investors. As fellow Seeking Alpha writer Brad Case, Ph.D., CAIA and Senior Vice President at NAREIT explains:
Historically, traded net lease REITs have provided strong returns with less asset-level volatility than other segments of the REIT industry. The data show that traded REITs have provided both strong risk-adjusted returns and strong diversification; for investors that want those benefits with less fluctuation in asset values, the net lease segment may be worth a closer look.
The Publicly Traded Free-Standing REITs
Realty Income (NYSE:O) – As I wrote back in May of this year, Realty Income is an exceptional REIT with a strong "margin of safety". And with around 2,523 net lease properties (in 49 states) with average portfolio occupancy of 97.3% (Q2-11), Realty Income has become an exceptional "risk-managed" model as it seeks to acquire a wide variety of assets in order to minimize the possible impact that any one tenant will have a negative impact on the overall portfolio performance.
Also, because of the REIT's extremely healthy balance sheet (no secured mortgage debt) and its enviable dividend track record (O has paid 493 consecutive common stock monthly dividends throughout its 42-year operating history), Realty Income is considered one of the most reliably attractive income alternatives around.
The company recently announced Q2-11 acquisitions of around $213.5 million comprised of 10 new properties (in 9 states) with an average lease term of 12.9 years. In March 2011, the company announced signed purchase agreements to acquire 33 single-tenant properties for around $544 million.
With such a well-capitalized operating platform, Realty Income should continue to maintain attractive occupancy levels (current 97.3%) and broad diversification resulting in growing and sustainable dividend income. (Current dividend is 5.2%.)
National Retail (NYSE:NNN) – As I wrote back in February of this year, National Retail is a well-balanced REIT model. The Orlando based REIT recently announced (September 15, 2011) a follow-up offering of around 9.2 million new shares with net proceeds available of $229.4 million. The new proceeds will enable the 27 year old REIT to acquire and invest in new assets and increase its acquisition guidance from $250 million this year to between $400 million to $500 million.
With around 1,248 properties (in 46 states), National Retail enjoys an exceptional dividend track record of paying increased dividends for 20 or more consecutive years (NNN is 1 of 156 companies out of 10,000 public companies that enjoy that record). The REIT's well-balanced platform is 96.9% leased and the current dividend is 6.2%.
From Craig Macnab, Chief Executive Officer at National Retail Properties, Inc.:
The net lease retail property sector produces compelling returns on investment yet at the same time provides an above average degree of stability as a result of the long-term net leases that significantly reduce exposure to property expenses and re-leasing costs and risks. Coupled with a strong balance sheet, this has allowed NNN to maintain occupancy over 96% for the last eight years and provide shareholders with 22 consecutive annual dividend increases.
W.P. Carey (NYSE:WPC) – As I wrote back in June of this year, W. P. Carey is in a class of its own and the 38-year-old "Black SWAN" should continue to live up to its iconic reputation as a unique "sleep well at night" investment alternative. As one of the only global fund sponsors, W.P. Carey provides a unique operating platform as the company provides capitalization facilities for build-to-suit, sale-leaseback, and joint ventures. Founded in 1964 by Chairman Polk Carey, W.P. Carey manages a globally diverse portfolio of approximately $11 billion representing approximately 275 long term corporate obligors sponsoring 28 industries and 17 countries. W.P. Carey pays a 5.5% dividend and the global net lease advisor has grown dividends for 12 consecutive years.
Excel Trust (NYSE:EXL) – As I wrote back in June of this year, Excel Trust is a new shopping center based REIT with more of a hybrid approach to net lease investing. This San Diego based REIT seeks to acquire and develop net lease assets including shopping centers and free-standing sites. This more hybrid strategy provides a broad based diversification component and an above average dividend investment strategy (EXL pays a current dividend of 5.8%).
Also, because Excel Trust acquires and develops assets with more of an organically originated investment approach, the investor benefits in the value creation initiatives resulting in higher risk-adjusted rewards (or dividends). This diversified $600 million (assets under management) REIT should continue to "excel" towards the goal of becoming a $1 billion REIT known as Excel Trust.
The Non-Traded Free-Standing REITs
Although I have not previously written about the non-traded REIT sector, I wanted to include the profiles of some extraordinary single-tenant net lease sponsors. Clearly, the non-traded REIT industry, as a whole, has been able to access incredible amounts of equity and conversely, these well capitalized REITs have been able to acquire assets at bargain prices. Accordingly, the old saying "buy low, sell high" applies to the enhanced capabilities of an income investor to generate above average risk-adjusted returns.
Several other important features of the non-traded REIT structures are the bond-like characteristics of steady income and low volatility. Although a non-traded REIT is considered illiquid because the stock does not trade on a stock exchange, the investment model is less volatile and is more appropriately designed to preserve principal while hedging against inflation.
Within the non-traded REIT universe, the Single Tenant Net Lease sector has become the favored asset class. According to the industry recognized Stanger Report,, there were around 44 non-traded REITs summarized with 8 of the REITs operating as net lease sponsors.
However, of the 8 REITs, there was $4.58 billion in net lease equity raised in 2010 vs. $8.114 billion of total equity raised (56%). Thus far in 2011 (YTD August 2011), there was $3.392 billion in equity raised vs. the entire non-traded equity raised of $5.997 billion (57%). So it is apparent that many income oriented investors are happy to trade liquidity for reduced volatility (particularly following the recent events following the US S&P downgrade).
Here is a snapshot of the historical 10 year growth trends of several of the larger single-tenant non-traded REITs. As you can see, this "bond-replacement" model has mushroomed into a considerable alternative income platform: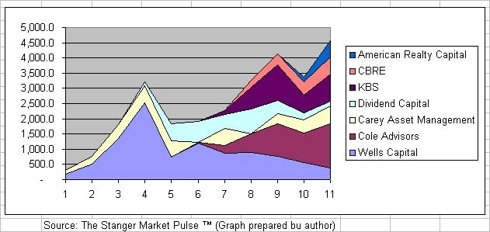 Cole Capital – Chris Cole (Founder and Executive Chairman) is considered a pioneer of the non-traded REIT structure. With over 32 years of net lease experience, Cole Capital has around $8 billion of assets under management and its current offerings include Cole Property Trust III (necessity retail) and Cole Corporate Income Trust (necessity corporate properties). Perhaps the success of the company's investment platform has been the focus on the durability and reliability of the dividend model. Since non-traded REITs increasingly comprise a growing portion of a retirees investment portfolio, Cole Capital has been in a well-aligned arena to benefit from the baby boomer population. Cole Capital operates several different funds and each fund provides considerable diversification across geographic, industry, and tenant sectors. With such balanced tenant profiles and impressive capitalization structures, Cole Capital could be considered more of a bond on steroids than a non-traded REIT.
American Realty Capital Trust Inc. – Like Cole Capital, American Realty Trust is an equally impressive non-traded REIT. As of August 10, 2011, ARCT owned a portfolio of 377 fully-occupied properties of approximately $1.7 billion. With over 76% of the income considered investment grade, ARCT enjoys a weighted portfolio average lease term of over 14 years. Recently (Q2-11), Moody's assigned a Ba3- Stable rating to the diversified investment portfolio. Equally impressive is the REITs modest leverage of around 22.5% (as of June 30, 2011). The REIT is currently paying a 7% dividend (and has since its inception in 2008). In addition to the single-tenant flagship fund (ARCT), the owners are actively involved in a series of other non-traded funds and recently launched a publicly traded net lease fund, ARCP.
Other Notable Non-Traded REITs – As mentioned, the non-traded REIT universe has grown into a considerable asset class and I could not include details of them all; however, I did want to mention three (3) other top notch programs that you should consider if you are interested in non-traded REITs. CB Richard Ellis Realty Trust, Dividend Capital, and Griffin Capital are all Net Lease platforms with a high degree of experience and value-aligned investment models.
Summary: Diversification Is The Best Predictor Of Market Performance
The fundamental dividend driver for all net lease investors is the tenant base and the success (or failure) of the income strategy is directly related to the objectives of the REITs being managed. There is a diverse pool of tenants with continued asset pricing compression; however, the well-capitalized REITs have been successful in casting larger nets and taking advantage of opportunistic market conditions. As explained by Winston Orzechowski, Research Director at Calkain Companies, Inc.:
The recession halted new construction and fueled interest in the stability offered by net leases. In response to this increase in investor demand and a lack of supply, net lease cap rates have been gradually declining – especially amongst investment grade tenants in top tier locations. In the first half of 2011 net lease cap rates averaged 7.75%, compared to 7.88% in 2010.
As a result of increased investor demand, the single-tenant industry has continued to snowball into a substantial asset class. Mr. Orzechowski adds:
Net lease investments represent a $25 billion sector of the real estate industry. Bolstered by high quality tenants such as Walgreens, McDonald's, TD Bank, CVS and Dollar Stores, net leases are one of the most stable and popular investments in the market. In-fact, single-tenant property sales accounted for almost 20 percent of all retail, industrial, and office sales in the first half of 2011.
Clearly income investors are attracted to durable and sustainable dividends. And a well-balanced REIT portfolio provides for a diversified, low-risk investment platform. The publicly-traded and non-traded REITs provide strategically crafted vehicles enabling an income investor to achieve optimum risk-adjusted yields with quantifiable "margins of safety". The publicly traded REITs provide liquidity and transparency, while the non-traded REITs provide low volatility and capital appreciation. Because of the high quality occupancy levels, both public and non-traded REIT structures are well suited for income investors. And based upon the high levels of REIT capital being raised, investors are seeking "high ground" (aka safety) in an effort to protect principal while maintaining a steady flow of income.
As you pursue your investment allocation strategies, there are a variety of alternative income options to consider. Within the range of low-risk and medium-return criteria, the single-tenant net lease alternative is a bond-like structure that can provide sustainable dividend performance with proven "margin of safety" characteristics. The publicly-traded and non-traded REITs are becoming increasingly innovative with the financial products and the single-tenant investment strategies are gaining increased favor as investors rely on well-balanced dividend diversification options. Asset diversification has been described as "the only free lunch you will find in the investment game" (source: Investopedia) and single-tenant non-traded REITs enable the investor to hedge on the unpredictability of the volatile stock markets while public REITs allow investors to hedge on the liquidity attributes of owning shares in a public company.
Every investor should have a focused investment plan with a well thought out risk-adjusted income strategy. Remember that a low-risk, high-return net-lease strategy will provide you with considerable asset diversification plan while allowing you to sleep well at night.
The 2nd Annual Interface Net Lease Conference in New York is on September 20, 2011. This France Media sponsored event will bring together all of the leading players in the net lease, 1031, and sale-leaseback markets. For more information, link here.
Disclosure: I have no positions in any stocks mentioned, and no plans to initiate any positions within the next 72 hours.