Anheuser-Busch InBev (NYSE:BUD), the American-turned-Belgian brewing corporation, has a lot of fans on Wall Street. Most analysts are very bullish on the stock, forecasting strong growth in EPS. The consensus is that EPS will grow by 20.8% in 2011 to $3.78 and then by 13.5% in both of the following two years. I have similar expectations for the restructured company.
As is well known by now, InBev completed one of the largest acquisitions ever in late 2008 with the purchase of Anheuser-Busch for approximately $52B in equity. The result was a newly-formed corporation with a portfolio of strong brand names: Budweiser, Stella Artois, Beck's, Bud Light, Brahma, Michelob, and more than 200 other beers.
The stock, however, is down 7.9% for the year, while Heineken (HINKY.PK) and the S&P is down only 5.7% and 4.4%, respectively. I believe that the market has irrationally responded to pessimistic trends for US sales and has not appreciated the company's improved fundamentals and global focus.
When Anheuser-Bush was taken over, management drastically changed the corporate culture by taking a very aggressive stance in cutting costs and implementing pay-for-performance. A-B laid off approximately 6% of its US workforce, reduced unnecessary overhead and bonuses, eliminated pension plans after 2012, and so forth. These were bold actions that I believe are paying off.
Operating margins have been cyclical due to a volatile economy, but would have been much lower had management not taken these aggressive actions. Operating margins over the years: 2007, 29.8%; 2008, 21.9%; 2009, 29.8% (year of the new company); 2010, 27.5%; and 2011 expectations, 31.1%. Due to the lowered costs and restructuring, I forecast sustainable, positive, and strong ROIC in the years ahead for A-B: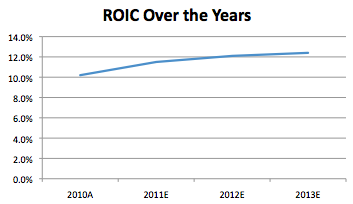 Furthermore, I anticipate revenue growing by 8.7% to $39.5B and then by 6.5% and 6.3% in the next two years. The company also offers a fairly safe dividend yield of 2.3% and thus provides favorable risky asymmetry. In 2Q11, sales performed poorly in Western Europe, Northern Latin America, and the United States. However, there was solid performance in Asia, Eastern and Central Europe, and Southern Latin America. In the long-term future (although not the immediate future), I expect strong growth particularly in China.
In conclusion, despite not being optimistic about growth in the United States, I believe that A-B is well positioned to take on the international markets. The acquisition by InBev has not been fully appreciated by the market and will prove to be highly value-creating even in the near future.
Disclosure: I have no positions in any stocks mentioned, and no plans to initiate any positions within the next 72 hours.