I previously discussed why I believe the retail sales picture is positive There is one area that has yet to recover its pre-recession levels: Motor vehicles and parts. Because of that, auto sales has the potential to show good growth - perhaps in the near future.
Below is the graph showing the recession gap for motor vehicle and parts sales (click to enlarge images):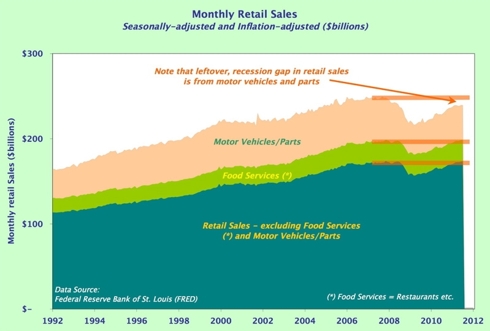 Instead of being worrisome, this shortfall could be a future growth driver. Although buying an auto is considered a discretionary purchase, at some point it becomes a necessity for most consumers. Therefore, a period of slow auto sales can create a higher sales period later due to postponed or "pent-up" demand.
The pre-recession's new auto sales (in dollars)
There has been much discussion about consumers' free spending ways of the past. Certainly, there is some truth to the notion that easy credit and optimism (from rising stock market and/or real estate prices) can spur spending. When we examine past motor vehicle spending, we can see this effect.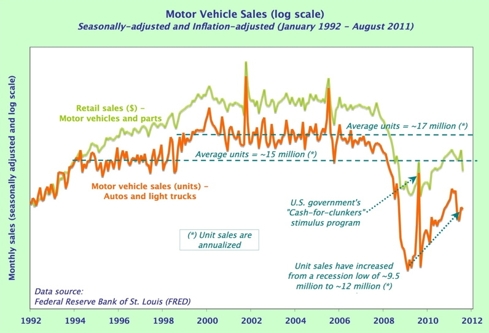 The pre-recession's new auto sales (in units)
Looking at unit sales gets to the heart of consumer spending decisions because it removes the effect of pricing and model selection. Therefore, studying unit sales offers a better evaluation of postponed demand.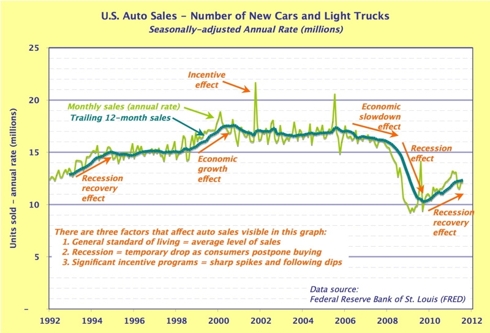 The three main effects are noted on the graph. "Standard of living" is the item related to ability and willingness to spend. As we recover from the recession period, the question is to what "normal" level will sales rise?
When will pent-up demand kick in?
I am not going to put together an econometric analysis to answer that question. It would be far too complex, and I wouldn't trust the results. However, we can approximate the answer by examining some basic information and consumer conditions as we know them.
Back to that former question: To what "normal" level will new car sales eventually rise? Let's be very conservative and use the 15 million unit level from the 1990s. This means we are saying that the 17 million unit level was a product of an over-optimistic period. Therefore, the extra 2 million units sold during the 8+ years represent excess production for which we must now compensate by under-producing. Here is the result to date: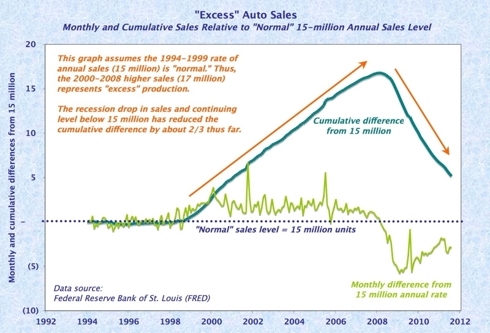 There are two important items to note. First, the cumulative "overproduction" of 16+ million is 2/3 gone, down to 5+ million . Second, the current sales level of 12 million means an annual under-production of 3 million. Therefore, the remaining overage should be gone within two years.
Yes, this is simplistic, but it shows how low new auto sales got to in the recession compared to our conservative "normal" level. And it shows that the bulk of any excess auto production is mostly gone. Now, here are the current items that support the idea that those new sales could continue rising and even get a boost.
Those "excess" cars are getting old. The ones from the last good year (2007) are now four years old. On the other hand, the under-production (the cars missing today) would all have been newer
Credit is back – and it is cheap. Banks and dealers are now actively marketing auto loans and leases
Better mileage, safety and environmental features are incentives to buy – similar to the 1970s
Age-old cost-of-ownership facts are back – i.e., at some point maintaining the old car becomes more costly than buying a new one
Last is an indicator of an overall shortage of cars: Used prices are high amid a shortage of cars. There is only one way to cure the shortage…
Investment ideas
Auto manufacturers are doing okay, but doubt reigns. With the outlook for a continuing rise in production (and the possibility of a bump from pent-up demand), the companies could enjoy a cyclical growth run. General Motors (NYSE:GM) and Ford (NYSE:F) would certainly benefit from such a period. Their stocks are very low priced: GM is under 5 times forward earnings and Ford is under 6 times. With a higher level of sales and earnings, these companies should get a boost in valuation.
Parts and components suppliers would likewise benefit. TRW Automotive Holdings (NYSE:TRW) is under 6 times forward earnings; Johnson Controls (NYSE:JCI) is under 10 times and has a 2.2% dividend yield.
For lower risk, a consumer discretionary portfolio is attractive – e.g., the Vanguard Consumer Discretionary ETF (NYSEARCA:VCR).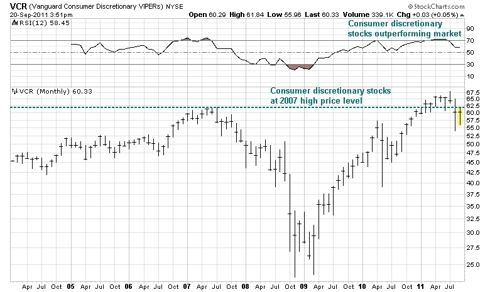 (Chart courtesy of StockCharts.com)
The bottom line
Retail sales continue to show improvement and growth. However, motor vehicle sales, while growing, have yet to get back to a "normal" level. As a result, pent-up demand is building as a potential growth factor. Considering the auto market's current environment, this growth could come in the near future.
Disclosure: I am long U.S. stocks and U.S. stock funds and may initiate long positions in F, GM, TRW, JCI, VCR over the next 72 hours.