The Mosaic Company (NYSE:MOS) engages in the production and marketing of concentrated phosphate- and potash-based crop nutrients for the agriculture industry worldwide. The Mosaic Company distributes phosphate-based animal feed ingredients; and produces and sells potash for use as fertilizers and animal feed ingredients and recently received patent approval for the first innovation in feed-grade phosphate in 40 years.
This name popped up on our list of heavily trafficked "hedge fund stocks" as Q2 saw a lot of managers initiate (or increase) their positions in this name.
The agri-business theme has been popular among hedge funds for years now, but this most recent quarter saw especially brisk demand for Mosaic among hedge funds not normally associated with this space. One reason was the Cargill family (a 60% shareholder) sold shares in a secondary offering at a discount. This, no doubt, lured in a lot hedge funds who may have been 'on the fence' but wanted to put some money to work in a tough environment.

We take a look at what the playing field in this stock has looked like over time, and who's shown interest recently. Note – the report below is only a summary of top hedge funds with current holdings in Mosaic. We have chosen to exclude Van Eck Associates (which has a natural-resourced focused comingled hedge fund as well as numerous ETFs) and Global Thematic Partners (which is explicitly focused on 'agribusiness strategies') because we wanted to focus on the non-obvious players in this name:
Some notable funds bought into this name in Q2 including David Tepper's
Appaloosa
, Tiger cub spinoff Viking Global, Paulson & Co (who's had a
well-publicized rough 2011
), and Perry Corp. The stock sold off during Q2 but is off its 52 week lows and inching back up to where it began the year. It currently trades at about 12x forward earnings (quite a bit cheaper than over 14x for Potash (POT)). A
recent Barron's article
noted:
"We think Mosaic is a cheap stock now. We have finite land resources in the world, and we need to increase crop production, and Mosaic's phosphate and potash increase yield for grains," says Russell Croft, a portfolio manager at Croft Leominster Investment Management in Baltimore.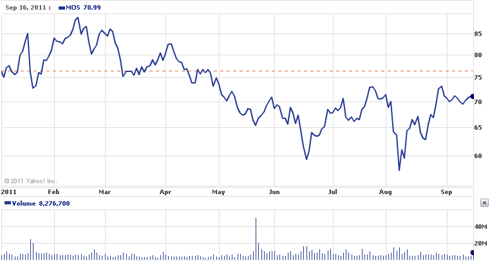 It will be interesting to see how many of these funds increase their stakes in Q3 and how many sold out. Either way, Mosaic has a lot of interest from Wall St.

Disclosure: I have no positions in any stocks mentioned, and no plans to initiate any positions within the next 72 hours.