The gold bull keeps charging up a 10-year long hill and there are many who are currently riding it, including, to a degree, this writer. Recently I wrote an article on this site titled, "Gold does not have a price, gold is the price." My intention was to acknowledge the current investor sentiment in the perceived stability of gold and silver and bring attention to the fact that many people now (and in the immediate future) believe that most, if not all, paper or "fiat" currencies are being priced in gold (as opposed to gold as a commodity). It was the general sentiment that I was targetting, not particularly the bull run itself.

Does the bull still have steam? Yeas, I believe so. At least in the short term. I have been one of the bulls preaching the benefits of owning physical gold and silver for the past 3 years, and, in the aforementioned article, owning gold miners as well. My reasoning being that valuations in gold mining stocks are still based on $800 gold as opposed to the $1814 price tag of Tuesday afternoon's futures contract for December.

Tuesday I watched a video presented by Casey Research on Youtube titled, "The American Debt Crisis." Presentations such as this one, and there is a growing corus, will scare the daylights out of anyone trying to "save" for retirement. To paraphrase in simple terms, 1) U.S. debt is completely unmanageable 2) The debt "cannot" be paid off 3) Default, either outright or via hyper-inflating the currency, is a fait accompli! 4) Your portfolio, and your safe deposit box, should be stuffed with gold and silver etc.
You get the point. If you are reading this, you probably have already read many similiar views. After reviewing many similiar articles, from some very smart people (as no doubt, the Casey Research people are), I decided to do some very basic math, using the idea from my article that, gold is the price. I simply compared the price of a home I had built in 1996, sold in 2003, and re-priced this month. I used gold as my purchase currency.

In 1996, I built my house for $181,000 and moved in on Sept 15th. The gold price that day was $380, so, in gold ounces, I paid 473 oz for my house.

I sold that house in 2003 for $251,000, moving out on Sept 1st. That day the gold price was $375 per oz. I sold my house for 616 oz of gold, or a profit of 143 oz of gold ($51,000).

Today, that same house is valued at $300,000 and the price of gold is $1814 per oz. That means, if I bought it in ounces of gold today, I would pay exactly 143 oz for it. That is the exact same amount as my profit was in 2003 when I sold it! In fiat currency terms, $51,000.00.

Here is a chart of the gold price since 1997: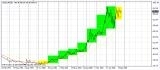 The moral of this story is twofold.

If you are in the market to buy a home today, then, do it. Do it especially if you have some gold saved to help pay for it.
When you hear the eurphoric laughter coming from those owning gold over $2500 per oz, make sure you are standing well clear of the bubble.
Hopefully, by that time, you will hear it from the comfort of your new home.


Disclosure: I am long ABX, KGC, BRD, OTC:SGRCF.