Ralph Lauren (NYSE:RL) is a luxury designer and marketer of everything from apparel to footwear to handbags. Chaps, Club Monaco, Ralph Lauren Collection, and Black Label--these are just some of the lines the fashion house is known for. With one of the more recognizable corporate brand names, Ralph Lauren is expanding and flourishing abroad.
However, I believe that the market has already fairly priced in this international expansion. On a multiples basis, the company appears even overvalued. While Ralph Lauren trades at around 23.5x and 19.5x past and forward earnings, competitors Tiffany & Co. (NYSE:TIF) and Coach (NYSE:COH) are trading for slightly less. Moreover, these competitors also offer dividends of around 1.5% while Ralph Lauren offers only a third of that. There is intense competition in high-end consumer goods with few barriers to entry.
Although I am optimistic about the company's ventures into e-commerce for the international market (notably for France and Germany), I am unconfident how the All-American brand will fare in terms of international retail sales. Could lines like "Denim and Supply" really earn the types of returns that they are expected to yield in the United States? I find that investors in luxury consumer goods too often forget about the well-established global brands who have already locked in a loyal market in their domestic economies. Ralph Lauren's multinational emergence might come unwanted and at a tremendous cost in terms of capital expenditures. Below is a chart indicating the geographical breakdown of the company's sales.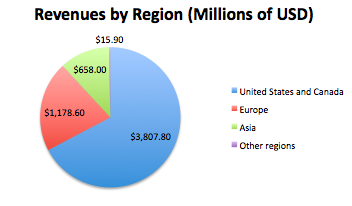 To be sure, there is tremendous upside potential abroad, but the market is forward-looking and I believe it has exaggerated the appeal that Ralph Lauren's products will have in these new economies. On the plus side, gross margins will continue to increase by around 300 basis points to 61%. However, the nature of Ralph Lauren is that it receives high margins on its products. In expanding internationally, the company might find the unexpected convenience of having to lower prices abroad to compete. With e-commerce integration, this could cannibalize domestic profits. Furthermore, luxury sales have been incredibly volatile of late--with some reports indicating recovery, others stagnation. On the other hand, declining prices in raw commodities will aid the industry.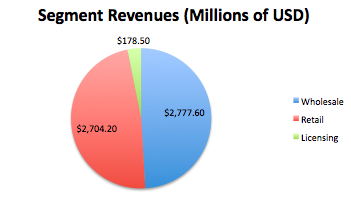 Ralph Lauren's business is composed of retail, wholesale, and licensing segments. In the immediate future, I anticipate retail volume accelerating growth, with wholesale right behind. I further forecast FCF/share decreasing from $4.40 currently to around $6.81 by 2013. Consensus estimates for EPS are that it will grow by 17.7% to $6.77 in 2012 and then increase by 14.9% and 22.5% in the following years. Most analysts rate the stock between a "hold" and a "buy," while I rate this stock a definite "hold."
Disclosure: I have no positions in any stocks mentioned, and no plans to initiate any positions within the next 72 hours.