Industrial commodities are starting to become more and more a function of Asian credit availability. While the apparent demand in China remains fairly resilient ... the monetary authorities in China have been tightening credit for some time now in an effort to curb inflation - and it is starting to show. The FT reported last night that "Rio Tinto (NYSE:RIO), one of the world's largest natural resources companies, has warned that some of its customers were asking to delay shipments of metals, in a clear sign that the financial turmoil is starting to affect the commodities sector." Tom Albanese, the Rio Tinto CEO said, "It is noticeable that markets are somewhat weaker". He goes on to say "In a few cases, customers are asking to reschedule deliveries. This is consistent with customers being cautious about the current state of business."
Rio Tinto is not the only company describing these circumstances. According to the FT, "Diego Hernández, Codelco's chief executive, said this month that the company has had 'interest from some clients to reduce quantity for the second half [of the year]'. But he cautioned that, at the same time, some other clients have ordered more copper." As the FT article notes, these comments represent a stark contrast to the general industry sentiments reflected only 6 weeks ago.
In a separate article on a similar topic the FT argues that, "demand in developed economies will almost certainly be subdued in the near term. Caution abounds; industrial groups have not restocked post-summer. But China shows few signs of a material slackening in demand. Economic growth has slowed, mainly because of measures to curb credit. But that slowdown – from more than 10 per cent in the fourth quarter of last year to about 9 per cent in the first half of this – is itself already slowing, Credit Suisse notes. After all, urbanisation continues apace. Steelmakers have had to boost production to cope with the state housing programme. That spells continued demand for iron ore and coking coal for Anglo American (OTCPK:AAUKY), BHP Billiton (NYSE:BHP), Rio Tinto and Vale (NYSE:VALE)."
The market is getting ready to see just how elastic Chinese demand is over the coming months as copper prices have fallen from $4.45/lb at the start of 2011 to $3.72/lb. Previous studies I have seen have indicated that Chinese buying really picks up below $4/lb. So perhaps substantial buying pressure will return to the market over the coming months and restore some stability to the copper market. The copper market appears to be pricing in very poor demand prospects, as can be seen in the figure below, with the 1-12 month time spread having fallen off to approximately -$.0535/lb, close to the lowest levels seen since Jan 2000.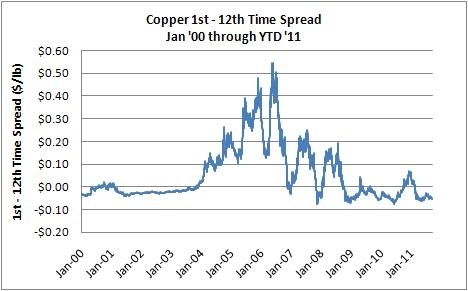 This does not bode well for the copper market at all, let alone the global economy. The market is telling suppliers it is better to store their product and wait into the future until the demand picture is better. The big question that remains to be seen is whether or not the weakness foreseen by the markets is really a decline in demand or a lack of available credit.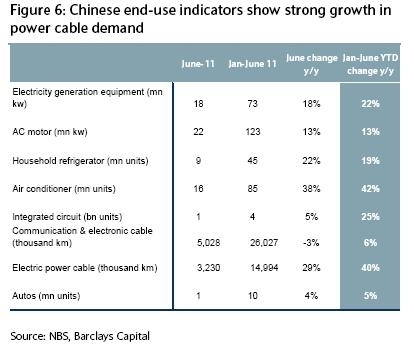 As can be seen the figure above, end product demand appears to be quite robust for several copper intensive segments. This data seems to point to the argument that market price signals are reflecting credit constraints, so far anyways, versus a projected general decline in demand. Assuming the credit constraint argument is on point, the implication is upside constraints on copper prices, BUT it simultaneously highlights that the Chinese might actually achieve their soft landing objective of slowing growth to control inflationary pressures WITHOUT causing a true hard landing/recession through their credit constraining measures.
So what, who cares? Until the copper market becomes more constructive (i.e. time spreads flatten out or better yet become backwardated) it is best to avoid this area of the commodity space. The current market environment is a perfect example in which the microeconomics of a situation (e.g. strong demand, limited supply growth) can become overwhelmed by the macroeconomics of the situation (e.g. limited and declining credit availability) which can lead to an extremely risky situation for investors who do not stay on top of both factors.
Good luck and thanks for reading.
Disclosure: I am long SCCO. Long SCCO Call spreads