ConAgra Foods, Inc (NYSE:
CAG
) reported a not-so-strong first quarter results of FY2012 on September 20, 2011.
Gary Rodkin, ConAgra Foods' chief executive officer, said, "Despite a very challenging environment and high inflation, we delivered accelerating price/mix contribution and robust cost savings. The first-quarter EPS reflects the negative impact of short-term wheat market dynamics in our Commercial Foods segment and severe inflation in our Consumer Foods segment. We took pricing actions in the first quarter in both of our operating segments, and more pricing actions will soon be implemented in both segments. Our EPS goal for the full year remains unchanged."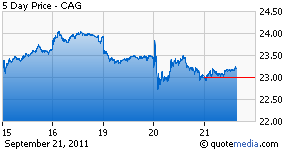 The total sales went up to $3 billion, in this quarter of FY2012, compared with $2.8 billion in FY2011. That's an increase of almost 10%. But the operating profit seems to have suffered because of the rise in prices. Its operating margin of 9.96% is much lower than 18.65% of General Mills (NYSE:
GIS
), 16.57% of Campbell Soup Company (NYSE:
CPB
) and 13.49% of Lancaster Colony Corp. (NASDAQ:
LANC
).
The operating profit of the consumer foods segment, which accounts for 62% of the first-quarter sales, fell by 5.5% to $192.6 million this year. The operating profit of the commercial foods segment, which makes up the rest (38%) of the first-quarter sales, fell by almost 14% to $97.5 million. I also see a decline in the tangible assets section, which might be due to the gradual closing of plants in Hamburg, and the closing of the Slim Jim factory in Garner. From an eagle's viewpoint, the company is taking possible and viable steps to counter the attack of inflation, and to maximize the economy of the organization.
And the efficiency of the company management is proved by the increase in the operating profit of the company for the last three years straight. You cannot really compare the net income in this case, since it seems the income tax paid, an external uncontrollable factor, plays a huge role in determining the net income.
And there is even addition in the property, plant and equipment section in the balance sheet. So, my common sense says, the company is playing according to the situation, and that's a good sign for the investors.
Remember, consumer foods is an industry where sales are bound to go up over time, if not in the US then overseas. I believe we will get to see some hopeful news over time, and right now, ConAgra seems a good prospect.
Disclosure: I have no positions in any stocks mentioned, and no plans to initiate any positions within the next 72 hours.