In the 3rd quarter, 2011, the United States entered the 2nd recession of the Lesser Depression. I was going to qualify this with a "probably" but I don't see any doubt. A number of indicators are negative and there is no near-term domestic or international government action that is going turn these around. Here's is a partial list of the negative indicators. I'm sure you can add your own favorites.
Housing remains deeply depressed. House prices plunged 5.1% in August from the previous month and, on a weighted basis, are more than 4% below the year-to-date average of 2010. Sales increased 7.7% Month on Month but remained at historically low levels as shown in the chart below. According to the Census Bureau there are about 130,000,000 houses in the United States so the 4% drop represents around $900 Billion in lost equity. There is a theory of wealth effect where gains and loses affect spending by around 3% of the gain or loss so this change could reduce consumer spending by up to $27 Billion.
(Click charts to expand)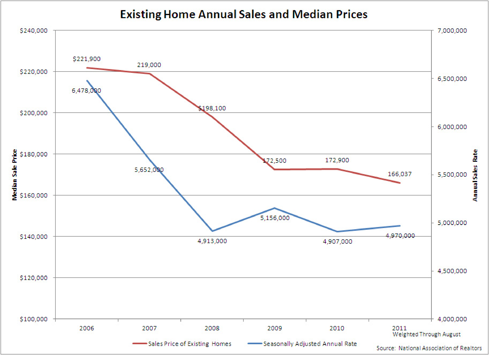 The MBA Purchase Index confirmed that housing sales are flat at best, dropping 4.7% in the latest week and down 1/2% on a 4-week basis. This indicates that current housing sales increases are unlikely to continue.
Retail and Food Services Sales to consumers clearly peaked in real terms in July 2011.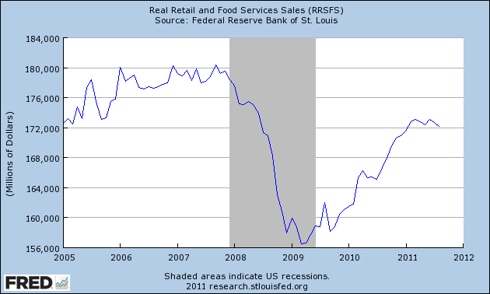 Consumer restaurant traffic has again gone negative as shown in the NPD food service research chart for the 2nd quarter 2011.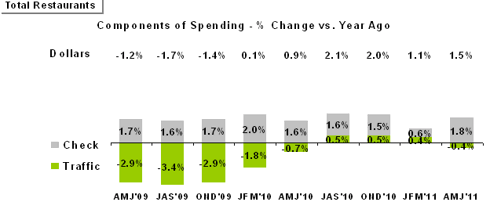 It'd be nice to say that consumers have been down so long it's beginning to look like up to them but it's not true. Consumers became more negative in August. The chart below of questions from NPD's The Economy Tracker showed that the lack of action on jobs is destroying consumer confidence.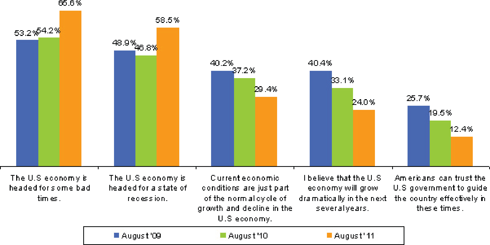 Reuter's/University of Michigan's consumer sentiment index is bouncing along the lows last seen in the depths of the 2007-8 recession.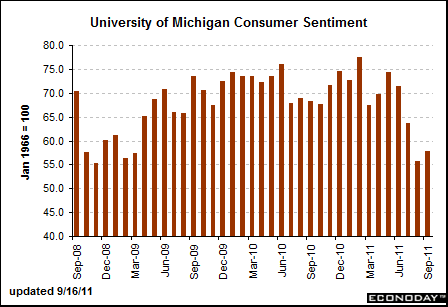 We are not likely to hear from official sources any time soon that we are in recession. The National Bureau of Economic Research (NBER) calls recessions but usually it takes them at least one year from the onset to declare. The consensus of economists never concludes that there is a recession even in the midst of one.
During normal recessions, the stock market has dropped between 2% and 45%. Today, we are not in a normal recession but rather a recession inside of a depression where history shows that the stock drops will be closer to 45% rather than 2%. There's a complete history of stock market action during recessions here.
The market is currently down 12% from its recent high. We're likely to have is a further 30% drop in the market over the next 6 to 8 months if no effective action is taken to increase economic activity. The likelihood of something coming out of the gridlocked United States government before the election is low so even the typical election year rally is questionable at this time.

Disclosure: I have no positions in any stocks mentioned, and no plans to initiate any positions within the next 72 hours.