This is a short article about stock screening and how we can use stock screens to widen our investment horizon and generate investment ideas. Stock screens are great when you have the investing equivalent of writer's block. There are some truly great resources available on the web for stock screening in a web-based format; I used Morningstar.com for this particular screen. However, to work with a large database of stocks with maximum tailoring to your specifications, we tap into the functionality of Microsoft Excel to use the custom sorting, filtering, and charting tools.
For this particular screen, we start with around 150 stocks identified to have durable competitive advantage that are also in solid financial health. Highly levered companies and those with inefficient inventory and cash conversion metrics have been excluded.
The stocks were subsequently filtered by:
5-Year ROE and TTM ROE greater than 18%

3-Yr revenue and book value growth at least stable (i.e. they did not decline over the period)

Relatively stable EPS over 3-year period (did not decline by more than 5%)

Forward and trailing P/E less than 20

Based upon Morningstar's intrinsic value calculation, a margin of safety of 20% was required

We required a 2%+ dividend yield to provide the additional margin of safety that comes with dividend income
By the nature of this screen, we are destined to bring up some unloved and unfavored stocks. The output was as follows:
3M (NYSE:MMM), Abbott Laboratories (NYSE:ABT), Equifax (NYSE:EFX), General Dynamics (NYSE:GD), Medtronic (NYSE:MDT), Novartis AG (NYSE:NVS), Paychex, Inc (NASDAQ:PAYX), PepsiCo, Inc.(NYSE:PEP), and Sysco Corporation (NYSE:SYY).
The list includes 9 wide-moat companies with a 5-year average ROE in the range of 19%-36%, indicative of a durable competitive advantage. Note that Paychex has produced the highest 5-year ROE on this list, likely due to its durable competitive advantage due to high-switching costs for its services.
It is important to examine the 3-year growth of revenues, EPS, and book value to get an understanding of how these companies have fared in this economically turbulent period (2009-2011). Forward P/E ratios range from ~7.8-16.6, indicative of cheap valuation. With respect to the high ROE and low P/E multiples, you will note similarities between this screen and the methodology of Joel Greenblatt's Magic Formula and magicdiligence.com.
To visual profitability and valuation metrics over time and before doing a deep dive into fundamental research the companies listed, we will review 4 charts.
To get a sense of how the company's durable competitive advantage is holding up, lets look at the 5-year average ROE compared to the TTM value: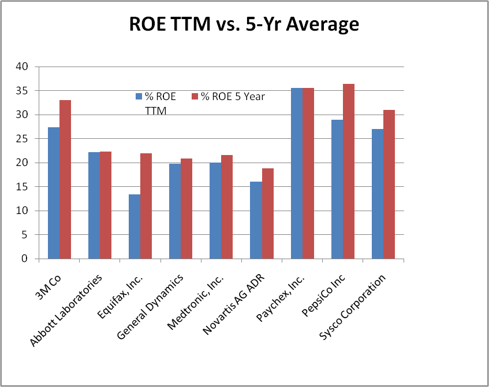 With the exception of 3M, Equifax, and PepsiCo, these companies sustained a return on equity within 5% of their 5-year averages. With respect to net margins, we performs a similar comparison and note that PepsiCo, Novartis and Equifax have all seen margin compression exceeding 200 basis points.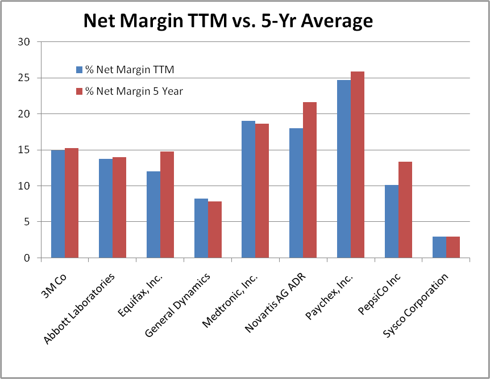 For PepsiCo and Equifax, the decrease in ROE and margins could be indicative of short-term headwinds, but it could also be an indicator of a weakened competitive position. For Equifax, a fall in the demand for credit is no doubt impacting their business. For PepsiCo, bringing less profitable bottling operations on board and continued dominance of Coke could be impacting these metrics.
With respect to valuation, we compare the price-to-book and P/E ratios to the 5-year averages to get a signal of relative valuation over time.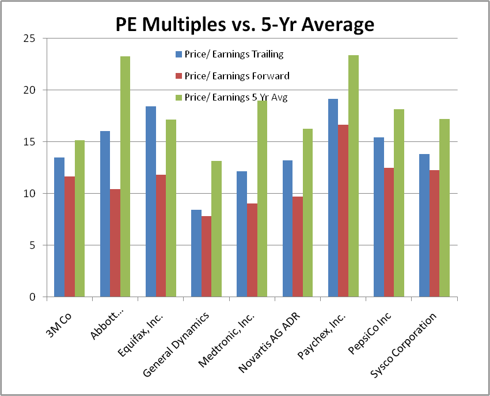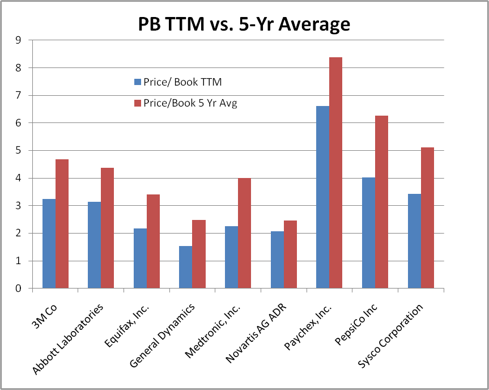 We see that almost all of these companies are trading at a discount to the averages during the 2007-2011 time period. In particular, we see Abbott and Medtronic trading at deep discounts to the 5-year averages based upon these relative valuation metrics. This is likely due to the headwinds imposed on the entire healthcare sector by healthcare reform, increased third-party payor scrutiny, and exposure of key products to patent expiration.
There are thousands of companies on the exchanges for investors to buy. Very few active retail investors have time to dive deep into fundamental analysis of more than a few companies a week. A good stock screen will help you tabulate, sort, and visualize your investment options and allow you to work smarter in identifying your next stock pick. Such a screen is by no means sufficient to purchase any of these equities, but it guides on which companies we want to dive into for in-depth research, and helps us focus on value during a bumpy market.
Disclosure: I am long PAYX.