Over the last few months, I have seen the stock prices of many companies deteriorate significantly. However, many of them deteriorated for no fundamental reason. Mitcham Industries (NASDAQ:MIND) is one example. I have owned the stock of this company for quite some time. Originally, I purchased shares at around $5 per share and saw the price reach $20 per share recently. As of the date of this report, the stock is down to $12.77 per share which represents a market capitalization of about $160 million.
The market is dumping this stock even though Mitcham Industries is on fire. A picture is worth a thousand words. Look at the following charts - (click to enlarge):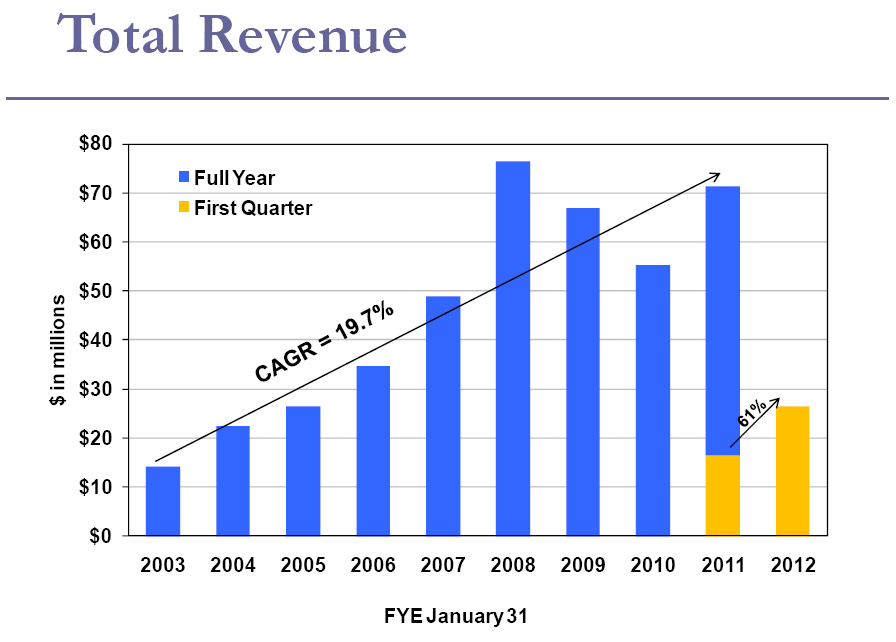 Source: Mitcham Industries Investor Presentation
Revenue went from $14 million in 2003 to $76 million in 2008. Then, the recession had a negative impact causing revenue to decline in 2009 and 2010. But now the company is back on track and growing strong. Fiscal Year 2011 (ending January 31) revenues surpassed 2009 revenues. Fiscal Year 2012 should be a record year for Mitcham Industries.
During Fiscal Year 2011, Mitcham Industries generated EBITDA of $29 million. During the first two quarters of 2012, which ended July 31, 2011, the company generated EBITDA of $25 million. I believe that by the end of 2012, the company will generate EBITDA of approximately $45 million. If we compare this to the market cap of about $160 million, we get a multiple of 3.5. Not bad for a company that is growing and expanding internationally.
I recommend that you listen to the company's most recent presentation below. Here is the PDF presentation. For the audio, go to the company's website.
Here is a video describing the company:
The Company's Business
Mitcham Industries, a Texas corporation, was incorporated in 1987. The company is the world's largest lessor of seismic and peripheral equipment to the oil and gas industry. It operates in two segments: equipment leasing and equipment manufacturing. On the leasing side, it purchases seismic equipment from leading manufacturers and leases it out to seismic data acquisition contractors who perform seismic data acquisition surveys on land, in transition zones, and in marine areas. On the manufacturing side, Mitcham Industries manufactures and sells marine seismic equipment mainly through its Seamap subsidiary, which was acquired in 2005.
Seismic equipment is used by contractors to determine where to drill. Because drilling is an expensive undertaking, seismic surveys can save companies a significant amount of money because it decreases the likelihood of dry holes. As shown in the company's investor presentation, seismic surveying is the first step in producing energy: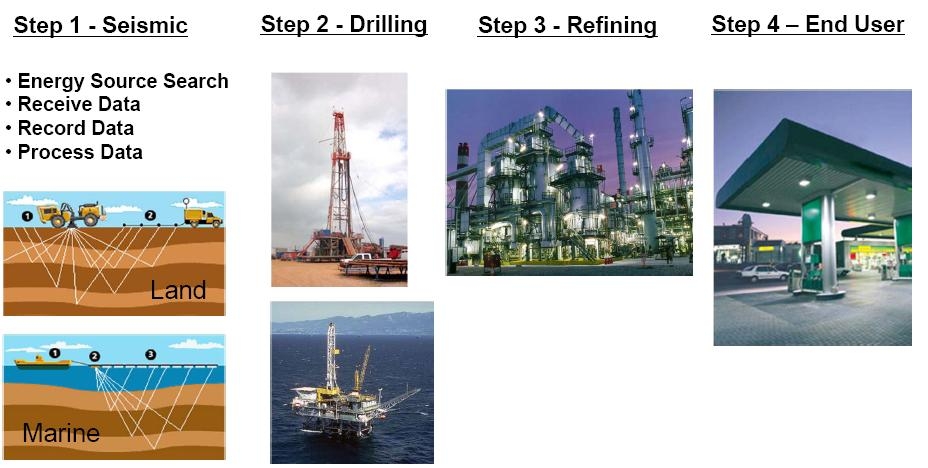 Source: Mitcham Industries Investor Presentation
Seismic contractors have two choices: they can either acquire or lease the equipment needed to conduct seismic surveys. Some choose to lease because it does not require a significant amount of capital, and it also allows them to supplement their existing equipment for specific jobs and gives them access to a large and diverse seismic equipment pool. Contractors that decide to purchase the equipment from Seamap often become leasing clients in the future.
The Industry
The seismic industry provides critical information to oil and gas companies who use it to acquire the data that is used to effectively locate oil and gas deposits. Seismic studies were first performed in the 1920s. In the most basic form, seismic data is acquired by first creating a small explosion in the earth which creates a vibration that is captured through sensors. This data is interpreted to produce detailed maps of exploration prospects and oil and gas reservoirs.
Over the years, as cheap reservoirs of oil and gas were discovered, it became more and more expensive to extract the commodities. The companies were forced to go deeper into the ground and further into offshore areas where the cost of drilling increases significantly. As a result, seismic surveys became even more important than ever before. Just think about this, if it costs you $1 million to drill a hole in the ground, wouldn't you want to find out where to drill first? Seismic technology provides the most accurate data available for identifying oil and gas deposits, making seismic studies an invaluable tool for oil and gas companies. While the cost of these surveys may seem significant, it only comprises about 5 percent of the entire drilling project.
Demand for seismic services is influenced by the exploration and production activity in the oil and gas industry. When prices of oil and gas are high, then these companies search for new reserves, thus using seismic services. The price of oil and gas is affected by the end-user demand. During economic contractions such as what our economy has recently experienced, people and businesses cut back. As a result, it is no surprise the prices for oil and gas were depressed over the last few years.
Even though the economic recession had a negative impact on the prices of oil and gas, the energy industry, with players such as Exxon Mobil, Shell, and Chevron, has to constantly find new oil and gas reserves as they are being consumed.
Analysis and Valuation
Mitcham Industries used to be a highflyer on Wall Street. When the economy was operating on all cylinders and the price of oil and gas was high, the company's revenues kept increasing at significant rates. In May 2008, Michael Cohen from C.K. Cooper & Company had a price target on Mitcham Industries stock at $25 per share when it was trading at $20 per share. However, instead of reaching $25 per share, the stock collapsed to $2.50 per share when revenues decreased because of the recession.
You can access C.K. Cooper & Company's report here (pdf):
When the stock price collapsed, Mitcham Industries lost its coverage. No surprise here. Why would Wall Street recommend a stock when the stock is a bargain? Wall Street is in the business of recommending stocks when they are hot and everybody wants them. I do not blame them because most investors are only interested in stocks when everybody else is interested in stocks. Unfortunately, as Warren Buffett would say, "You pay a very high price in the stock market for a cheery consensus."
What is interesting about this company is that even though it went through some tough times over the last several years, the management kept adding new equipment to its leasing pool as shown in the following graph.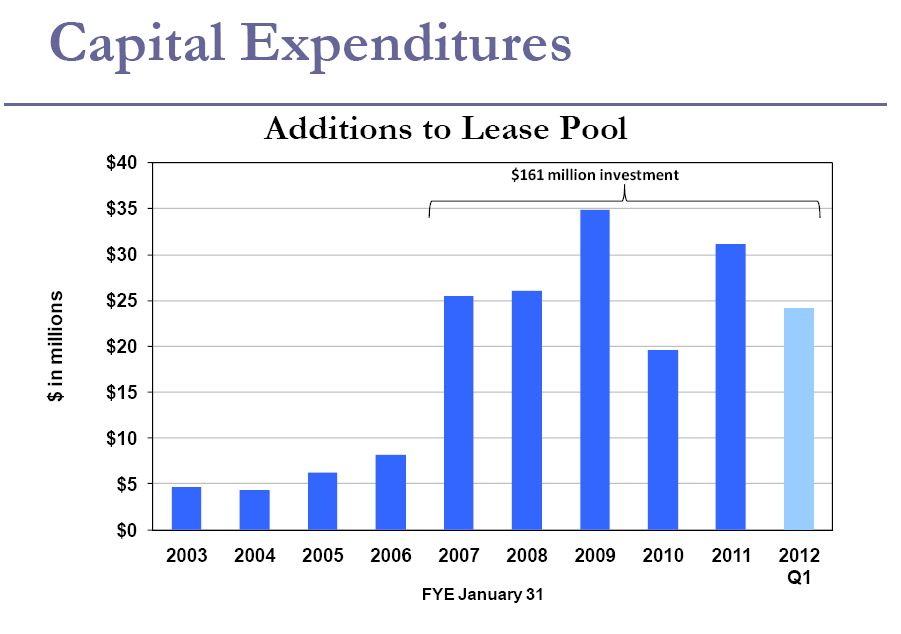 Source: Mitcham Industries Investor Presentation
Over the last six years, it added $161 million of equipment to its leasing pool. Today, the company has five times as much equipment as it had in 2006. Why is this important? The more equipment you have, the more equipment you can rent out, and the more money you can make. Then why aren't revenues five times higher yet? Think about it like this: you have one condo that you rent out and you charge $1,000 per month. If you acquire another condo to rent out at the same price, then your revenue would be $2,000 per month. However, if you do not rent out the second condo, then your revenue will still be $1,000 per month even though you have two condos. The amount of income you receive is dependent upon the price that you charge and the occupancy. The same rules apply to renting equipment. However, instead of occupancy, the company uses the term utilization.
When the economy was booming, the company was able to generate high revenues with a smaller equipment base because utilization was high. When the economy slowed down, revenues dropped despite a larger equipment pool because equipment utilization decreased even faster. For example, equipment utilization in 2008 was 34 percent but in 2009 and 2010, it was 31 percent and 20 percent, respectively. Today it is about 23 percent. The maximum utilization is 65 percent.
Because the economy recovered somewhat and the price of oil went up, oil and gas companies are now starting to get back to work, and this is already evident in the improving operations of Mitcham Industries. But this recovery in the oil and gas industry is just beginning, and Mitcham Industries is well positioned to greatly benefit from this trend. There is no reason why equipment utilization should not normalize around 30 to 35 percent.
When the company purchases a piece of equipment, it has to spend money upfront. When a piece of equipment is not rented, the company does not receive any revenues, but when it is rented out, the majority of the revenues flow straight into the bottom line. There are not that many expenses associated with renting equipment after it has been purchased because customers are responsible for most of the expenses such as maintenance, taxes, insurance, and even shipping. Because of this operational leverage, the management stated that a five percent increase in utilization is estimated to yield about $10 million in additional revenue, and most of which going straight to the bottom line.
Even though Mitcham Industries is already benefiting and will be benefiting even more from the rebound in the oil and gas industry, based on today's numbers, its stock should trade much higher than where it is trading now. Currently, the stock of Mitcham Industries is trading around $12.77 per share, which translates into a market capitalization of about $160 million. During the last two quarters, the company generated EBITDA of $25 million. I estimate that when the second half results are reported, the EBITDA for the entire fiscal 2012 year will be in the neighborhood of $45 million. Because the current market capitalization is $160 million, the company is trading at a market cap to EBITDA multiple of 3.5. Considering that the business is in the process of recovering and the company has tremendous operational leverage, EBITDA is likely to grow significantly higher in the future, and therefore, Mr. Market's valuation based on a multiple of 3.5 is absurd. Today, Mitcham Industries should trade at a about $20 per share and it would still be cheap considering its future growth potential.
Conclusion
Mitcham Industries provides equipment that helps oil and gas companies determine where to drill for new resources. The recent recession had a negative impact on the company's business as many oil and gas companies curtailed their capital spending. With the price of commodities rebounding, Mitcham Industries is seeing its business improving. Based on the amount of EBITDA that the company is already generating, shares of Mitcham Industries are attractively priced. As the company continues to deliver positive results, the stock price should resume its upward movement.
Disclosure: I, or persons whose accounts I manage, own shares of Mitcham Industries (MIND).
Disclaimer: This report is not a solicitation to buy or sell securities. Neither Mariusz Skonieczny nor Classic Value Investors, LLC, is responsible for any losses resulting from purchasing or disposing shares of Mitcham Industries (MIND). You are advised to consult your financial advisor or conduct the due diligence yourself.