By Basili Alukos
Historically, truck manufacturing has been a cyclical industry, and we believe two drivers have exacerbated volatility during the last few decades. First, although it's difficult to predict the timing, we suspect government regulations always will plague the industry. Second, we see scant evidence that customers will change their erratic purchasing decisions--buying too many trucks in good times and too few during recessions.
Combined, these factors foster outsized boom-and-bust conditions that create tremendous buying opportunities for investors during the downturn; however, when sales rise, investors seem to forget about the cyclicality, and assign aggressive valuations.
The Starting Line
When we initiated coverage on the truck manufacturers -- Cummins (NYSE:CMI), PACCAR (NASDAQ:PCAR), and Rush Enterprises (NASDAQ:RUSHA) -- in November and December 2008, the global economy was, in retrospect, on the precipice of economic calamity, as the chart below shows.
When we launched coverage, we projected highly conservative operating assumptions in our base-case scenarios, and initiated coverage with 5-star ratings on Cummins, PACCAR, and Rush Enterprises.
Once the economic paralysis passed, we anticipated the operating environment would improve dramatically for truck manufacturers beginning in 2010 due to immense pent-up demand. We wrote about this in a December 2009 Stock Strategist and subsequently increased our fair value estimates for Cummins, Paccar, and Rush Enterprises--alerting investors to keep these names on their radars
As it turned out, global industrial manufacturing activity actually improved tremendously, so we raised our fair value estimates for Cummins (three times), Paccar (twice after previously lowering it), and once for Rush Enterprises.
On the other hand, we were negative on Navistar (NYSE:NAV) when we initiated coverage in February 2009, since our research showed that the firm was making a poor decision by choosing to produce EGR engines when other manufacturers preferred SCR designs.
Looking in the Rearview Mirror
In fact, our 2009 and 2010 assumptions were too aggressive as sales, profitability, and earnings per share plummeted substantially more than we projected. Still, we estimated a minor increase in business past 2010, and 2011 is shaping up to far exceed our initial estimates despite the massive shortfall in 2008 and 2009. Nevertheless, it was our focus on the long term that gave us courage to consider these stocks as buying opportunities.
Steering Clear in 2011
Although market participants entered 2011 with much optimism, we were cautious. Since the end of 2009, we were expecting 2010 to be a banner year for the industry, as an improving industrial economy would help absorb the inventory overhang that plagued the industry since 2007. However, 2010 underperformed our expectations and the excess inventory was greater than we had forecast.
The chart below is a variance analysis comparing our first thoughts on the trucking industry in 2009 versus 2010. As a result, we believed there were roughly 20,000 units of excess demand in the U.S. at the end of 2010, so we lowered our 2011 U.S. Class-8 estimate from 180,000 to 150,000-170,000 units.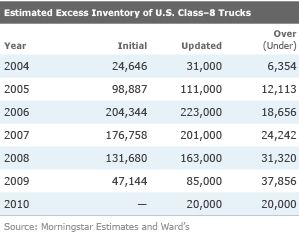 Furthermore, we cautioned investors in our Outlook for Industrial Stocks on March 30, 2011: "We think truck manufacturers are overvalued with a price/fair value estimate of 1.14, especially since we expect Navistar to lose share as a result of a shift in engine technology within the industry."
We thought choosing the inferior EGR engine technology would risk losing the market share gains Navistar earned during the previous decade; Navistar entered 2010 with nearly 27% market share, up from 16% in 2001. This negative stance caused us to remain bearish on the name as the stock increased to $70 per share after its January 2011 analyst day.
As the chart below shows, the truck manufacturing industry has taken a drubbing recently, with Navistar seeing nearly 40% of its value eviscerated. In fact, all of the truck builders we cover underperformed the S&P 500 since our cautionary note.
Down the Road
Today, we think that the trucking sector is generally fairly valued, although names such as PACCAR and Navistar are currently 4-star stocks. For the most part, as we opined when we first launched coverage, the time has passed for investors to generate outsized returns in this space. In fact, we believe investors likely will have to wait until the next recession to access an entry point with a wide margin of safety in these truck manufacturers.
Although we cannot predict when the next downturn will occur, investors should monitor industrial production and personal consumption expenditures, since these have proved to be decent leading indictors heading into a recession. Still, once that time comes, we believe the recent three-year period will provide a good playbook for investors to capitalize on investing in the cyclical truck manufacturing sector.