Well, the expected happened. The Federal Reserve kept rates unchanged and is now "twisting" – I know what, but not exactly why – and MarketWatch summarized the action as follows.
The Federal Reserve on Wednesday said it will sell $400 billion worth of short-maturity bonds it holds and reinvest in bonds maturing between 6 and 30 years by the end of June 2012, confirming market expectations that it would revive the 1960s-era program dubbed "Operation Twist." By a 7-to-3 vote, the Fed also said it will reinvest proceeds from maturing mortgage-backed securities into mortgage-backed securities, instead of its previous practice to buy Treasurys with the proceeds.
If they haven't noticed, mortgage rates are pretty low and right after the announcement, the 10-year yield dropped to 1.875%, or the lowest since I've been a human. Maybe it's already working!

Thus, "Spigot Economics," or turn on and off, is still the hottest thing since the Beatles, but the problem is not about banks' ability to lend, but about consumer willingness to borrow. Why? Because the majority is not sure whether they will have a job tomorrow!

The Fed's stance is reminiscent of a guy trying everything to a get a girl's attention, only to be continuously ignored.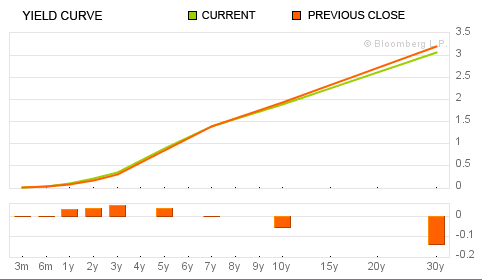 To illustrate, I captured the yield curve as provided by Bloomberg, and one can see the "twisting" effect only 20 minutes after the Fed's announcement. But what exactly they expect to accomplish, having had no success with previous monetary exercises, escapes me, and consumer confidence will not improve just because there's a bond and note shuffle going on. The "bad news" is that dollar printing is on pause for now, and the side effects are being felt.
Had they sent $1,277 to every American to spend as they see fit ($400 billion divided by 313 million people), everyone would be twisting to a different tune, and maybe we would have reason to celebrate. But that would imply that the Fed has no options, and that wouldn't be a good thing. One thing I can bank on: "Operation Twist" will become the butt of many jokes.

Disclosure: I have no positions in any stocks mentioned, and no plans to initiate any positions within the next 72 hours.