Over the past 5 years investors in Silver Wheaton (SLW) have seen this stock grow 334%. If you're into placing some precious metals in your portfolio for inflation protection, consider this stock's returns over the last 5 years.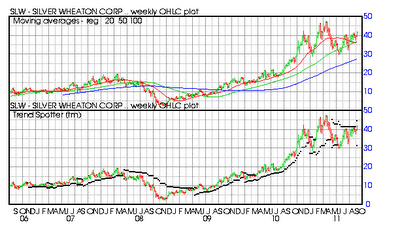 Silver Wheaton Corp., together with its subsidiaries, operates as a silver streaming company worldwide. The company has 14 long-term silver purchase agreements and 2 long-term precious metal purchase agreements whereby it acquires silver and gold production from the counterparties located in Mexico, the United States, Canada, Greece, Sweden, Peru, Chile, Argentina, and Portugal. Silver Wheaton Corp. is headquartered in Vancouver, Canada. (Yahoo Finance profile)
Factors to consider:
Barchart technical indicators:
100% Barchart technical buy signal
Trend Spotter buy signal
Above its 20, 500 and 100 day moving averages
29 new highs and up 65.48% over the last year
Relative Strength Index 63.26% and rising
Barchart computes a technical support level at 40.46
Recently traded at 41.76 which is above its 50 day moving average of 38.42
Wall Street brokerage analysts predict sales will increase by 109.40% this year followed by another 19.30% next year
Earnings consensus is an increase of 148.10% this year, 26.50% next year and continue at an annual rate of 17.00% over the next 5 years
With these aggressive forecasts they have release 2 strong bu=y and 8 buy recommendations for their clients
The company has over 560 million dollars in cash and equivalents to acquire more assets
General investor interest:
The readers of Motley Fool seem to like precious metal mining stocks
2,558 readers have expressed an opinion on this stock and voted 95% that it will beat the market
The more experienced and savvy All Stars voted 97% for the same result
Fool notes that of the Wall Street columnists they follow the last 7 articles on SLW have all been positive
Competitors and sector leaders:
Silver Wheaton (SLW) is up 66.60% in the last year and its closest competitor Coeur d'Alene Mines (NYSE:CDE) is up 42.74%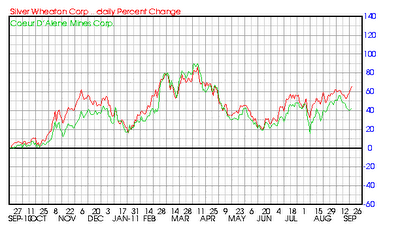 Some other smaller stocks in the SIC 1040 sector of Gold and Silver ores have had very good years with Midway Gold (NYSEMKT:MDW) up 402%, Endeavour Silver (NYSE:EXK) up 216%, Banro (NYSEMKT:BAA) up 148% and Revett Minerals (NYSEMKT:RVM) up 131% in the past year.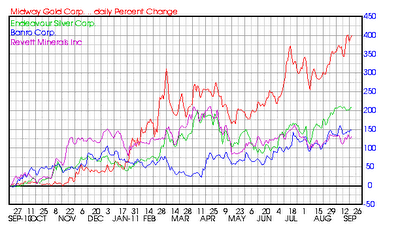 Summary: Precious metals are not for growth but for inflation protection. Even though inflation is low these stocks have taken off. Silver Wheaton (SLW) should be considered for portfolios wanting to add precious metals to their holdings.

Disclosure: I have no positions in any stocks mentioned, and no plans to initiate any positions within the next 72 hours.