Seth Klarman's Baupost Group used to be the largest hedge fund shareholder in Micron Technology (NASDAQ:MU) before Baupost sold more than half of its position over the last five months. Baupost still owns 23.7M shares and is now Micron's eighth largest overall institutional shareholder. Micron's recent debt refinancing is positive as it reduced its dilutive share count and its new flash-based storage system partnership with Seagate Technology (NASDAQ:STX) will help it develop new flash-based storage products. However, pricing for DRAM remains a concern, as well as the recent deal in which its competitor Samsung (OTC:SSNLF) agreed to supply DRAM for Apple (NASDAQ:AAPL) and LG Electronics (OTC:LGEAF). Micron bulls seem to be underestimating Samsung as a competitive threat and it is understandable why Klarman cashed in more than half of its Micron stake in Q4 2014.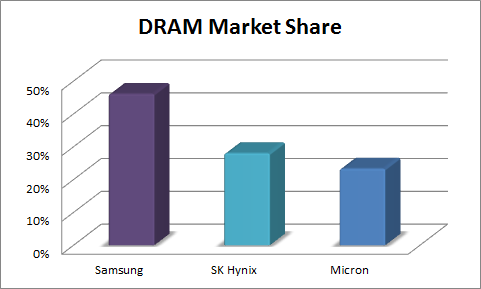 Source: Who Wired Korea
Baupost owned 51.7M shares (4.81% of Micron's shares) as of September 2014 but now owns 23.7M shares (2.2%) as of February 2015. Baupost took a position in Q2 2013 and held 64M shares at its peak in Q3 2013 as well as $11M notional value of Micron's bonds. Baupost held 51.7M shares during the first three quarters, sold 32M shares in Q4 2014 and added 4M shares in February. Baupost's reduction in its Micron holdings signals to investors that they should not expect to achieve the same excess returns on Micron that Baupost achieved over the last two years.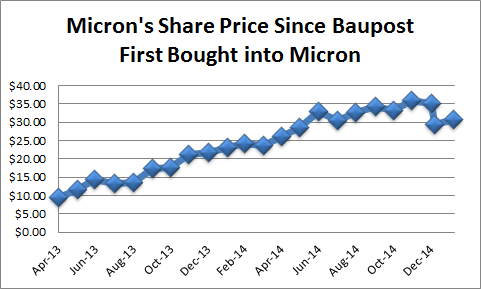 Source: Morningstar Direct
Earlier this month, Micron and Seagate announced a multi-year agreement to work together on industry-leading storage solutions. As part of the agreement, Micron and Seagate will work together on developing next generation SAS Solid State Drives and strategic NAND supply as well as extend into future collaboration on enterprise storage solutions featuring Micron NAND flash memory. We see this transaction as helping to boost Micron's enterprise NAND presence, which accounts for a small portion of its NAND revenues. According to Objective Analysis analyst Jim Handy, the enterprise SSD market will potentially generate $4B in revenues in 2016, up six-fold from 2011 and unit shipments will increase ten-fold during this period.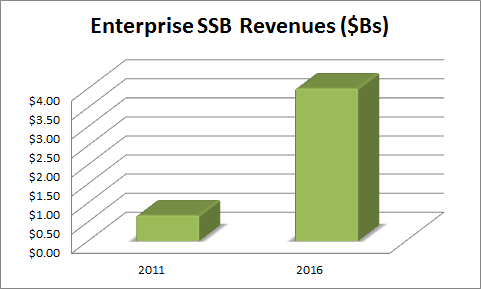 Source: Storagenewsletter.com
Micron has been working to reduce its outstanding share count. In January, it announced a $1B bond offering in order to retire its outstanding convertible bonds and reduce the diluted share overhang associated with these bonds. The new bonds carry a coupon of 5.25% and a maturity date of August 2023. Micron raised enough money to enable it to retire either one of its 2033 convertible notes (2033E or 2033F) without dipping into its cash holdings, but not both. Once Micron completes the exchange, its equity would be reduced by nearly $700M and its outstanding debt would increase by an offsetting amount as Micron's convertible debt is eligible to be exchanged into Micron shares at the owners discretion and repurchases of convertible debt in 2014 reduced Micron's book value by $1.7B that year. While this transaction would increase Micron's outstanding interest expense by $46M annually, it would reduce its diluted share overhang by 22.6M shares. Micron also spent nearly $200M in Q2 2015 to repurchase its common shares as part of its $1B share repurchase program.
The Korea Times recently reported that Samsung struck a deal with Apple and LG Electronics to provide advanced DRAM chips for these firms' new range of smartphones. The terms of these agreements call for Samsung to provide 100% of the mobile DRAM chips that LG Electronics needs and at least half of what Apple needs for its new iPhone product line. In addition, a recent research report highlighted the softer prices for PC DRAM (down 13% to 15% sequentially in CQ 1 2015). Although Micron's Investor Relations Director Kip Bedard was rather sanguine about these developments at Micron's recent conference, we think that these developments will limit Micron's revenue growth, profit growth and share price appreciation in 2015.
In conclusion, investors in Micron may want to follow Baupost's lead and take some of their chips off Micron's table. While Micron's new partnership with Seagate is a positive as well as its efforts to reduce its outstanding share count, Micron's warning for weaker than expected results in Q2 2015 still hangs over its head. Micron is facing potential headwinds from softer than expected PC DRAM prices and investors cannot overlook Samsung's ability to upend the supply/demand dynamics in the industry in order to poach market share from Micron and Hynix. Investors should not expect significant revenue, profit or price multiple expansion in Micron and should follow Baupost's lead and take some of their profits in Micron and redeploy them elsewhere.
Disclosure: The author has no positions in any stocks mentioned, and no plans to initiate any positions within the next 72 hours.
The author wrote this article themselves, and it expresses their own opinions. The author is not receiving compensation for it (other than from Seeking Alpha). The author has no business relationship with any company whose stock is mentioned in this article.
Editor's Note: This article discusses one or more securities that do not trade on a major U.S. exchange. Please be aware of the risks associated with these stocks.