The European financial sector exchange traded fund has been falling after the International Monetary Fund urged European banks to raise capital privately or risk pushing developed economies into another recession if they try to raise rates.
iShares MSCI Europe Financials Sector Index Fund (NASDAQ:EUFN) was down nearly 3% today. [European Financial ETF Down 33% in 2011]
The IMF estimates that Eurozone banks face $409 billion in potential losses linked to the debt crisis and urges banks to increase their capital buffers, reports Sudeep Reddy for The Wall Street Journal.
"Time is running out to address existing vulnerabilities," the IMF wrote in its Global Financial Stability Report. "The set of policy choices that are both economically viable and politically feasible is shrinking as the crisis shifts into a new, more political phase."
The Fund pointed out that almost half of all government debt issued by Eurozone countries are vulnerable to heightened credit risk.
The IMF suggests that banks should raise capital privately or governments may need to inject banks with additional capital. The Fund hopes that banks won't respond by increasing interest rates on loans and diminishing credit, which would only hurt the economies.
In the worst case scenario, the IMF calculates weaker credit conditions could cut growth in the Eurozone by 3.5% and by 2.2% in the U.S., which would push the economies into another recession.
iShares MSCI Europe Financials Sector Index Fund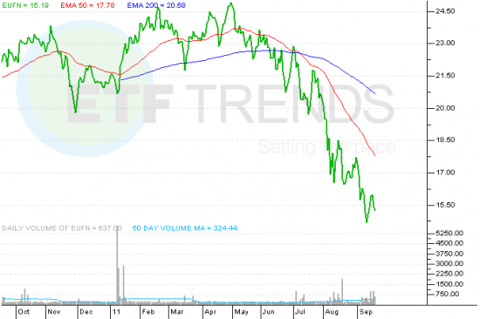 Max Chen contributed to this article.
Disclosure: None