ETFs that track the tech sector were slightly up Wednesday, with Hewlett-Packard (NYSE:HPQ) and Oracle Corp. (NYSE:ORCL) leading tech sector gains.
PowerShares QQQ (NASDAQ:QQQ) was up 0.55% at last check.
Hewlett-Packard's board will be meeting to consider replacing current CEO Leo Apothekar of less than 11 months with former eBay Inc (NASDAQ:EBAY) CEO Meg Whitman, report Aaron Ricadela and Carol Hymowitz for Bloomberg.
HP shares were up 10.95% at last check.
Under Apothekar's care, HP sales forecasts were cut three times and company shares plummeted 47%, Toni Sacconaghi, analyst at Sanford C. Bernstein & Co., wrote in a research note.
Investors became increasingly alarmed after HP's $10.3 billion acquisition of Autonomy Corp. and a possible spinoff of HP's personal computer division, commenting on the high price tag of the acquisition and the premature spinoff bid, according to Sacconaghi.
Oracle Corp. shares moved up more than 9% after the company posted a higher-than-expected 36% increase in profits, reports Benjamin Pimentel for MarketWatch.
"Given that the first quarter is the seasonally toughest quarter for the company, combined with increased macroeconomic concerns, we believe these results will bring a sigh of relief for investors," FBR Capital analyst David Hilal wrote in a note.
PowerShares QQQ ETF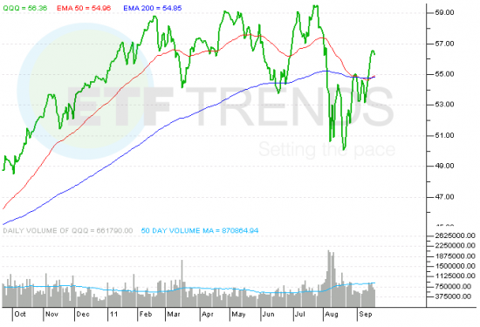 Max Chen contributed to this article.
Disclosure: None