The gold trade is going to fall hard and very fast. I previously wrote about the GLD's dramatic break technically. You can see the chart below where I made my call.
It re-tested its highs, only to fall further lower. Today, the commodity trade is getting hit the hardest. You can see many of the top names in the space hitting 52-week lows. Freeport McMoRan (NYSE:FCX), for instance, is trading lower by almost 50% year to date. Freeport is a good barometer in the commodity trade as it is invested in gold, copper, and silver.
Today, the GLD chart is looking very bad. See below: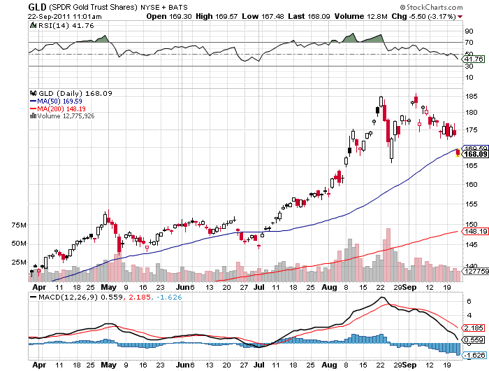 Gold has broken the 50-day moving average and may go all the way to the 200-day at 148. I see potential downside of nearly 20%. Making matters worse is that the overall market is taking a major hit. Many investors that have been in the GLD trade will look to sell positions that are in the money or out of the money. You can expect major volatility in the GLD over the coming days, but I think overall it will be much lower in time. The move up was too dramatic, and the fall will be just as bad.


Disclosure: I have no positions in any stocks mentioned, but may initiate a short position in GLD over the next 72 hours.