As part of a well diversified portfolio, I invest a portion of my assets in an equity basket primarily designed for income generation as well as modest capital growth. Like many of you I own some of the more common big-cap stocks like Intel (NASDAQ:INTC) and Abbott (NYSE:ABT). However, I'd like to touch on three of the more aggressive names in my portfolio and why I'm a current believer.
American Campus Communities (NYSE:ACC) This is a real estate investment trust engaged in the renting of apartments to college students and currently provides a yield in the neighborhood of 3.7%. Metrics at the company have been on an upswing, in the latest quarter ACC showed improvement in FFO, NOI, occupancy, and rent rate on a Year-over-year basis. The company raised its overall financial outlook as a result.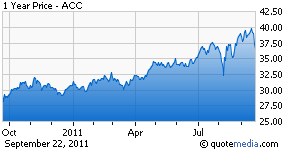 My thesis is that the company can continue to improve its operations as more students look to off-campus housing as a competitively priced and more comfortable alternative to on-campus living. College costs are not going down and that includes boarding. As universities see less funding, they pass those costs on to students. So the more expensive the dorm room is, the more attractive an off-campus situation with more amenities becomes.
Carnival Cruise Line (NYSE:CCL) This is the world's largest cruise line operator. Its brands include namesake Carnival, Cunard, Costa, Holland America and Princess. Most people have never cruised before, and while the cost of a cruise vacation is not necessarily cheap, Carnival's various brands offer a wide variety of price points and destinations that provide broad appeal. The yield is around 3.2%.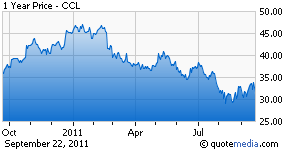 From a valuation standpoint, the company said recently it expects to earn about $2.40 a share this year, which at $32 a pop is a modest price multiple. The stock trades at roughly book value and the company said that forward pricing is firm, which shows surprising demand strength for its cruises in this lackluster economy.
Cincinnati Financial Corp. (NASDAQ:CINF) This is an insurance company offering both personal and commercial P&C coverage. Cincinnati had a miserable second quarter as unprecedented catastrophes hit its prime coverage area. Despite this, the company is still rated "stable" by Fitch and earnings are expected to recover to $1.44 next year.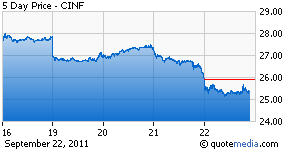 The company seems conservatively managed and barring more unexpected catastrophes, next year looks much brighter for Cincinnati. While the bottom line and pocket book have been hit, the company still pays a dividend yield of 6.4%. While I look at this as a more speculative potential recovery story, I'm holding my position, and, in fact, have added a tad over the past month.
Look for some more of my lesser-known dividend favorites in a future article.

Disclosure: I am long ACC, CINF, CCL.