After a difficult period and a meltdown day like today, questions about hiding places arise. There may be no good safe place in the end - not even Treasuries. However, the search goes on.

One avenue of the search might include identifying those funds that had positive total returns through the 2008-2009 crash period and stayed positive thereafter. The set of facts is different in each period, but the future often resembles the past when business and market cycles come full circle.

There were 19 ETFs that had positive total returns in 2008, 2009, 2010 and YTD through 08/31/20111. There were several dozen mutual funds that did the same out of the thousands in existence.

Of the mutual funds, only one was a stock fund: FVALX (Foster Value), and two were world bond funds: BEGBX (American Century International Bond ) and RPIBX (T.Rowe Price International Bond). As opposed to ETFs which are generally index trackers, those three mutual funds are actively managed.

The 19 ETFs had no stock funds, had a couple of gold funds and the rest were bond funds. They are (sorted by asset size):
Click to enlarge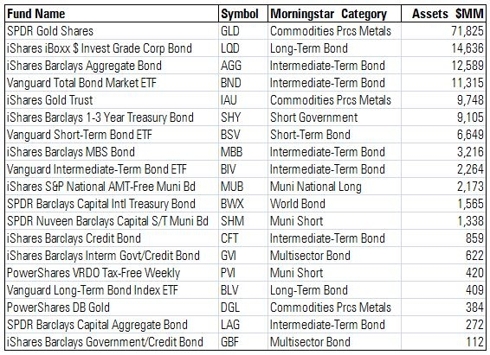 Symbols in the Table: GLD, LQD, AGG, BND, IAU, SHY, BSV, MBB, BIV, MUB, BWX, SHM, CFT, GVI, PVI, BLV, DGL, LAG, GBF

Disclosure: StopAlerts.com is a service of QVM Group LLC, a registered investment advisor. QVM does not have positions in any mentioned security as of the creation date of this article (September 22, 2011).

Disclaimer: This article provides opinions and information, but does not contain recommendations or personal investment advice to any specific person for any particular purpose. Do your own research or obtain suitable personal advice. You are responsible for your own investment decisions. This article is presented subject to our full disclaimer found on the QVM site available here.