There are 12 stocks that experienced a worst three-month decline in the past 10 years that was not greater than 15%, and also pay a dividend and have had a positive total return for each of 10 years, 5 years, 3 years, 1 year, 3 months, 1 month and YTD (through 08/31/2011).

They are:
Click to enlarge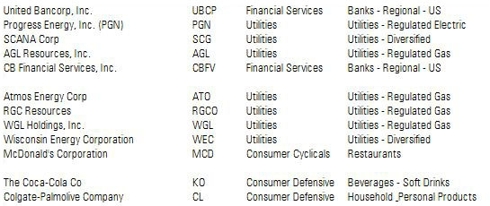 Security Symbols: UBCP, PGN, SCG, AGL, CBFV, ATO, RGCO, WGL, WEC, MCD, KO, CL.

Disclosure: StopAlerts.com is a service of QVM Group LLC, a registered investment advisor. QVM has long positions in MCD and KO in some but not all accounts, and does not have positions in any other mentioned security as of the creation date of this article (September 22, 2011).

Disclaimer: This article provides opinions and information, but does not contain recommendations or personal investment advice to any specific person for any particular purpose. Do your own research or obtain suitable personal advice. You are responsible for your own investment decisions. This article is presented subject to our full disclaimer found on the QVM site available here.