Given the turmoil in the stock market, high-quality dividend stocks look attractive. So I thought I'd take a closer look at Procter & Gamble (NYSE:PG)
This is one of those companies with a long-standing tradition of raising its dividends – and that can add up to a better return than the stock price might otherwise indicate.
Here's a chart that shows P&G's price going back to 2007 along with dividend yield levels based on the payout throughout the period.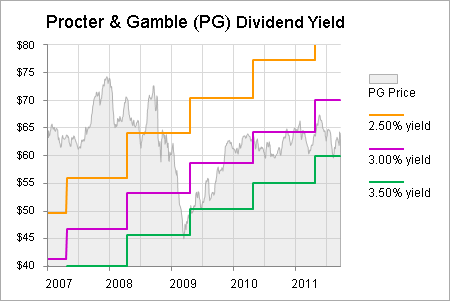 Note that the stock now has about a 3.3% yield to its current market price, about the same level back in early 2009 when shares were about 50% lower than it is today. So in terms of dividend yield, the stock is as "cheap" as it was back then.
You can also see that before the financial crisis, P&G's yield was a lot lower – around 2% at the stock's peak in 2007. If P&G yielded 2% today, that would imply a stock price north of $100.
I'm not expecting that anytime soon, but when you own a stock where dividends are raised each year, your yield gradually rises above the current market yield.
For example, let's say you'd invested $10,000 in PG back in January 2005 – and reinvested the dividends. Here's a chart that shows how that investment would have performed.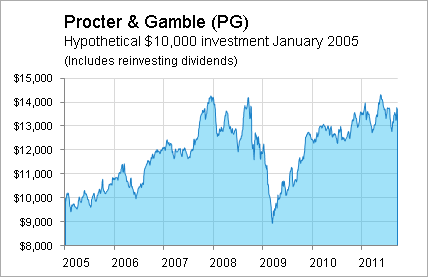 While the gains are decent enough, there are certainly high-growth stocks that would have performed better, but many of those stocks don't give you a dividend yield
But this chart shows that the yield on your P&G investment would have more than doubled.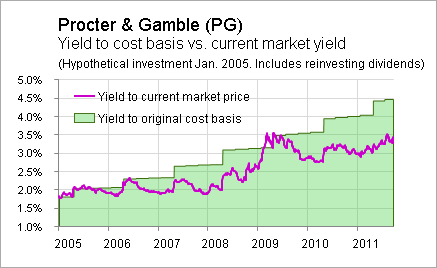 Because the company raises its payout, reinvested dividends continue to grow, increasing the yield on your cost basis.
So while the stock yields about 3.3% today, a $10,000 investment back in 2005 would now yield you almost 4.5%.
Let's say P&G raises its dividend by 10% next year. Well, that would increase your yield to cost basis to almost 5%. Another 10% increase in the following year would take your yield to 5.5%.
Rinse and repeat and a stock like this can easily yield you 10% or more if you're patient.
Something to think about with 10-year bonds yielding just 1.75%.
Disclosure: I am long PG.