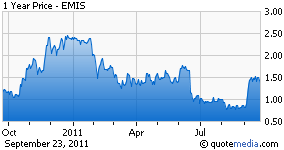 In May, I posted "My Playbook On Emisphere (OTCPK:EMIS)" (click here) in which I detailed some of the potential catalysts of this speculative biotech. The good news is that I'm as bullish as ever on the potential for Emisphere to commercialize their highly patented oral delivery technology, Eligen, through Novartis' (NYSE:NVS) much anticipated Oral Salmon Calcitonin (SCT) program for Osteoporosis (OP) that concluded last month (August). I'm sticking to my playbook without fear. This is now a call option trade on Novartis' prowess in getting drugs approved and taking them to market (click here).

Salmon Calcitonin has already been approved in both the United States and Europe and works effectively in strengthening bone density and decreasing bone fractures in women suffering from OP. The drug is currently approved to be delivered by injection and nasal spray with annual worldwide sales of approximately $800 million in 2010 (click here). Novartis has spent the last 13 years and an estimated $100 million-plus researching and developing an oral solution of Salmon Calcitonin for use in Osteoarthritis (OA) and Osteoporosis (OP) by licensing Emiphere's Eligen technology. An approval of an oral tablet would potentially dwarf the current sales of $800 million by up to five to six times. A grand slam for Emisphere. The question remains: Does Eligen deliver the drug effectively and safely. I believe the answer is unquestionably yes.

Over the past decade, Novartis has been very secretive about the oral calcitonin program. At the Osteoarthritis Research Society International (OARSI) conference in San Diego, Novartis broke its silence by presenting data from their first OA European trial that concluded this time last year (click here). Anyone that follows the program knows that this was an inflection point for EMIS shareholders as Novartis had put this program under review over 10 months ago. A clear sign the program may not be dead after all is the title of the presentation: Oral Calcitonin Demonstrated Symptom-Modifying Efficacy And Increased Cartilage Volume: Results from a 2-Year Phase 3 Trial In Patients With Osteoarthritis Of The Knee. I remind you that Novartis' phase III trial last summer for OA met two out of three end points with the third end point being x-ray of the knee. However, here's what Dr. Morten Karsdal, CEO of Nordic Bioscience, which is developing the drug with Novartis, said: "This pivotal phase III clinical trial suggests that oral salmon calcitonin" dosed at 0.8 mg twice daily for 24 months, "is safe, and has sustained symptom-modifying" benefits in osteoarthritis and "some structure-modifying effects." This is the most bullish news we've heard on the program to date.

My sources that have analyzed the results released by Novartis say wait a second, there's a good chance OA could get approved in Europe. This is very positive as we await more data from Novartis' second phase III trial on OA in the U.S. that ended this past July. Any additional positive data there could be an unexpected boost to the shares of EMIS in the weeks to come. Again, the shares are assigning no value to OA at all and quite frankly I'm betting on OP here not OA, but forget what I say, forget what my contacts say, and read what the CEO of Nordic Bioscience said at OARSI. (click here)

Osteoporosis is the straw that stirs the drink. Long term followers of EMIS believe OP has a much higher probability of being approved than OA. After all, Calcitonin is an approved drug for the treatment of OP. Furthermore, the OA trial data validates that Eligen technology's oral delivery is efficient, effective and safe. Couple that with the current conditions in the OP space as bisphosonates come under increased scrutiny by the FDA (click here) make this the perfect setting for Oral Calcitonin to hit the market. The news should be released in the next 60 days and I'm confident Novartis will deliver great news to EMIS and millions of patients suffering from OP.

Emisphere trades at a market capitalization of only $140 million ($1.50 per share) as they sit in front of a potential $3-$5 billion market penetration with an estimated 10% royalty rate. Erring on the side of caution, cut the numbers in half and it brings $150-$300 million to EMIS in the next three to five years, or $1-$2 in earnings per share (EPS). A conservative multiple of 10-15 times EPS would value EMIS at $15-$30 without any valuation to other other programs with Novo Nordisk (NYSE:NVO). The reason the shares trade so cheaply is two-fold: Novartis has a blanket over the program and Emisphere's board doesn't seem to want to bring any visibility to themselves. I believe that if Emisphere participated in more investor conferences, conducted Q&A on quarterly conference calls and hired a new CEO the shares would match the fair valuation of some of its peers. To new investors, this is a perfect storm because the largest shareholder owns approximately 48% of the company and its track record on other holdings indicates they may not sell creating a much smaller float.

I see Emisphere trading conservatively to $10 per share on the release of positive data on OP alone. Any additional news on OA that is positive will be further validation to that valuation. I see EMIS trading like Human Genome Sciences (HGSI) which traded from $1-$30 on positive data. I see EMIS trading like Amarin Corp. (NASDAQ:AMRN) which traded from $1-$19. I see EMIS trading like Ariad Pharmaceuticals (NASDAQ:ARIA) that traded from $1-$12, and I see EMIS trading as strongly as Dendreon Corp (NASDAQ:DNDN) which traded from $3-$60 ... if both programs produce positive results. EMIS is clearly undervalued as one of its peers Pharmacyclics, Inc. (NASDAQ:PCYC) has a market capitalization of $800 million and only has one drug in phase II trial. I can see EMIS' market opportunity as equal to or greater than PCYC's and other peers. I would not rule out EMIS running to $15-$20 per share as the largest shareholder keeps the float tight into big news.

In my first note, I suggested that you put one third of your speculative money to work in EMIS in front of a potential partnership or dilutive financing. Unfortunately, it was a dilutive financing deal as the board waited until the last minute to raise cash, like they've done twice before. The financing funds the company through the release of Novartis's Phase IIII OP trial data, and through the potential filing with the FDA in early 2012. As a result of recent developments, I am putting the other two thirds of my speculative money into EMIS.

There is a great opportunity here as markets correct. We await data that could give us 7-15 times our money in the next 2-3 months.

Disclosure: I am long EMIS.OB.