Activist investors Bill Ackman of Pershing Square and Barry Rosenstein of Jana Partners have both made headlines this year for their success in catalyzing the breakup of Fortune Brands (FO) and McGraw-Hill (MHP), respectively. Both companies were conglomerates whose parts were worth far more than their respective sums.
Brunswick Corporation (NYSE:BC) could present another opportunity for a strategic activist play. The conglomerate consists of marine engine, boat, fitness, and bowling & billiards segments. It manufactures and markets these products--a questionable practice of vertical integration given its unconnected holdings. Below is a breakdown of revenue from the 2010 annual report.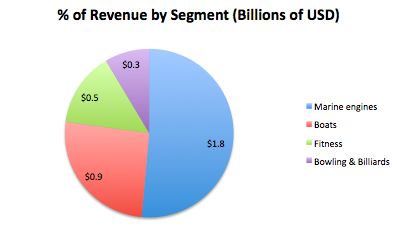 While analysts rate the company near a "strong buy", macro concerns are holding the stock down. Brunswick has a beta of 1.72, lost earnings last year, and is trading at 11.1x forward earnings -- near the 52 week low. These factors add to the firm's activist vulnerabilities. If an activist ends up seeking board representation, the campaign will likely entail spinning off assets and using the capital to either buy back shares or to raise dividends (which is currently at a yield of ~0.4%).
Management has voiced concern about stagnant domestic growth, but believes that the aging market will nevertheless aid boat sales. It appears that the company has gained market share in this segment based on evidence from channel checks. Brunswick has recently partnered with ADP Lightspeed to offer software support for its marine dealers, which should strengthen the company's market position.
I forecast revenue growing by 5.8% to $3.6B and then by 5.2%, ahead of market expectations that are being driven down by macro concerns. Based on a multiple of 13.5x price-to-expected peer average earnings in 2012, I find that the company is undervalued by around 41%. As activists are essentially more aggressive value investors, they look for companies trading below intrinsic value before making an investment so as to ensure that a failed campaign at least has a limited downside. The undervaluation thus makes Brunswick even more vulnerable to shareholder activism.
In the long-term, I see the conglomerate as an attractive investment for the reason that it offers a favorable risk/reward. A breakup, whether resulting from an activist or not, could unlock considerable shareholder value. On the downside, the conglomerate has been viewed as undervalued with EPS expected to turn positive this year. EPS is further expected to grow by 85.39% in 2012 to $1.26 and then by 59.5% the next year. While Brunswick's high beta may concern many investors, it will provide for substantially higher risk-adjusted returns should an activist campaign ever occur.
Disclosure: I have no positions in any stocks mentioned, and no plans to initiate any positions within the next 72 hours.